Academics, students, and writing enthusiasts alike, this November, we have brand new additions to the ever-expanding list of plugins on JotterPad. Expand and expedite the way you write in our platform with the BibTex Citation Management and Footnotes and References plugins!
The BibTex Citation Management and Footnotes and References plugins allow you to effectively and appropriately credit your sources, and include background or contextual information into your work that would be beneficial to your reader without disrupting the reading flow of your writing or the organization of your main body text.
With these plugins on JotterPad, you can give due credit to your sources and indicate additional information anywhere you would like in your writing.
Read on to find out what these plugins has in store for you!
What are Citations?
Citing your sources refers to showing, within the main body of your text, that you referenced, took, or borrowed words, concepts, figures, images, and other material from other places. They are an efficient way to identify published work like book, articles, academic journals, websites, and so on.  They can be found in bibliographies or reference lists and are also collated in article and book databases.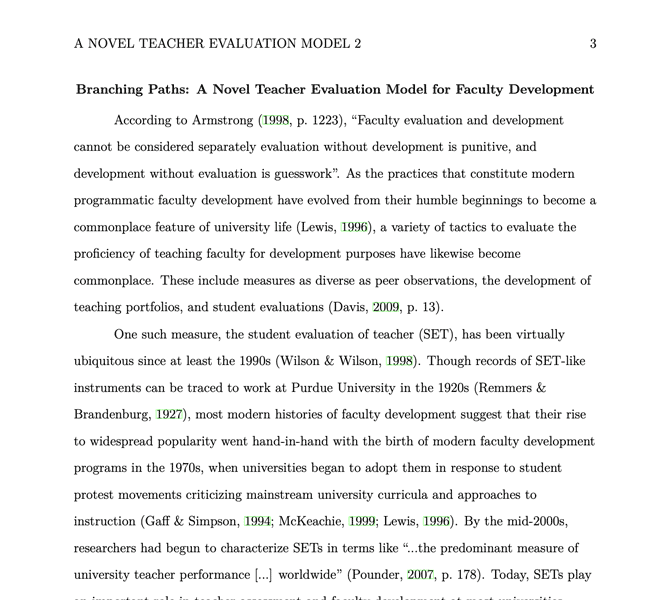 Specifically, citations give due credit to the writers and authors of the writing or ideas that you choose to incorporate into your paper. It allows your readers to locate your sources, in order to learn more about the ideas that you have included in your paper. Citing your resources in a consistent and accurate manner also prevents you from committing plagiarism in your writing.
Good citation makes it efficient and easy for readers to figure out the "who", "what", "when", and "where" of the source you've included. It should, essentially, indicate where you found it, and someone should be able to find it again with your citation.
Citations consist of come standard elements across citation styles, and contain all the information necessary to identify and track down published works. These information include:
the author name(s)
the titles of books, articles, or journals
date of publication
page numbers
volume and issue numbers (if applicable)
Citations may look different, depending on what writing style you adopt (APA, MLA, Chicago, etc.), and also on what is being cited. Choose or write with an appropriate style for your needs.
What do you need to cite?
If you're referencing or incorporating the following information in your work, they should be cited accordingly:
Facts, figures, concepts, or other information that is not common knowledge
Words or exact language that another person used in their own publications, be it books, book chapters, articles, web pages, academic papers, etc.
Another person's exact words should be quoted and cited to give proper credit
The BibTex Citation Management plugin on JotterPad allows you to add, manage, edit and print your citations through a single tool. It helps to effectively organize your references and citations in your work, without the hassle of needed to manually input and alter your references. After managing your resources with the tool, you can seamlessly add your citations anywhere in your main body text.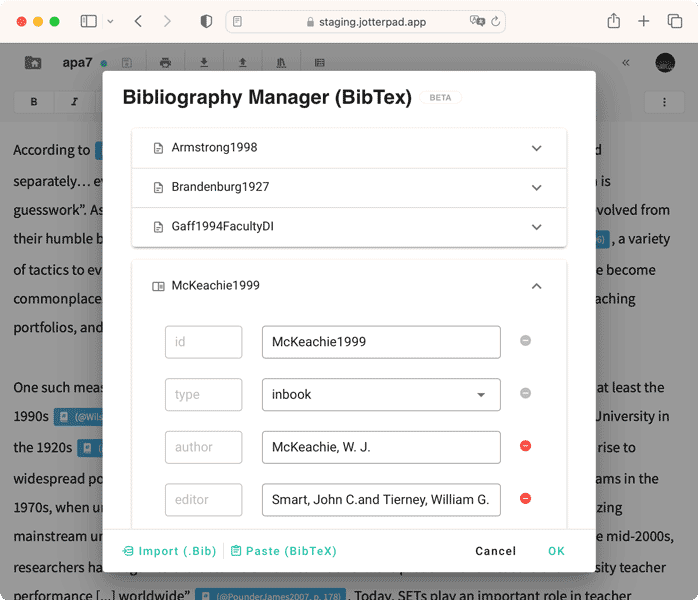 Import, Add & Paste BibTex Citation
Use this plugin to manage your references by:
Clicking on the Bibliography Manager (Book icon) in the tool bar
Manually keying in by adding a field, import (.bib), or pasting the BibTex citation
Clicking "OK" to save
Add a Citation in your text
To add a citation in the text while working:
Place your cursor at the end of text you want to cite
Key in the @ icon to revel a drop-down list of the references you saved
Click on the reference you want to use
Alternatively, you can add citations in the "Insert" menu.
After adding an in-text citation in your work, you can modify the citation by adding or changing the authors, or switching between narrative and parenthesis easily by clicking the citation that's highlighted in blue to reveal an "Insert Citation" box as well. You can also suppress the author by adding a - sign before the @.
Print Citations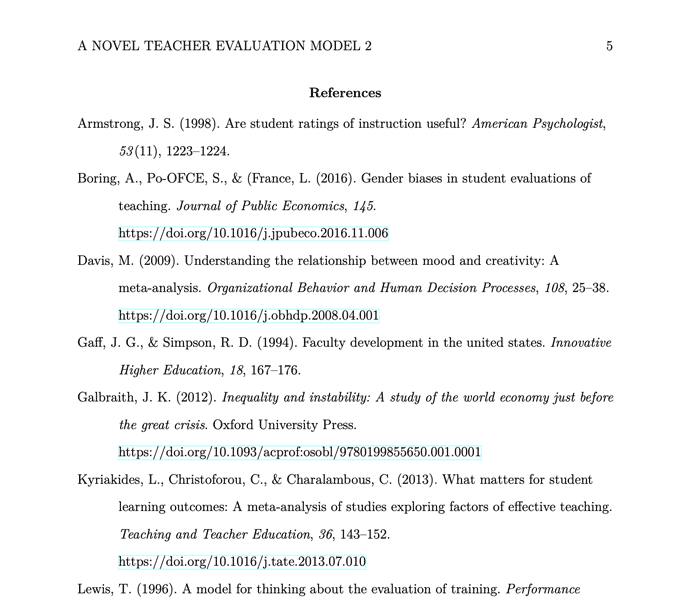 When you're ready to print your work, key in your preferred bibliography style in your YAML Front Matter. E.g. biblatexArg: style=apa to print bibliography in APA style. Your references and citations will be printed in an orderly and formatted manner.
What are Footnotes?
Footnotes are notes that are placed at the very end of a page. They are used as reference points of the main body text, in the form of superscript numbers. Academics, students, and writers use footnotes for multiple purposes, such as citations, parenthetical information, to reference external sources, to avoid copyright issues, to point to additional background information, and more.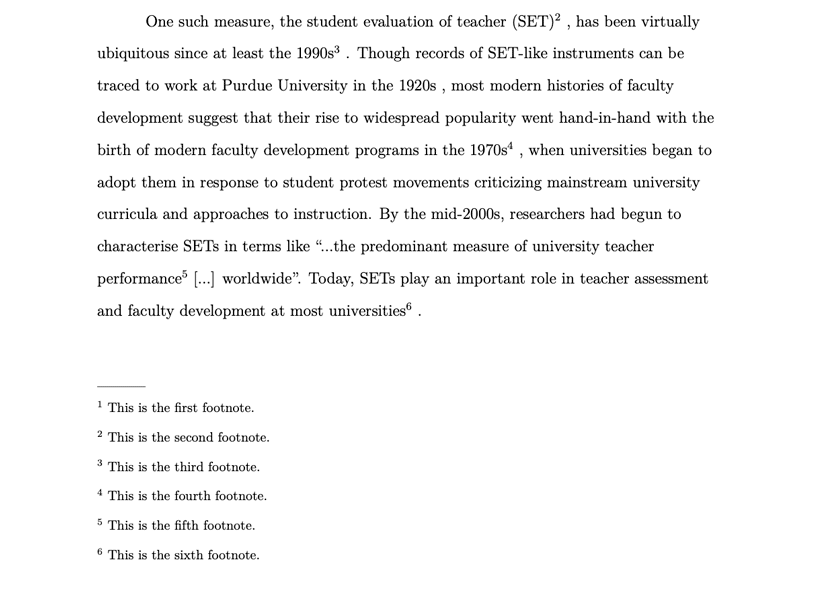 Most of the time, longer additional explanatory notes and information can be difficult for readers to get through smoothly, especially when they appear in the middle of a paper or already long body text. If providing this information is necessary, but doing so in the main text can disrupt the flow of the writing, footnotes are used to efficiently include this information.
While footnotes are a great tool for sharing additional information without crowding the writing, it's important to note that certain style guides have specified parameters as to how and when footnotes can be used.
To make a footnote citation, label the area of your text that you need to reference with a number (if it's your first footnote in your paper, it should start with "1."). At the bottom of the page, include this number with the citation. When readers see the number in the text, they know they can find the source by looking for the corresponding footnote.
What are Endnotes?
Endnotes are notes that are placed at the very end of your text in academic writing. They're indicated in the text with numbers. Endnotes are used for citations in certain styles, and to add extra or background formation that doesn't fit into the main text.
While endnotes, compared to footnotes, clutter your writing less because they're all grouped together instead of spread throughout your main body text, they can be less convenient, as it requires readers to flip all the way to the back to read the notes.
Endnote numbers appear at the end of the sentence or information the endnote relates to. The number appears after punctuation, unless the clause ends with an "em dash", in which case it appears before it. There's no space added after the number.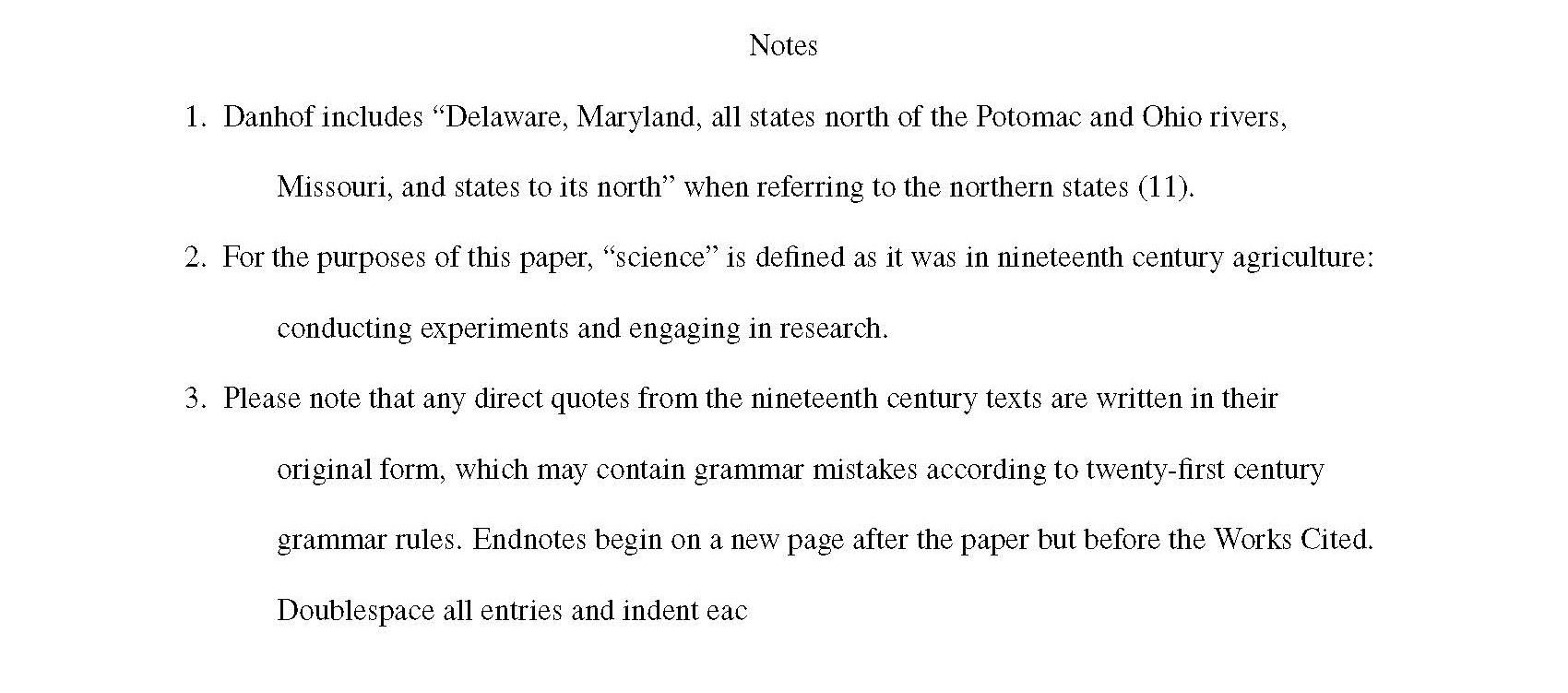 Footnotes versus Endnotes
Writers can also use both footnotes and endnotes to avoid disrupting the flow of the reading process for their readers with extraneous information. While both these tools serve similar purposes, their key difference is in their location in your text.
Footnotes:
Identified in the main text with a small superscript number
Used for citations, parenthetical information, external sources, copyright purposes, background or additional information, etc.
Provide the correlating notes at the very bottom of the same page
Endnotes:
Can be placed in the main text with a small superscript number like footnotes
Used for citations, parenthetical information, external sources, copyright purposes, background information, and more like footnotes
Found collectively at the end of an article, chapter, or document unlike footnotes
Footnotes and Citations Plugin
The Footnotes and References plugin allows you to indicate additional information anywhere you would like in your writing in a seamless fashion.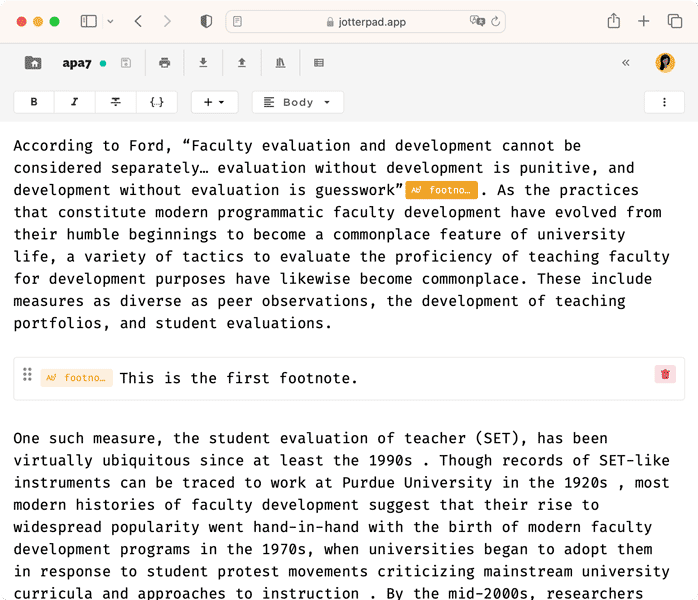 If you want to add a reference in your Markdown document on JotterPad:
Place your cursor at the end of the text you want to add a reference for
Open the Insert menu ("+")
Click "Reference" to open the "Insert Reference" dialog
Enter a unique name (This will be the name of the reference)
Click "OK" to generate the reference
If you want to add a corresponding footnote:
Open the Insert menu ("+")
Click "Footnote" to open the "Insert Footnote" dialog
Enter the corresponding reference name
Click "OK" to generate the footnote
Enter your footnote information in the footnote box that has been generated in your document
For JotterPad's MLA template, while some footnotes would be converted into endnotes, their function remains almost alike; as references in your paper.
Printing your Footnotes
With this plugin, you can style your footnotes to include math equations, chemistry equations, links and even images. To print, simply click "Print", and "Print with template". When you choose to print your work, your footnotes will be formatted accordingly and located at the bottom of the page in an orderly and consecutively numbered fashion e.g. 1,2,3 and so on.
---
Listening to your feedback and spending time to improve JotterPad and it's features for your use has been our utmost priority. We are committed to making your writing and creative endeavors as seamless and as convenient as possible. We are excited to have let you in on our latest plugins on the app!
While the Footnotes and References and BibTex Citation plugins are currently available on the JotterPad web app only, it will soon be made across all platforms.
We hope that these plugins give you more access to the various tools that we have to offer with a lot more ease and clarity. Keep your eyes peeled for the plugins and extensions that we will adding to JotterPad for your exploration in the near future.
Happy writing!