As we continue to expand the tools that are available on JotterPad, your writing endeavors and projects continue to remain at the forefront of our efforts. We believe that our recent updates and additions continue to expand the versatility of our platform, to become an all-encompassing writing companion that can guide from the start to the end of any type of writing you choose to delve in.
Our selection of templates, that range from novel, to screenplay, article, report, letter, and even presentation slides, allow you to redirect more time and energy into the meat of your writing instead of the nitty gritty formatting.
We are thrilled to announce that you can now explore Mermaid syntax to create diagrams and visualizations using simple text and code on JotterPad! Mermaid Syntax, widely used in Notion and Typora as well, equips you with the space to quickly create and edit multiple kinds of diagrams. Now, you can explore this tool in your Markdown files on JotterPad!
Read on to find out more about how we are supporting Mermaid syntax plugin, and the brand new templates that allow you to explore it!
What is Mermaid?
Mermaid is a diagramming and charting tool that uses and renders Markdown-inspired text to create diagrams of many kinds from scratch.
This tool supports a handful of commonly used diagram types for projects and personal endeavors. This includes flowcharts, graphs, journey diagrams, and various charts types.
Our expanding range of templates on JotterPad now includes templates that support Mermaid syntax plugin for your exploration! Specifically, you can create the following kinds of diagrams on JotterPad with their corresponding templates :
Flowchart Diagram Template - Flowchart diagram are used to depicts a process, system or computer algorithm in a sequential or organized manner. They are popularly used in many fields to document, analyze, plan, improve and communicate complex processes in clear and conceivable manner.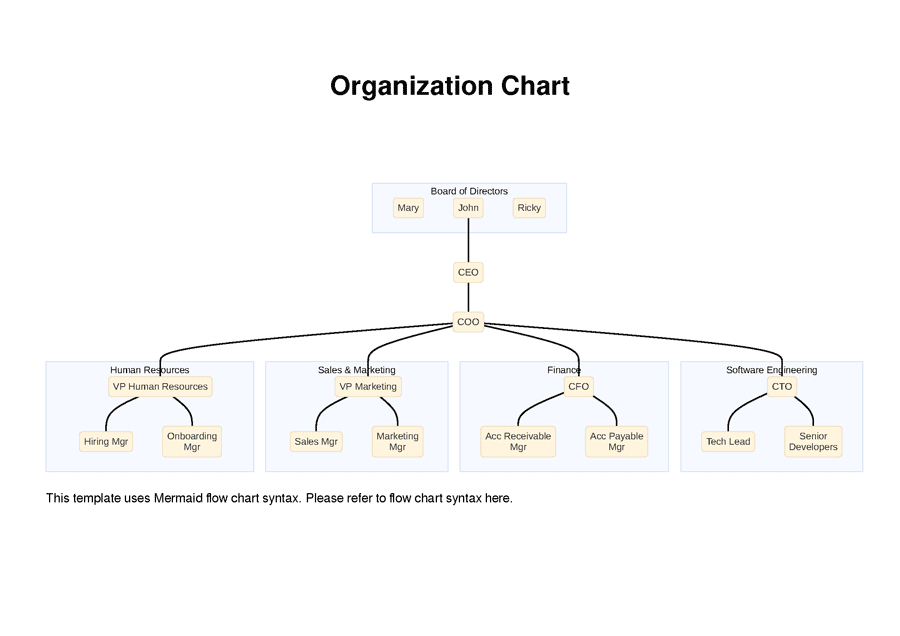 For a more detailed guide on how you can create your Mermaid flow chart on JotterPad, refer to our Help Desk right here!
Simple Gantt Diagram Template - Gantt charts are popularly used by project managers to keep track of tasks, dependencies and timelines of their projects, and generating one with Mermaid syntax is much more convenient with the text description nature of it. This template breaks down a project by phases and tasks, reflects the start and end date, and indicates project milestones. It is ideal for business plans, project management, and even student assignments. Customize your chart with arrows, taskbars, line markers and other elements to your liking and to best track your project.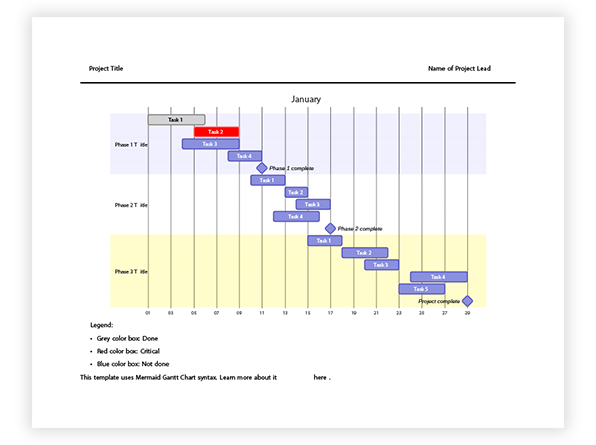 Family Tree Graph Template - Building family trees are a great way of discovering your family history, and representing the relationships that make you who you are. Quickly and effortlessly create your very own family tree with JotterPad's Family tree template. Using Mermaid flow chart syntax, a diagramming and charting tool, plot a family tree that dates back to as many generations as you would like with clear sequences and flows. Come up with an easily modifiable and readable diagram, and build your own family tree with ease.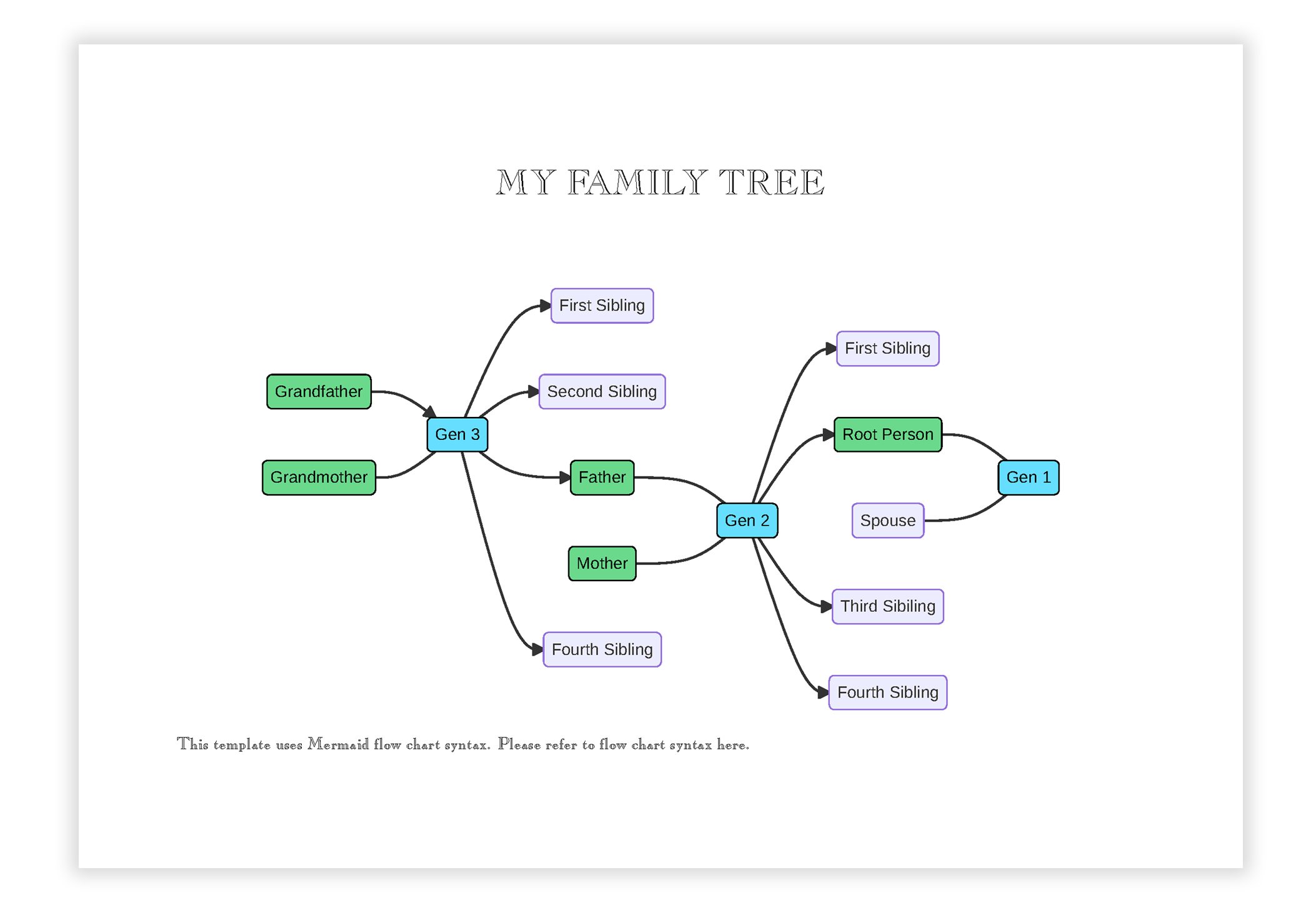 User Journey Diagram Template - User or customer journey diagram visually illustrate user flows through the initial contact or discovery, and continues through the process of engagement into long-term loyalty. Summarize the details of a system's users and their interactions with it using this template efficiently and quickly. With tools to generate specialized symbols and connectors via Mermaid, creating a diagram that is easy to read and efficient to share and print for your reference has been made easier.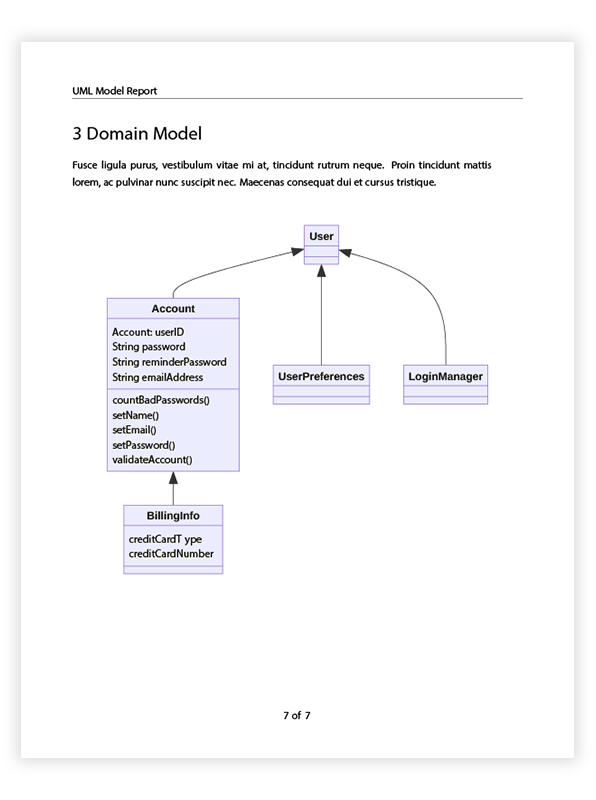 Class Diagram Template - Class diagrams are graphical notation that are used to construct and visualize object oriented programming systems by showing the system's classes, their attributes, methods, and the relationships between the objects.
Sequence Diagram Template - Sequence diagrams are often used in software development to reflect the steps taken and the agents involved in completing a process from start to end.
For more information on how JotterPad uses Mermaid.js to design and preview sequence diagram in Markdown files, refer to our Help Desk below!
Why explore Mermaid?
Many developers and programming enthusiasts wish to keep their diagrams up to date with their documents. Mermaid addresses this problem by enabling users to create easily modifiable diagrams, and even makes it easy for non-programmers to easily create detailed and diagrams.
The raw code blocks that you generate on Markdown with Mermaid syntax will be rendered as clear diagrams in your files in a matter of minutes. Multiple kinds of diagrams, as stated above, can be created by linking text labels using arrow connectors. Add labels to connectors, and style connectors and shapes to your liking!
This syntax is not a far cry from Markdown syntax. Now with it being available on JotterPad, you can efficiently create and modify multiple types of diagrams with our Markdown editor using simple text as well. Creating and modifying diagrams dynamically just got simpler!
View Your Work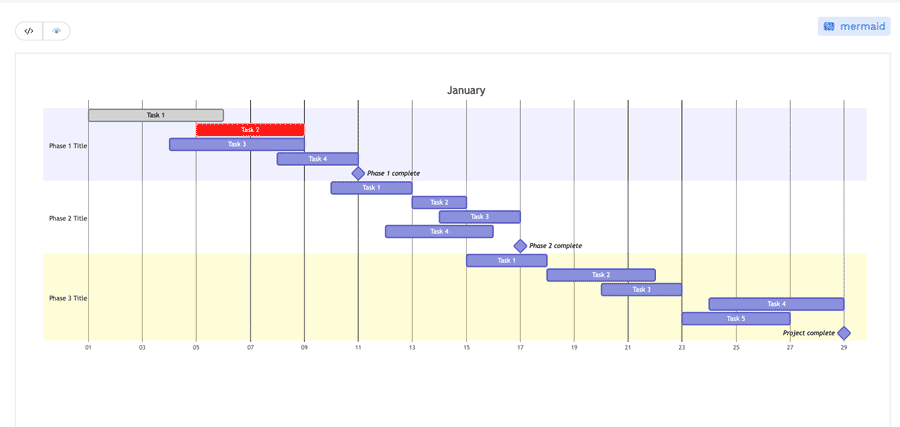 While working on your diagrams or charts, view your work in real time in your Markdown document by simply clicking the eye icon on the top left of your Mermaid syntax. This way, you get to edit, modify, and view the diagram version of your work anytime while working in your Markdown document.
---
With this addition to JotterPad, we hope that you programmers, coders, and project managers alike can now also enjoy the functions that the platform has to offer, and we hope that JotterPad becomes or continues to be your writing tool of choice!
All the best!