Whether you're a first-time author or you've had experience publishing a book before, the thrill of being able to put your work out there is unmatched. No matter how many books you've published, or if you have yet to, it is every writer's dream to be able to publish their work and have readers experience it.
Novice or expert, compiling a novel from cover to cover is a long-drawn process. Together with crafting a story from scratch, a handful of other things such as creating your book cover art, finding a publisher, gathering publishing information, formatting your book, spell-checking, proofreading, and amending countless drafts also take up time and energy.
Putting a novel together from start to end can be daunting. Together with writing, cf. But if it's been a dream of yours, explore JotterPad's ePub plugin to make this process a lot less scary.
Read on to find out more!
Using the ePub Plugin
When you have a satisfactory draft in hand, you can immediately publish your book with the help of the ePub plugin on JotterPad easily. This plugin converts your Markdown documents into formatted eBooks and generates and packages your final document with standard electronic publishing formatting.
With this plugin, you can export, share, and view your work on multiple other platforms such as Kobo, Amazon Kindle, Barnes, and Noble Nook as well.
To use this plugin:
Create a new Markdown text file.
Open the YAML Front Matter
Customize your book attributes by defining book attributes such as the title, author, and publisher in the YAML front matter. E.g. title: Sailing Voyage By Water.
Open "Export" menu and select the Epub export option.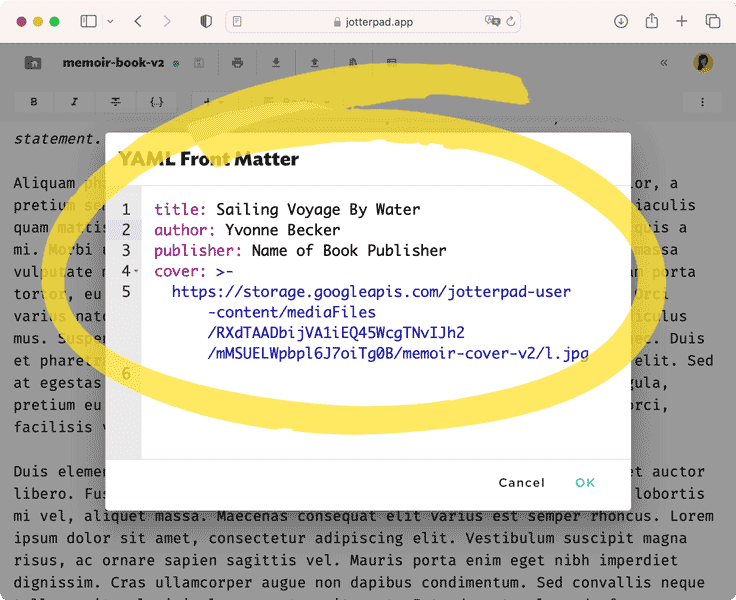 After exporting your work,
Gather the information necessary to publish your work on Apple Books: An Apple ID, digital rights to your books, and authorization to sign documents on behalf of yourself or your company.
Create an iTunes Connect account with your existing Apple ID or, create a new Apple ID.
Choose your publisher type. If you're an independent author, you're a publisher. When you see the choice of Publisher Type, choose "Individual" if you're representing yourself. If you're a sole proprietor, and choose "Organization" if you're registered as a company or some other type of organization.
Verify via e-mail. An email with a link to verify the email address you entered during sign-up will be sent to you. Check your email, click the link, and sign in to iTunes Connect.
Complete your agreement depending on whether you want to sell books or offer them to readers for free.
Submit and publish the ePub file to Apple Books using the publishing portal and the iTunes connect account.
Publishing Your Book on Apple Books
When you're ready to publish your book on the publishing portal,
Click "Submit a New Book" in the publishing portal.
Click "Continue" to provide your EPUB file, cover art, and a sample. The portal validates the files to ensure they are ready for Apple Books. You can continue adding information about your book while your files are validating.
Enter the book title, author name, and a detailed description of your book to display on Apple Books.
Choose the appropriate subject category and language to help readers find your book.
Choose an "Interest Age" by considering the book's general target audience.
Enter the publishing details according to the fields provided.
Upload your book to iTunes Connect.
Set pricing and clearances in iTunes Connect if necessary.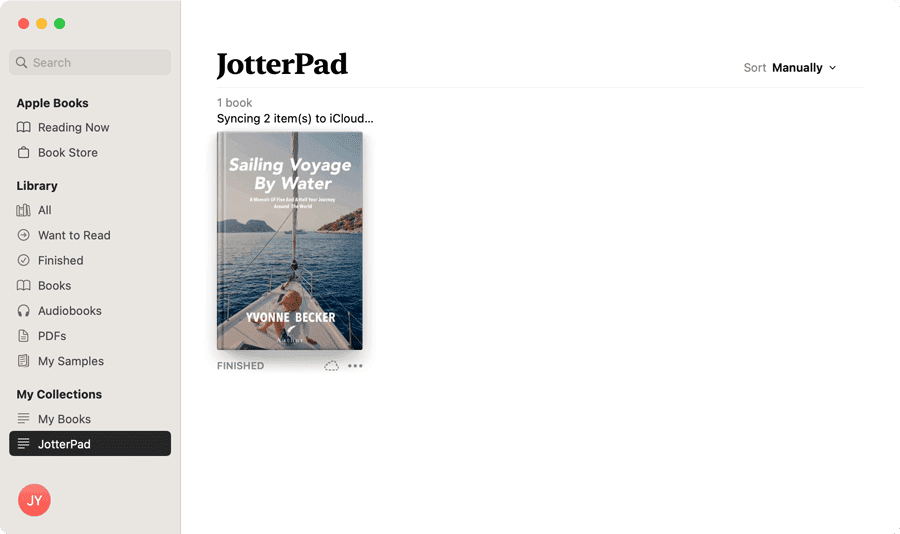 Find the book you're looking for in the most efficient and quickest manner on Apple Books. Search through the Book Store and your personal library at the same time. You can go back to your recent searches or tap a search suggestion to discover something new to read. After publishing your own book, you can take a look at your own listing as well!
Benefits of the ePub Plugin
1. Retain Your Formatting
With the ePub plugin, you can export your Markdown document and be assured that the Markdown elements you incorporate into your work such as Font styles, URL links, lists, tables, images, bold, italic, strikethrough, bullets, headers, and titles would be generated and preserved in the ePub files. The footnotes, references, and bibliography would also be retained and formatted accordingly when you export your work.
2. Generate A Table Of Contents
The ePub plugin generates a Table of content (TOC) by collating all heading elements, from h1, h2, h3, and so on. Fret not, as the font styles, URL links, list and images will also be generated from Markdown.
3. Adding Your Own Book Cover
Book covers are visual communication tools. Your readers will make conclusions about your book's genre, subject matter, style, and message by just taking a glance at your cover art. Before you publish your work, add finishing touches and polish your book by adding or creating a compelling cover.
To furnish your book, you can add a book cover by defining a URL to in the cover attribute of your Markdown document. E.g. cover: https://example.com/image1.png.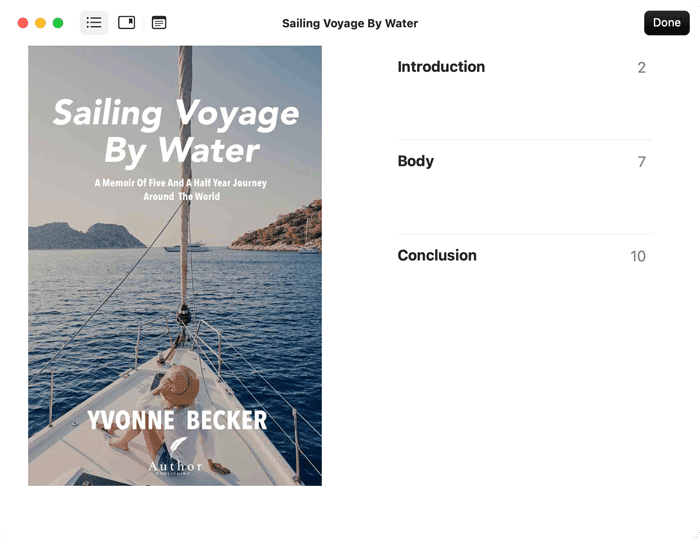 Designing Your Book Cover
There are many ways to create your very own specialized book cover design, especially for digital books. Here are some things you can take note of if you intend to design your own:
1. Review other Covers on Books in the same Genre
Spend a good amount of time studying other book covers on books from the same genre that you have written. If you're planning on publishing your work on a digital platform like Apple Books, pay attention to the digital editions. Look at the color palettes, imagery, illustrations, photographs, typography, formatting, styling, and other designing elements that speak to you.

2. Decide on the Tone and Message of your Cover
After reviewing a good amount of book covers, spend time thinking about your own book. List down the key themes, ideas, and settings from your book to use as inspirations for your cover art.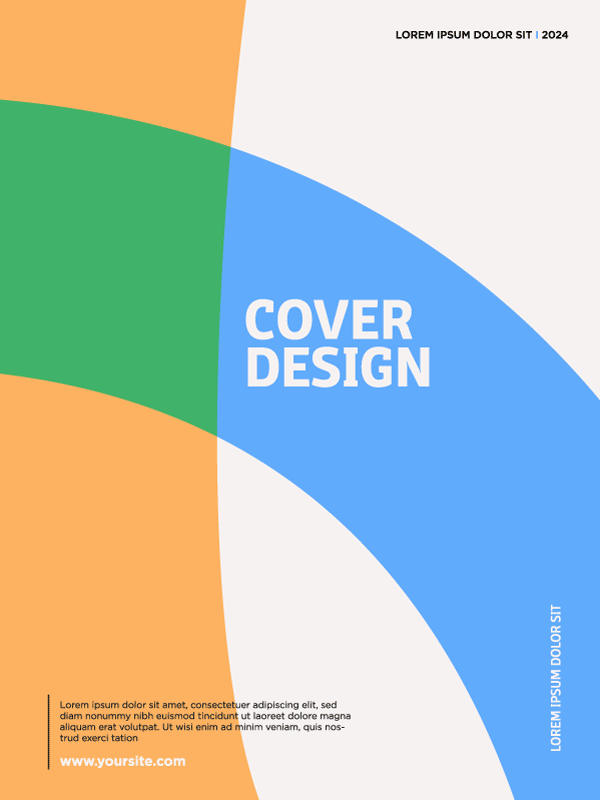 The overall mood of your book should determine the design of your cover art. Decide if you want your readers to be able to identity the theme and tone of your book immediately upon first glance at your cover, of if you want to leave a little mystery in it.
You could list three adjectives that communicate the general mood or tone of your book and use these adjectives as the guides to your book cover design.
3. Choose a Font that Speaks to your Book
Different fonts put across different qualities. Some fonts can be a little more traditional and formal, while some have a quirkier, fresher edge. Make sure your font's personality resonates with the vibe of your book. You wouldn't use the same font on the cover of a military memoir that you would on a historical romance.
Differentiate between text and display typefaces as well. Some fonts are designed for many blocks of written body text, while some fonts are designed to look better while displaying a message, creating a certain feeling or impression. They draw attention and work well when used in larger sizes. Consider using a display typeface for your book cover.

Photo by Markus Spiske / Unsplash
Make sure the font that you choose is free to use. Or purchase, after consideration, if you find it to be apt for your book cover. Many typefaces come with an in-built purchase or theft feature. While you might be able to use them on your computer, you won't be able to embed them into a pdf; which is needed if you want your cover to look the same on every computer and even in print.
4. Design for Electronic Publishing
If you're publishing a digital book, or "eBook" on a platform like Apple Books, make sure to design your book cover for readers who will be accessing your book on a digital bookstore. Take note of the sizes at which eBook covers are displayed on the main page of the store, like in the Reading Now tab and in Search results on Apple Books. The text on your cover should be legible on the digital platform and images should be clear.
5. Be Weary of Placement and Composition
Avoid over-crowding your book cover with too many elements for the eyes to register. Readers will not be able to appreciate the cover art, or read and understand any text. Every element should be significant and meaningful to your book and the experience you want to create for your readers.
After designing your cover on your desktop computer, make sure to reduce the size of that cover to have a better representation of how it could look like on the digital reading platform or on the iPhone display.
6. Try a Designing Platform
Platforms like Reedsy, Canva, or Book Cover Maker have the appropriate tools for you to design your own book covers.
Reedsy offers you an extensive network of publishing professionals that also include cover designers. You can take a look at the cover gallery and hire a professional to help with you.
Canva has very user-friendly tools designing tools, and a wide array of templates for eBook covers. You would be able to find your way around the platform regardless of your level of graphic design expertise.
Book Cover Maker also has a trove of resources like free-to-use templates, imagery, and more that are attuned to creating covers for eBooks.
---
With the necessary knowledge, well-working tools, and the inspiration to write and share your stories with the world, publishing a book will be made simpler that you may fear it to be.
Together with the ePub plugin that guides your publishing processes, JotterPad's writing templates can serve as bedrocks for the writing portions of this journey. Explore templates like the 3-Act Structure Novel plotting template, Freytag's Pyramid Outline template, or the Christopher Vogler's Writer's Journey template to help you craft your stories from the get go. With tools for both the creative aspects and more administrative aspects of creating a book, you can journey from start till the end with JotterPad.
We hope that the ePub plugin, along with the story and book writing templates that JotterPad offers, would equip you further with more empowering writing tools that would allow you to go about your writing projects and sharing them with more ease and clarity.