What is a Story Manuscript?
The word "manuscript" is used to refer to any unpublished work. A manuscript is the text of your novel, or work of non-fiction, before that text has been turned into the finished book. Manuscripts become actual books only once it's been typeset and bound and becomes an actual hard copy, or once it's been formatted and packaged up as an ebook.
In short, the manuscript is the unpublished version of what would eventually become a book, while a book is published.
It is recommended that you refer to submission guidelines for each publication or publisher that you wish to submit to, as they can and do differ. By following the ones stated above you will make sure that your manuscript looks clean, is easy to read, and won't get rejected because of sloppy formatting.
While there's no standard or universal manuscript format that writers need to abide by strictly, and no specific novel template that you have to follow, the only rule of manuscript presentation is that manuscript should look like a clean, professional, and readable document.
Why are Story Manuscripts and it's Formatting Important?
Editors, just as publishing agents and labels, are busy. This makes it absolutely crucial that their first impression of your writing and manuscript is a good one, given it's the only one you might only get. On your end, all you have to do is to make sure it is well-formatted.
When an editor receives a manuscript that's formatted in a haphazard, or unprofessional manner, it could give off the impression that you had not been conscientious about your work . And that's not the kind of impression you want to give to the person reading and judging your writing. You want to look like a professional writer who knows their way around story-writing and is truly keen on getting their work published. While they are looking for good writing above all, this should not render the formatting of your manuscript as secondary, because getting a publisher or agent to read your work can already be a gargantuan task on its own and the first impression needs to count.
Story manuscript formatting and the way in which your work is presented makes a big difference to the way literary agents and publishers receive your work. Apart from looking amateurish and as if you're not taking your work seriously, a story manuscript that doesn't follow industry-standard formatting rules makes it harder for the editor to read. The rules are there to make all manuscripts equally legible, so that the editor can quickly read many of them in a day.
General Story Manuscript Formatting Guidelines
| Element | Formatting |
| --- | --- |
| Paper margins | Set the margins for your manuscript to 1 inch, or 2.5cm on all four sides. |
| Alignment | Align your writing the left, and leave the right-hand side ragged. |
| Font Size | Use 12 point Times New Roman for the entire manuscript. Other readable fonts like Courier and Arial fonts might also be acceptable, but this depends on the submission guidelines of the publisher. |
| Paragraphs | Indent each paragraph by half an inch. |
| Cover page | Include your name and relevant contact information on the upper left -hand side of the page, single-spaced. |
| File name | Give it a file name that sounds professional and is easy to search for. |
| Line-spacing | Double-space your writing.HeaderEach page should have a header with your surname, the book title, and the page number in ALL CAPS. |
| Contact details | In the top left-hand corner of the title page, list your legal name and your contact details (including email address and phone number). |
| Word count | In the top right-hand corner of the title page, list your word count to the nearest thousand. |
| Title and author name | In the center of the title page, write your book title in ALL CAPS. Two lines below this, write your author name. |
| Category and genre | Centered at the bottom of the title page, list the category and the genre of your book. |
Tips on Writing A Story Manuscript
Here are the specific rules to formatting a manuscript you should adhere to before shipping your work off to potential agents and publishers:
1. Worry about your formatting later
Worrying about details like the title page, indentation, chapter titles, page numbers, scene breaks, endnotes, double or single spaced at the very start will only stand in your way from writing a great story. Manuscript formatting and preparation can be a dizzying task, and if you're doing it all for the first time, you can get overwhelmed. That's why it's a good idea to worry about the formatting later, so that right now you can spend your time focusing on writing interesting descriptions, strong characters, and compelling plots. The only thing that matters, at this stage, is readability.
You can wait until much, much later to adjust your manuscript and adhere to formatting guidelines. Or you can hop on to a writing platform like JotterPad to take care of all the formatting for you from the very beginning. Lighten this load by using JotterPad to help with formatting your writing as you go along. It rids you of the hassle of going back in to fix formatting multiple times or after finalizing your manuscript. It adheres to industry-standard formatting guidelines for multiple kinds of writing; books, novels, screenwriting, and even academic papers.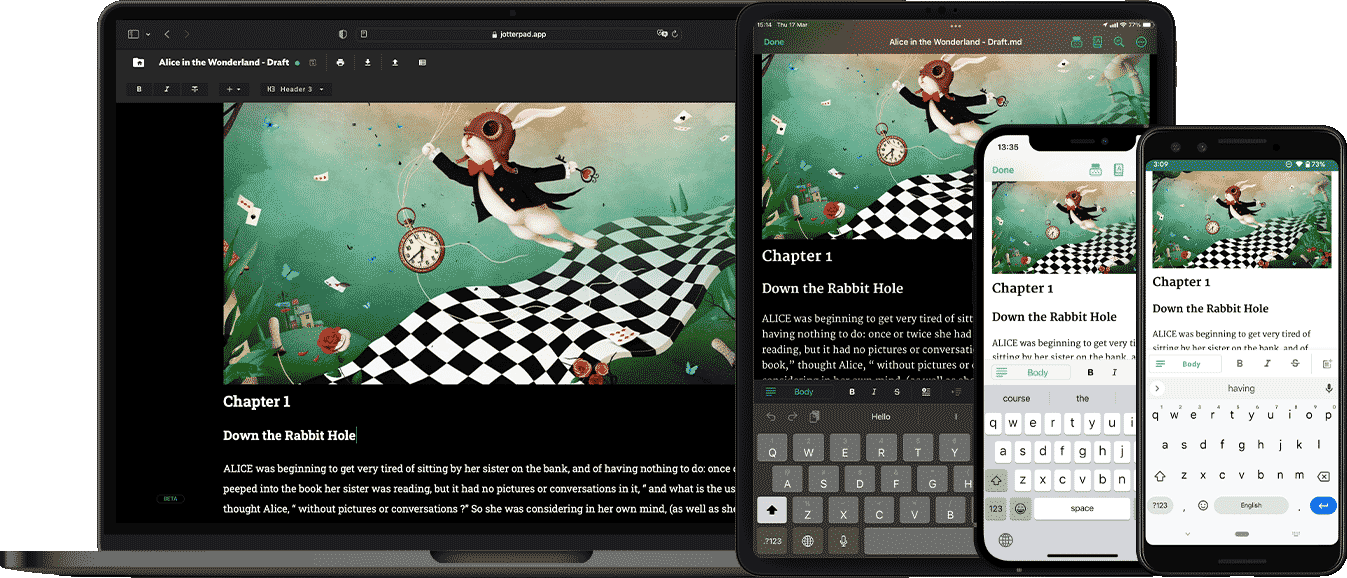 2. Make sure your content is compelling
Before getting to the nitty gritty of manuscript format, make sure that the content you're planning to submit is as strong as possible. You want to send out only your best work. Be sure to proofread, too, for spelling, grammar, typos, and clarity.
3. An hour a day
This can be self-explanatory. But when it actually comes down to setting time aside for a passion project or a time and energy consuming task like writing a manuscript, many demands and distractions come in the way of you sitting down and writing consistently. This is usually the biggest challenge most writers face.
Make it a point to set aside writing time to work on it. Ideally, at least an hour a day, every day. You could even establish a word count you want to hit each day. The truth is if you can't find a fixed amount of time, of at least 45 minutes to an hour out of your day to dedicate to writing, you may not be able to complete a manuscript in a satisfactory manner. This way, you'll learn to expect it and prepare yourself for this fixed task everyday as well.
4. Plan or outline your novel first
Writing is more difficult when you haven't done a little planning first. Whether that's an outline, some research, a book title, or just a "mission statement" or goal of your work, not having direction will cause you a little more anxiety than need be.
If you don't have an outline yet, write a one-page letter that pitches your work to prospective book publishers or agents. Don't worry that you haven't written the manuscript yet or don't know how it ends. Writ the pitch for your cover letter and see what you come up with. It may result in some interesting plot points you haven't tried yet
5. Write the beginning sentence and last sentence to each chapter
Much like a road trip, your goal for each chapter is to get from point A to point B. Write a first sentence and a last sentence into your chapters and use them to guide you throughout each section of your manuscript. While you write, the start and end coordinates may change a bit, but by having them, you'll be able to get to where you need to go easier.
6. Use a template
If you need a little more guidance, or a platform that can organize your work for you as you go along, use JotterPad's Story Manuscript template to format the submission of your manuscript to a publisher. This template includes information such as the author's name, contact info, titles, word count, new scene "#", running title, synopsis and page number, all in a standard format recognized by editors. With this template, you can focus on coming up with stellar content and a story.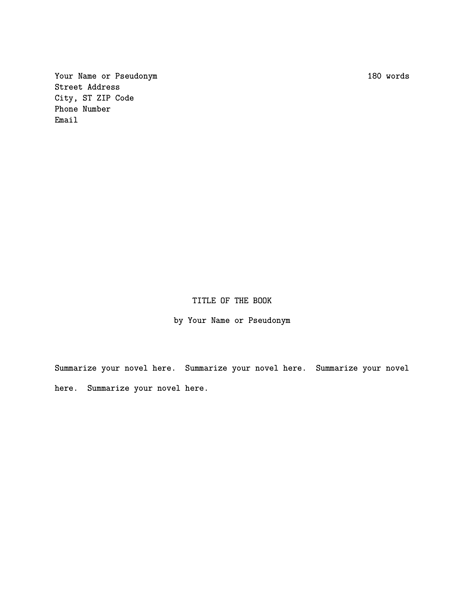 7. Don't strive for perfection
Many fiction writers get caught up in reading and re-reading what they've written, so that they can revise, copyedit, and proofread their manuscript—but try to resist that urge. The best thing you can be doing to finish your manuscript is to write it, and you should worry about making it perfect later. Try to make it a goal: don't go back to the introduction section or the first page until you've finished.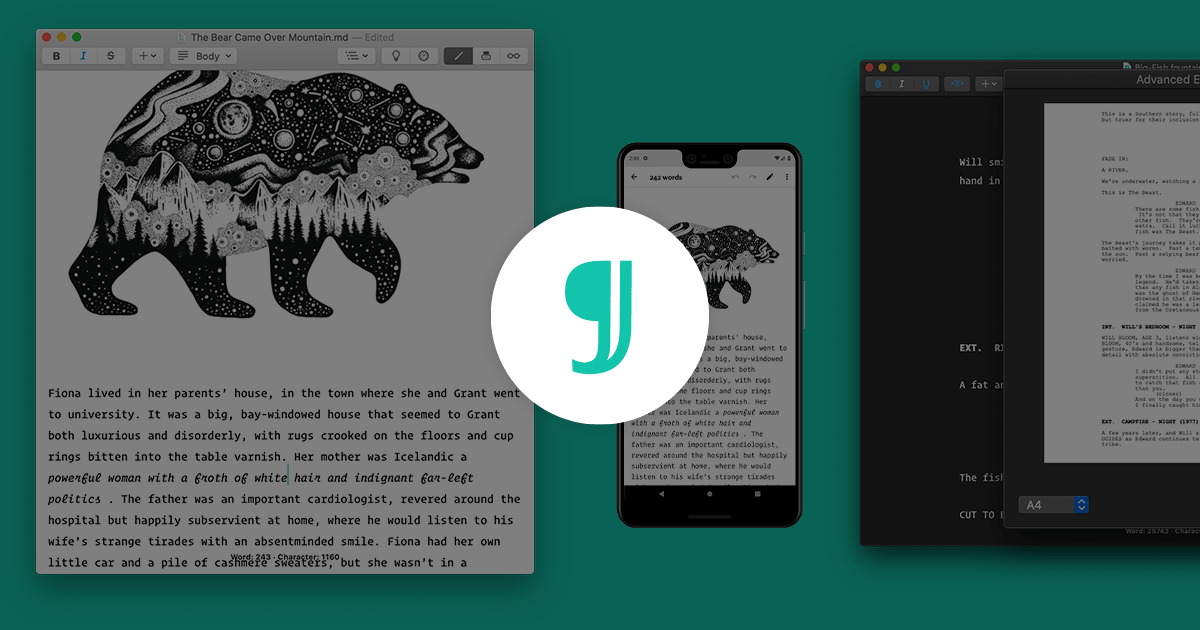 8. Build a network
A great resource for writers is a circle of other writers. Meeting other writers can help in a variety of ways; from getting good tips to develop better writing habits to having a reliable group of readers who can give you feedback on your project. You may even find a co-author for your manuscript.
Another bonus about keeping in contact with other writers is that they can help keep you accountable for writing, which will help encourage you to set aside your consistent writing time.
9. Source for agents soon after
Once you've come close to locking the final version of your manuscript and have completed the necessary formatting furnishing, you can take your mind off the writing and your story for a while and looking for avenues to get your book out there.
You can start sourcing for reputable agents and publishers, coming up with a book proposal, and submitting it to a handful of publishing houses on your own or through an agent. With the advent of many online reading platforms and marketplaces, you can even explore the option of e-publishing.
10. Publish an ebook
In the case that you have a satisfactory manuscript of your story in hand, and you have been brainstorming about getting your book published electronically instead of going to an agent or publisher, you can publish your book with the help of the ePub plugin on JotterPad easily.
This plugin converts your Markdown documents into formatted eBooks and generates and packages your final document with standard electronic publishing formatting.
To use this plugin:
Create a new Markdown text file.
Open the YAML Front Matter
Customize your book attributes by defining book attributes such as the title, author, and publisher in the YAML front matter. E.g. title: Sailing Voyage By Water.
Open "Export" menu and select the ePub export option.
---
Getting started and getting some momentum going for a writing project is always the toughest part of the process. Once you get into the swing of things, your path ahead will get a little clearer.
With the necessary knowledge, well-working tools, and the inspiration to write and share your stories with the world, writing a manuscript for a story or book will be simpler that you may fear it to be.