Many of us are constantly working on new writing projects, and even on multiple things at one go. With just a few clicks, we download countless documents to either share, save, or print.
However, the ease of downloading also comes with a downside - the frustration of finding specific documents among the many files we accumulate. It's a common problem that can waste time and cause stress.
In our line of efforts to simplify your writing and creating processes, we are excited to let you in on our latest update to JotterPad's editor; the download manager. JotterPad's download manager can ease this chaos and simplify the process of finding what we need.
Let's take a closer look at the download manager and how it can expedite your writing process.
Continue Downloading in the Background
In the earlier versions of JotterPad, users would have had to wait until their documents had downloaded completely, which could take some time, before they could export and print them. During this time, they were also unable to navigate away from the page.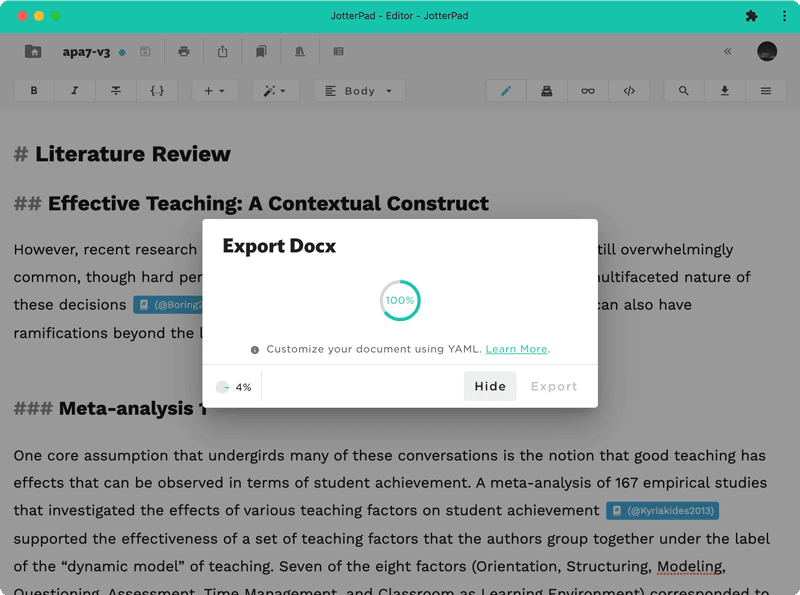 With the download manager, you can now choose to export your work and close the window to leave it to download in the background while you continue to navigate the app. To access your download manager, simply press the download button next to the search button in your editor to view your download queue. Once the export is done, it will appear in the list of your download entries in a queue that has your documents that are ready to be downloaded anytime.
Download the Exported Documents Later
The download manager also ensures that your exports are still accessible while you're offline. In the case that your Internet connection is weak, or if you choose to go offline, you can still access your documents from the download manager when you come back online, and you can continue downloading your work once you have Internet connection again.
Less Waiting Time
With this new feature, you also do not have to wait as long for bigger documents. If your documents have a large number of citations, it may tend to take a longer time to download as well.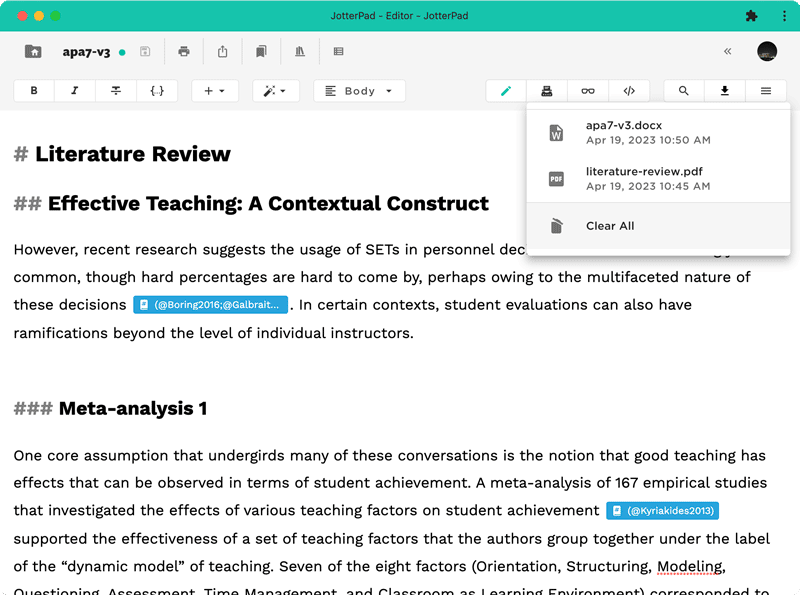 If you do not wish to wait for your documents to download fully, you can press the "Hide" option, and your downloads will still be processing in the background.
Track The Status of your Documents
The download queue and the documents in it also has different icons that will notify you about the status of your document; either loading, downloaded, or has experienced an error that you can look into as soon as possible.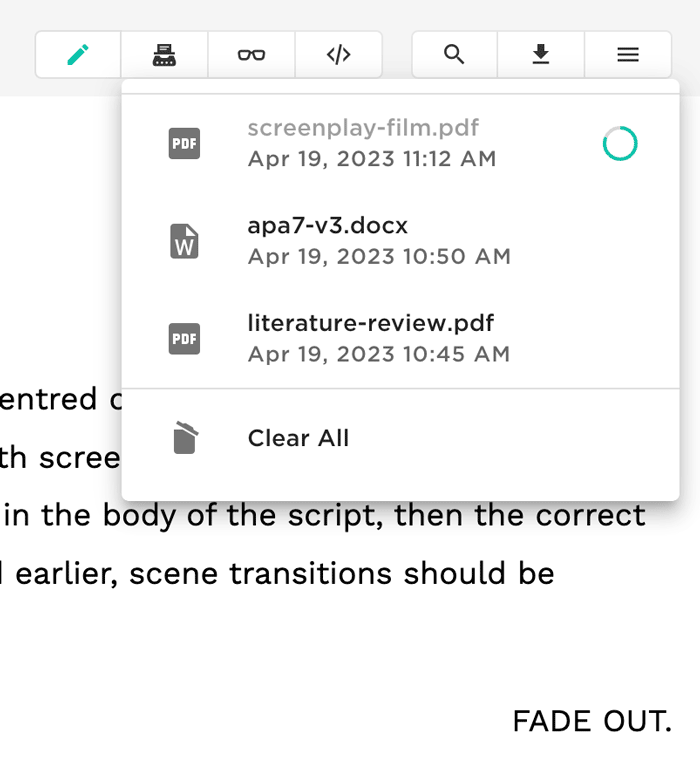 You can also view your documents, whether they are PDFs, DOCX or LaTex zip files, in your download manager all at the same time and with their respective statuses.
---
The latest addition to JotterPad's web app editor will streamline your exporting and printing process by allowing you to run the downloading in the background and by being able to view your PDF, DOCX or LaTex zip files in a queue.
With your downloaded documents consolidated in one place, managing your exports for print or for saving will be made much easier. This update will be coming soon to JotterPad's Web app.