AI, or Artificial Intelligence, has been creating quite the buzz in recent times. There has been a great deal of hype and excitement in the AI world with regards to the multiple kinds of technology that have been developed in the past year or so and the world of possibilities that they have opened up. AI now exists all around us; in healthcare, retail; e-commerce, banking and finance, entertainment, and more. The advantages of AI applications are aplenty, and it has the potential to revolutionize any sector.
In this regard, AI writing tools have proven to be able to value-add to content creation and writing. It has been able to aid writers in producing sound and quality writing faster and more efficiently than before. It has been a promising way for writers to increase their overall content output without having to spend hours researching and crafting drafts, blogs, research proposals, fiction and non-fiction writing, and so on; ultimately saving time and effort.
What Is GPT-3 About?
In line with such fast-developing AI technology that is being introduced into writing and content creation, one such tool, GPT-3, has gained traction in recent times.
It is an AI interface that uses deep learning to produce human-like text. When fed with prompts, it will produce content that continues the prompts or content that is related to the prompts. The newly developed technology has been recognized to be able to create content that has a language structure – human or machine language – better than anything that has come before it.
It has displayed the ability to write code, chat, write applications, create various kinds of content, write an email or blog post, and even hold a conversation with a person.
It can also perform the following tasks:
Write news articles when fed a title
Translate languages
Predict the last words of sentences with contextual recognition
Write stories with compelling endings
Answering a variety of questions and solve trivial puzzles
The New York Times described GPT-3's capabilities as being able to write original text with fluency equivalent to that of a human being. It can answer questions, write essays, summarize longer texts, and even translate languages. These capabilities make GPT-3 a savvy, multi-functional writing tool.
How Can We Use GPT-3 In JotterPad?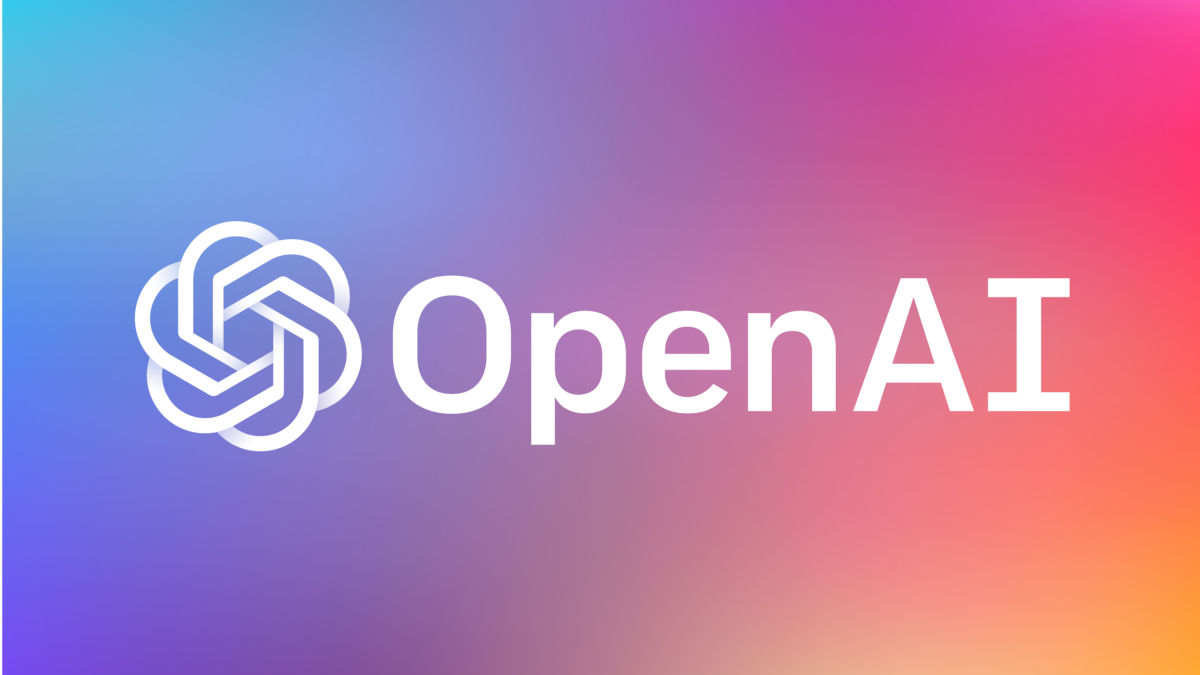 Recognizing these capabilities, introducing a writing tool that is powered by GPT-3 can be a promising way to help writers write better. As a tool that could help you generate content easily, provide you with writing prompts to help you past a writer's block, to gather basic information and research about the subject matter at hand, or provide you with a basic outline that could serve as a bedrock for your writing, writers of any kind can benefit from the assistance that an AI tool like this can provide.
Introducing Wizard A.I.
With the above-mentioned capabilities encapsulated in one place, the Wizard A.I. plugin on JotterPad is powered by and maximizes the GPT-3 technology in your text documents to aid your writing.
The Wizard A.I. plugin on JotterPad generates writing suggestions using Artificial Intelligence that is powered by GPT-3 technology. When you input a question or topic that you are brainstorming, Wizard A.I. generates related content or the answers for you. The plugin generates writing suggestions totaling up to 150 characters for you using the data that you feed it. This allows you to work with valuable writing points that would be generated in a matter of seconds.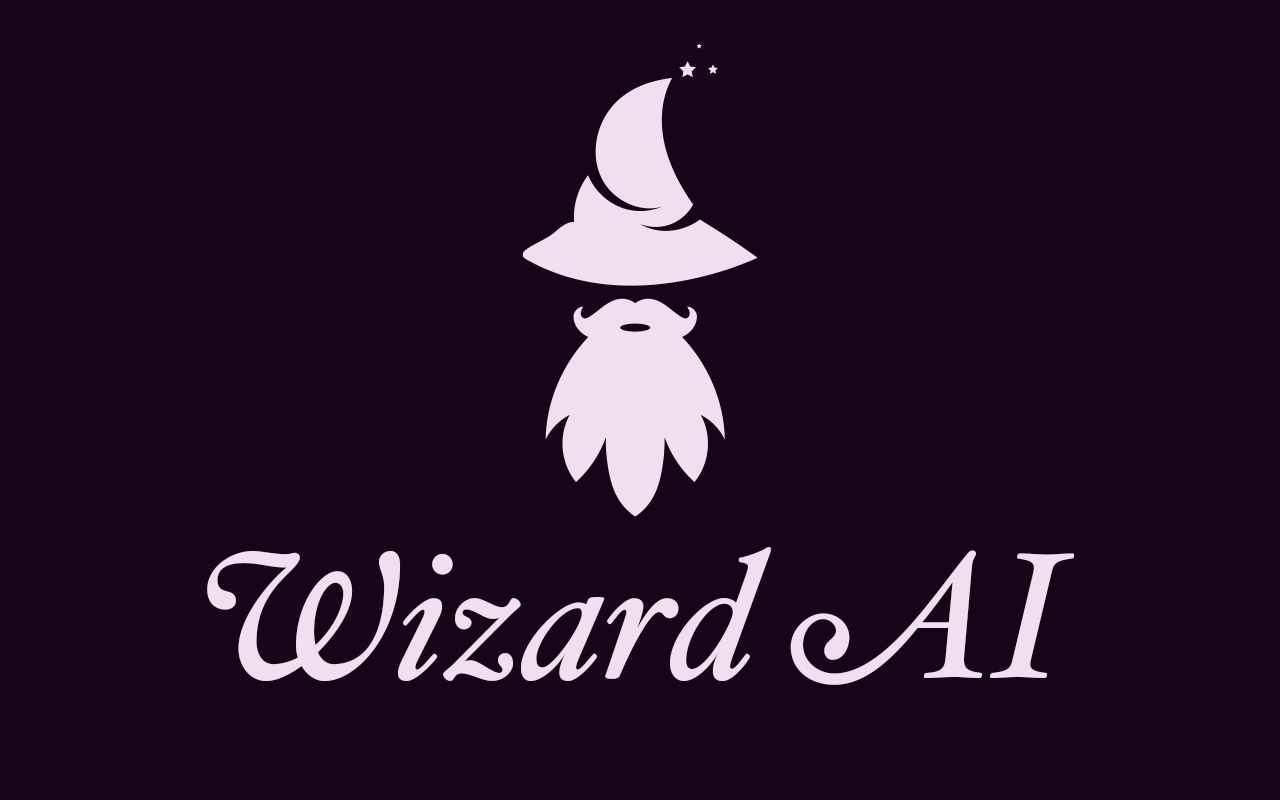 With the plugin, you can explore functions such as brainstorming an outline, brainstorming an introduction, coming up with 5 key points that can serve as the bedrock for your project, auto-completion for sentences, summarizing, and paraphrasing tools to guide your writing.
Wizard A.I. has the potential to be the perfect writing guide and prompt-generator. Used to kick-start your creative writing process, no matter what your subject-matter is, you can save time and energy with the supplementing aid that it can provide to boost your content.
Functions of Wizard A.I.
Some of the more functions of this plugin include the following:
1. Brainstorm Outline
Coming up with an outline can help writers organize and focus thoughts into a framework that can be understood clearly by themselves when they begin writing, or by others who wish to understand the overall content of a piece of writing. If you're lost as to how to go about creating an outline from scratch, Wizard A.I. can kick-start your writing by creating an outline for you to subsequently work with and improve upon.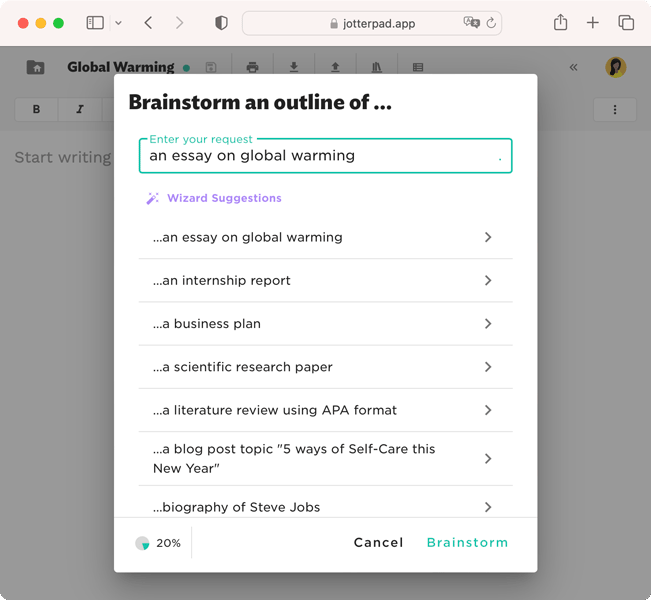 2. Brainstorm Introduction
Wizard A.I. has the capability to generate any text structure, not just human language text. It can also generate text summaries and even programming code automatically. This makes it a versatile brainstorming tool for your writing projects. With this function, an introductory paragraph can be generated for you with regards to the topic you have at hand. Reading an AI-generated introduction can give you a better idea of the direction of your writing and function as a bedrock for you to continue writing from.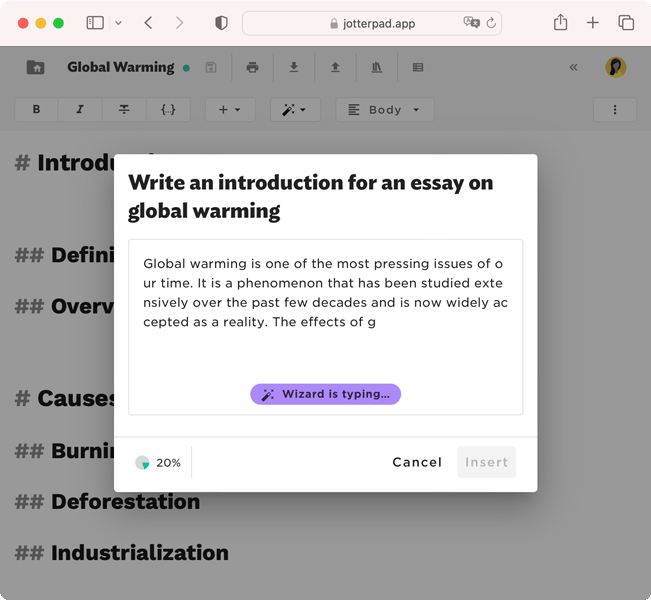 3. Brainstorm 5 Key Points
Powered by the largest artificial neural network ever created, Wizard A.I. can generate starting key points for you to kick-start your writing, no matter what the subject matter is. By feeding Wizard A.I. with a topic, you can use the points that are generated to jump-start your actual writing.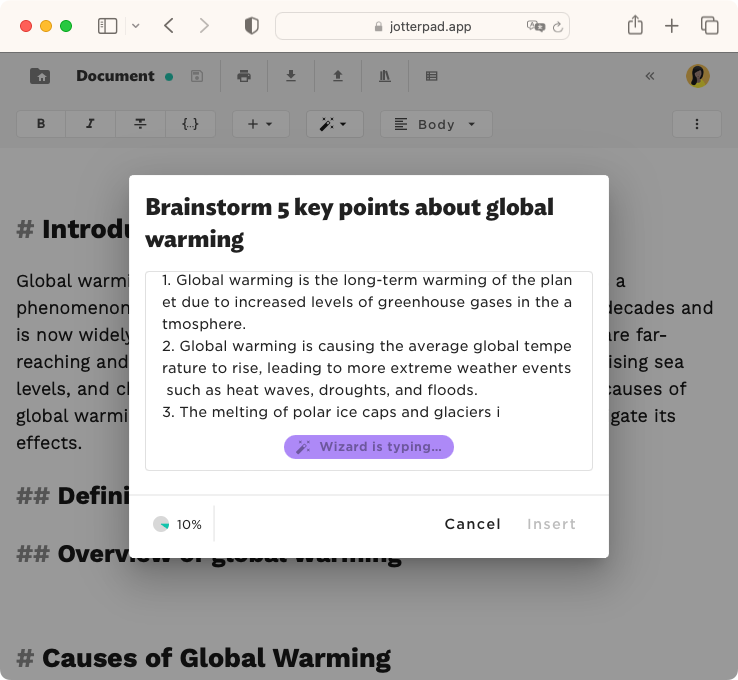 4. Summarize
If you're experiencing some writing lethargy or a writer's block, the summarize function on Wizard A.I. can help you summarize the main points of your work for you.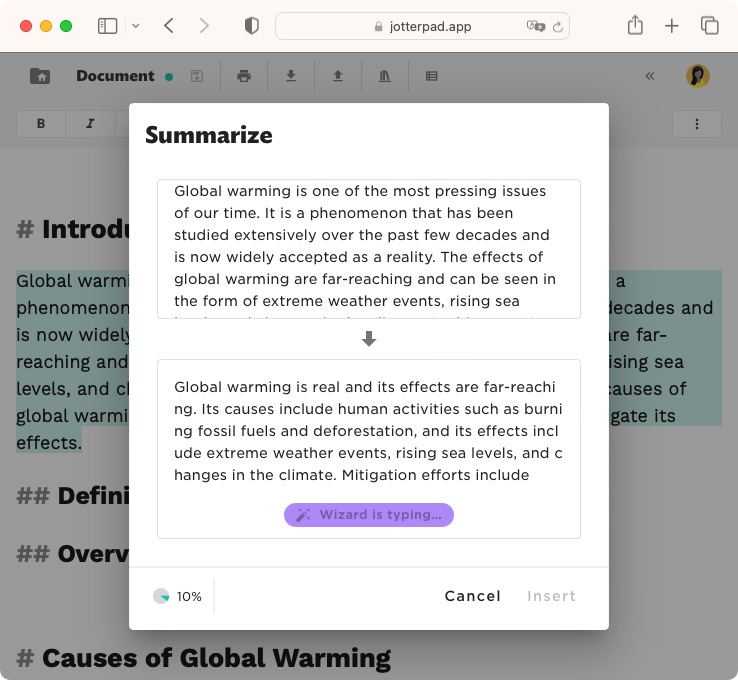 5. Paraphrase
If you're feeling lost as to how you can word your content in a different manner without disrupting it's original content and meaning, re-write your content without disrupting the meaning or flow of your language and words with the Paraphrase tool.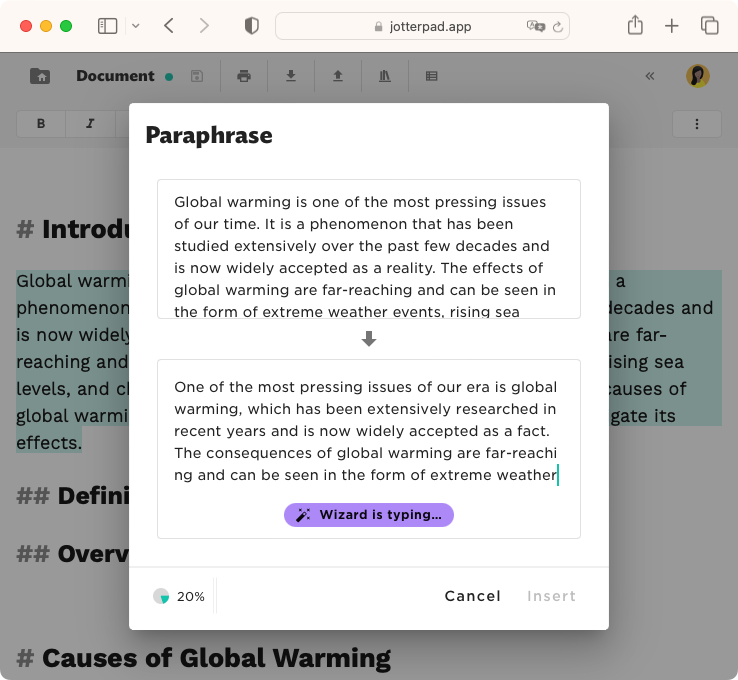 6. Simplify
If there is a need to re-word your work into sentences, words, or language that can be read and digested easily, Wizard A.I.'s Simplify tool could come in handy. This tool re-words your writing into words and language that would be simpler to understand, while maintaining the main crux of your content.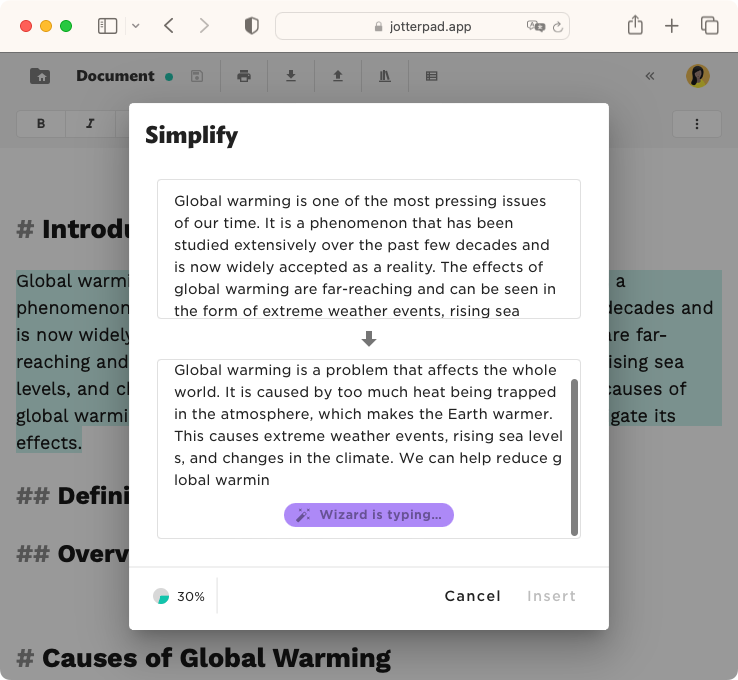 The above 6 features in Wizard A.I. focuses on generating human language-like natural text. This ensures that the tool generates content that would mimic human-like, readable content; something that has been difficult for machines that are unfamiliar with the complexities and nuances of language, until now.
How Do You Use Wizard A.I. On JotterPad?
Using the Wizard A.I. plugin on JotterPad is straightforward.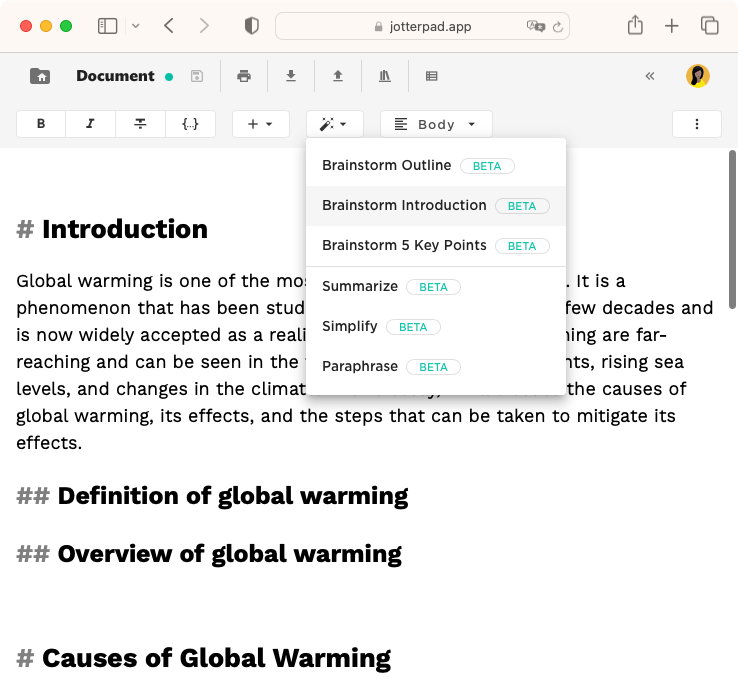 To use this plugin:
Create a new text file on JotterPad
Click on the Wizard A.I. icon in your top toolbar, on the right of the "+" icon.
Select from a list of tools, from "Brainstorm an Outline" to "Brainstorm 5 Key Points" to indicate what you want to generate.
Feed the plugin with text in relation to the topic or subject you wish to write about in the "Enter your request" section.
Click "Brainstorm" to generate text.
Select "Insert" to add the generated text into your text file.
Limitations Of Wizard A.I.
Considering the capability and power of a tool like Wizard A.I., there is potential to generate almost any kind of writing or content once fed with questions, data, or keywords. While this opens doors to limitless possibilities and boundless exploration, we intend for Wizard A.I. to function as a writing guide and prompt-suggesting tool, rather than a mere content generator.
We believe that Wizard A.I. can supplement your writing endeavors and serve as a bedrock for your individual creative pursuits instead of completely taking over. For example, Wall Street Journal's Joanna Stern went back to high school AP Literature for just a day to see if she could get a passing grade solely depending on using AI to generate class material. She managed to pass most of the components required for the class. Situations like this, where AI tools are used to generate content in schools, colleges, and workplaces, raise ethical concerns and some would even argue that it would qualify as a form of cheating.
To manage this, Wizard A.I. will provide up to 150 characters worth of generated content, instead of longer write-ups. With up to 150 characters of generated writing, you have both the space to work off of what Wizard A.I. offers, and you have the freedom to amend the content as you see fit.
---
Wizard A.I.'s capability to generate original text with human-like fluency makes way for endless possibilities on JotterPad. It can expand the way you write and create content in multiple ways. It's ability to generate large amounts of text makes the creation of text-based content easier and more efficient, and saves you time and every as well.
Explore limitless possibilities with the Wizard A.I. plugin on JotterPad, and use this tool as a writing assistant for your next project or assignment.
Wizard A.I is only available on Web for now.