To all of our dear writers, the wait is over. The new and improved JotterPad 14 is finally coming to Android, with all the updates you've been wanting and more! Here's what's in store for you.
A brand new welcome screen
Immerse yourself in the magical world of writing when you open JotterPad – for we now have a brand new welcome screen with magical, fantasy-like visuals!
We hope that these new visuals can help bring you into your creative state for a better writing experience.
Our new and improved Editor
Our goal is to bring to you a smooth writing experience, which is why we've prioritized making improvements to our JotterPad Editor.
Faster and more powerful
JotterPad 14 is now faster and more powerful than our previous versions. You will now be able to open and edit large files on JotterPad Android with reduction in interface lag. Now, you can work on your novels, no matter how lengthy, even when you're on the go.
| | Performance in v13 (s) | Performance in v14 (s) |
| --- | --- | --- |
| Open large text file | 12.93 | 8.39 |
| Typing delay in large text file | 1.61 | 0.54 |
| Saving large text file | 24.35 | 4.21 |
New and improved toolbar
We've heard your feedback regarding the JotterPad toolbar, and we're pleased to show you how we've improved on it.
Find all your writing tools in one place with our new scrolling toolbar. Scroll left and right to reveal more tools at your disposal, such as header and indentation formatting options.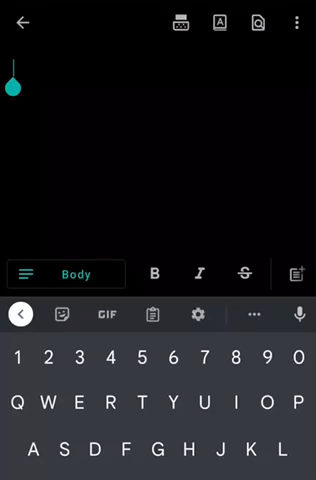 Word and character count can also be found in the toolbar now, so that you can have a distraction-free writing experience.
Animated word search
As a small quality-of-life update, we've added some extra spice to JotterPad's word search function. Searched words now have a small expanding animation for you to have an easier time identifying the words you seek.
Fountain: Addition of scene numbers
Writing a screenplay is no easy feat, but navigating through your screenplay shouldn't be a difficult task.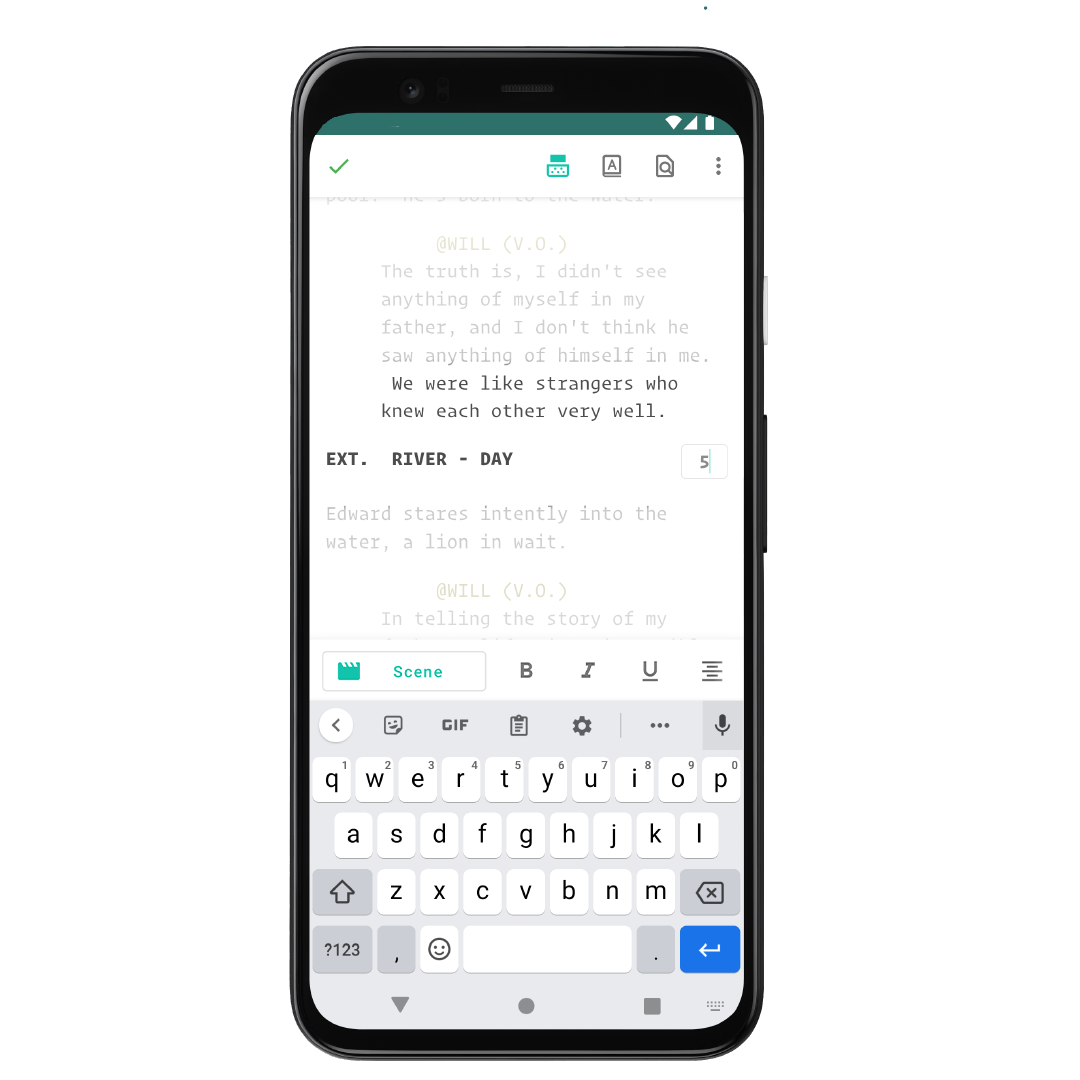 In JotterPad 14, you'll now be able to manually add scene numbers to your Fountain document. This will allow for easier navigation and better organization as you write your next great work.
YAML code editor
JotterPad 14 now offers the YAML code editor, through which users can input key value pair into markdown documents easily.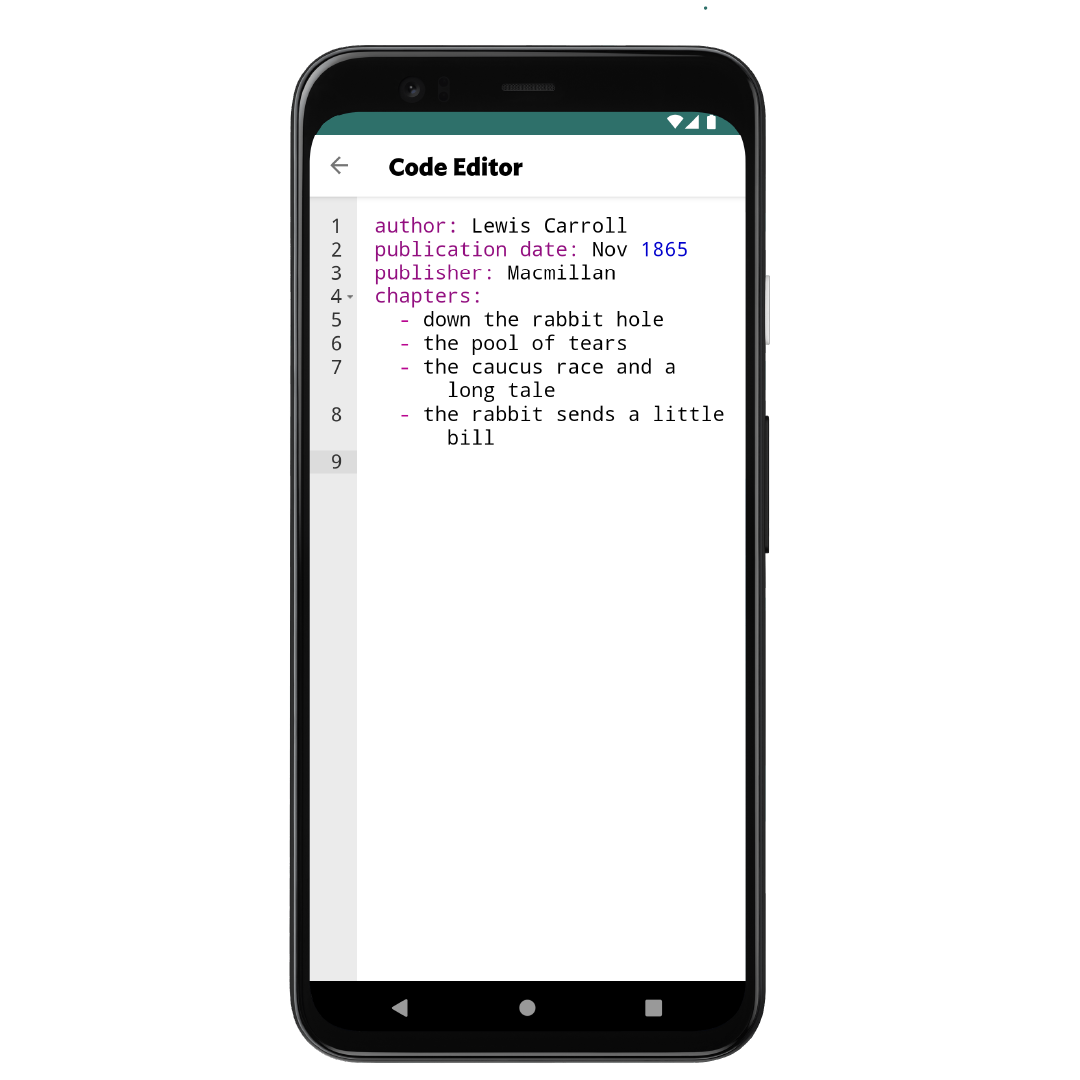 This tool allows you to input key data into your markdown files that you do not want wish to include in your text body. Vital information such as the author's name, date which the document was created, etc. can be included in your document through this feature easily, compared to our previous interface.
In-line TeX equation
In our previous version, adding TeX equations took up an entire line in documents. Now, JotterPad 14 offers an in-line TeX equation function that does not take up an entire block in your document. You have the freedom to add TeX equations within a paragraph.
Improved Privacy: Change In File Access Permission
Due to the implementation of new files access permissions to protect user privacy on devices that run on Android 11 and higher, JotterPad Android will be making several changes to file access and storage.
Here are the 2 main changes that will be coming your way:
JotterPad local access is changing to a private app directory
External files will have to be imported into JotterPad
Let's walk you through what these mean for you.
1. Private app directory
Files will now be saved on a private directory
Uninstalling JotterPad will now delete these files from your device
Will not affect those who use cloud storage
Why?
In the past, JotterPad Android users could save their work on external local directories. They could also directly open files from external local directories on JotterPad without much hassle.
Due to the changes in Android permissions, however, this will no longer be the case.
JotterPad Android will now have a private directory on your device. Any and all works written in JotterPad will be saved on this directory and you will no longer have access to other local directories.
Do note that you will still be able to make sub-folders to help organize your files.
This also means that uninstalling JotterPad will also delete of your files from your Android device. As there will be no changes to cloud storage, we do recommend users to make use of cloud storage to keep your files safe.
2. Importing external files
Files from external directories have to be imported into JotterPad via Android systems
It will still be possible for you to open files from external directories into JotterPad to be opened. However, these files will now have to be imported into JotterPad via Android systems.
How to Migrate?
All these new changes will be applied when you download the next JotterPad update on your Android device. When you open the app, you will see the following notice: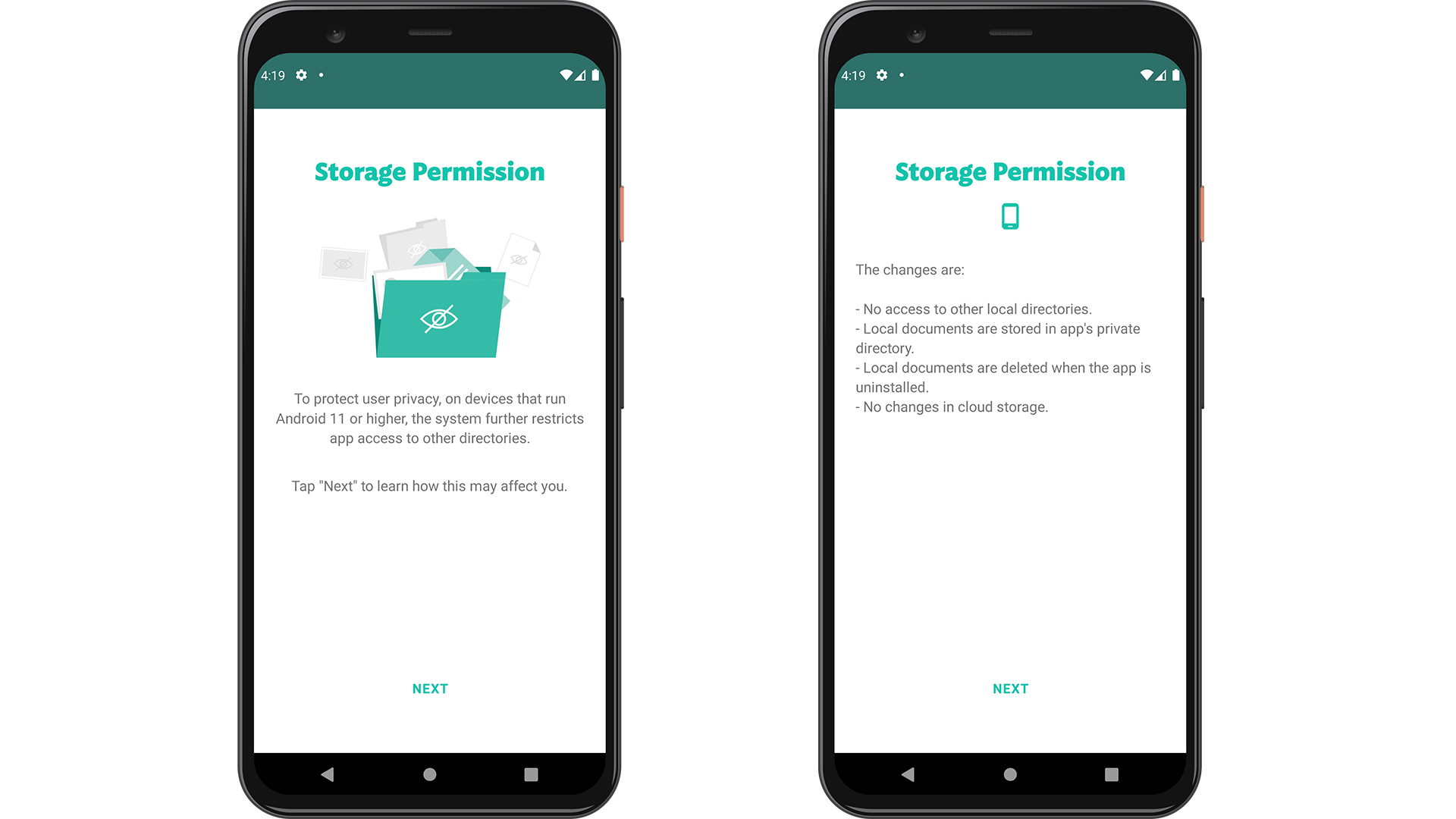 Next, you will be prompted to migrate all your files from the local JotterPad folder into the private app directory.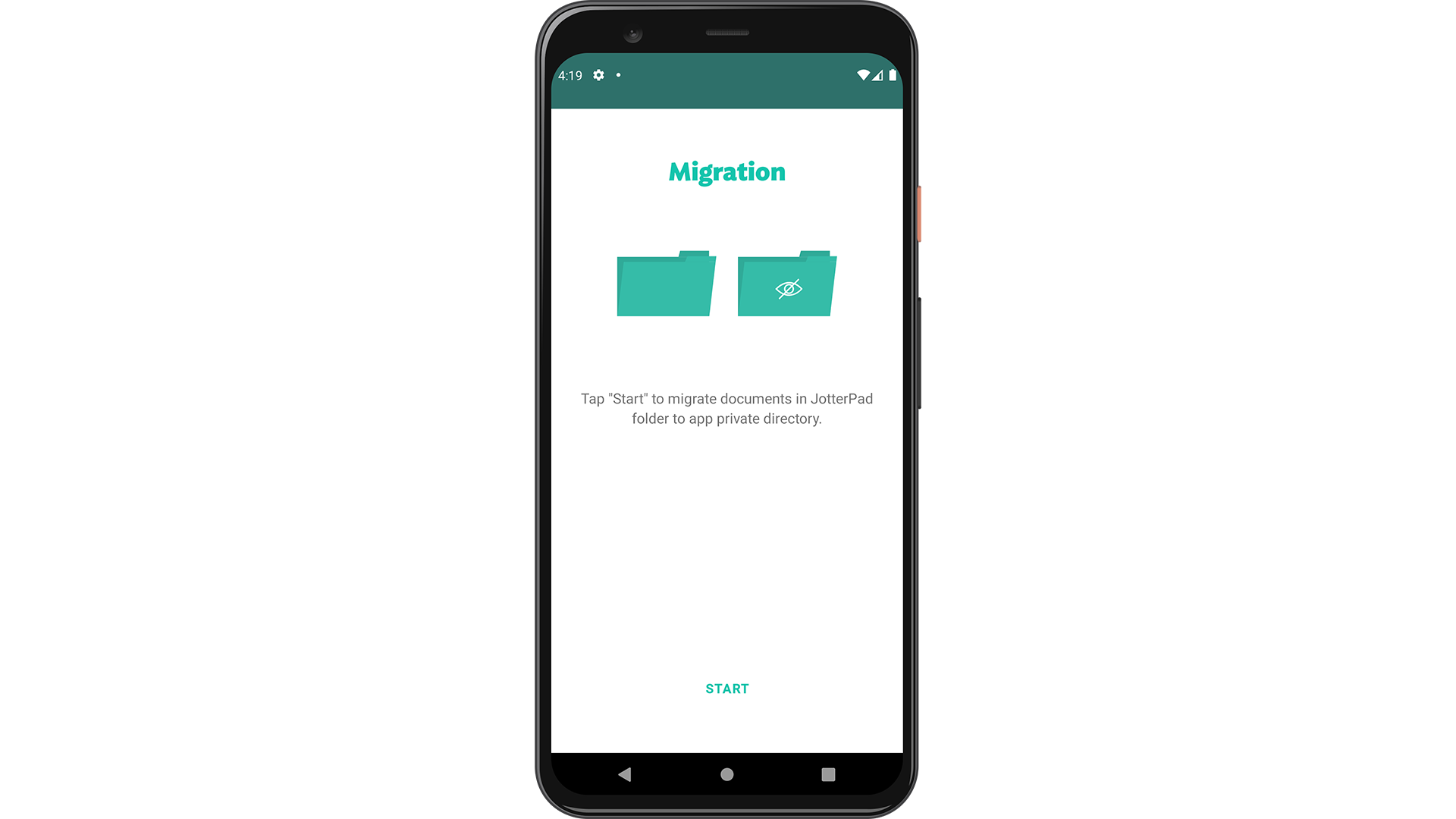 Then, you will also be given a chance to import documents from other directories into JotterPad.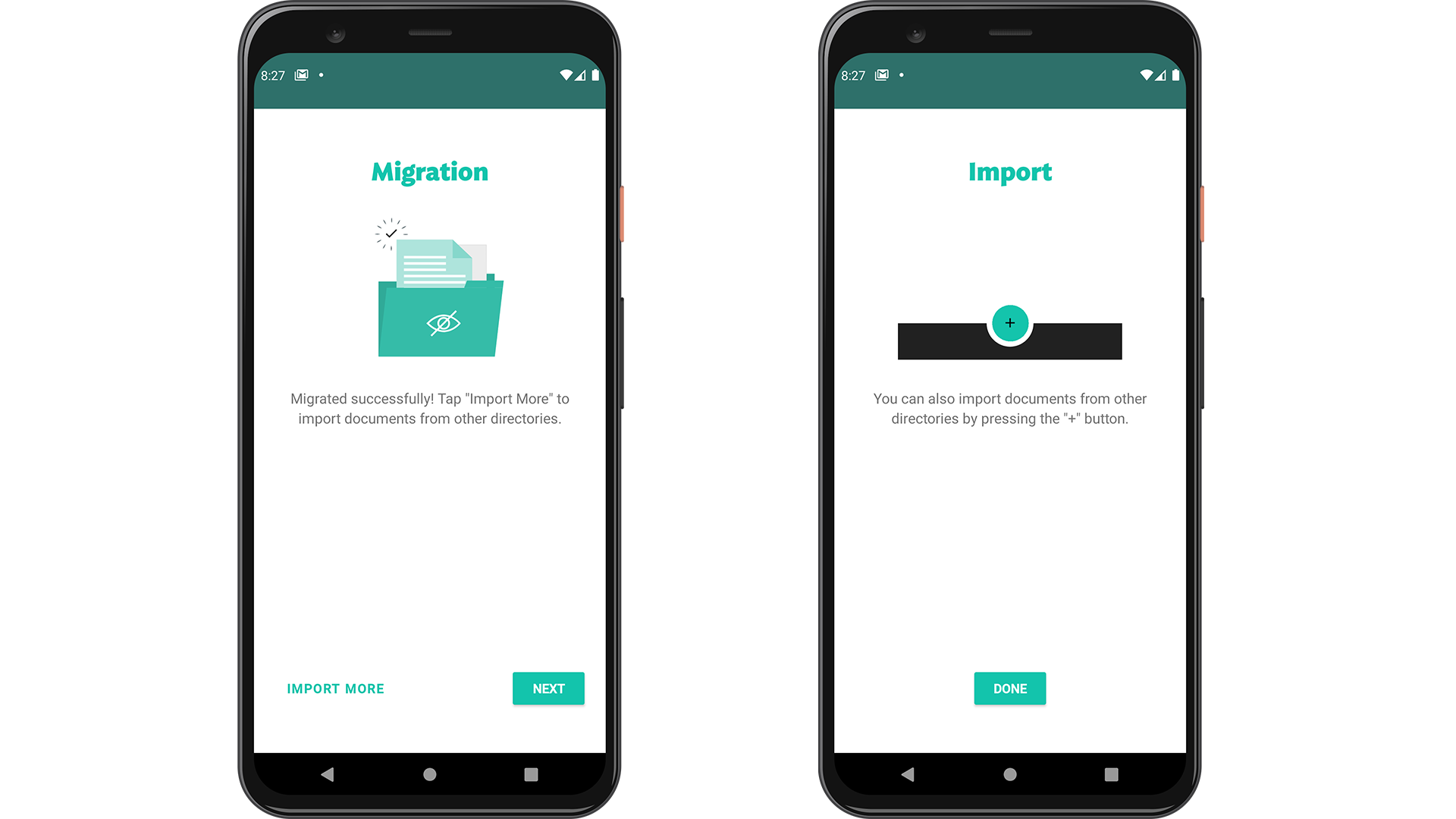 ---
We hope that all these new updates in JotterPad 14 will enhance and improve your writing journey! Write on!