When inspiration strikes, you may want nothing more than to jump straight into the thick of things and start writing your screenplay. And we get it — bringing your ideas to life is the fun part, after all! That said, it's important to take a step back and start with an outline first.
But if you're unsure on how to get started on writing a screenplay outline, we've got you. Here is a guide on how you can draw up an outline for your script, as well as on how you can use JotterPad to do so!
Why write a screenplay outline?
It's incredibly important to draw up a screenplay outline before you jump into writing for a variety of reasons. For one, an outline helps you organize and sort out the most important parts of the story before you complicate things with details.
Drawing up a screenplay outline can also help you break past writer's block! Writing an outline doubles as good writing practice and can get those creative juices flowing.
Lastly, it's common practice among screenwriters hired by a producer or studio to provide an outline before starting on a project. Even if you're just a new or aspiring screenwriter, writing outlines is still great practice for any future opportunities in the industry.
Steps to writing a screenplay outline
If you're ready to start drawing up an outline for your screenplay, here are some guiding steps and tips you can follow!
1. Make a beat sheet
The best way to get started is by making a beat sheet, which is basically a summarized or condensed version of your screenplay. It's meant to highlight any key plot or character moments in your story, and broadly maps out the general development — both plot and character — of your script.
A fun way to make a beat sheet is by breaking your screenplay into sections and writing it on index cards or post-its. If you have multiple storylines in your screenplay, use different colored index cards to differentiate between them.
Image from Go Into The Story
This is a fun yet systematic way to organize your screenplay in a digestible manner. Consider investing in a corkboard or whiteboard to hang the index cards above your workspace! This will help you stay on-track when you're knee-deep in writing your screenplay.
2. From the beat sheet, make a list of scenes
Now that you've got a broader idea of how your story will flow, you can now break down your beat sheet into a list of scenes on your writing software of choice. Ideally, you should include every scene that you envision for your screenplay so that you have a detailed map of how you want your story to flow.
It's also recommended that you use scene headings with proper formatting even in your screenplay outline. This will help you visualize each scene better and this will save you a lot of trouble when you're writing your screenplay.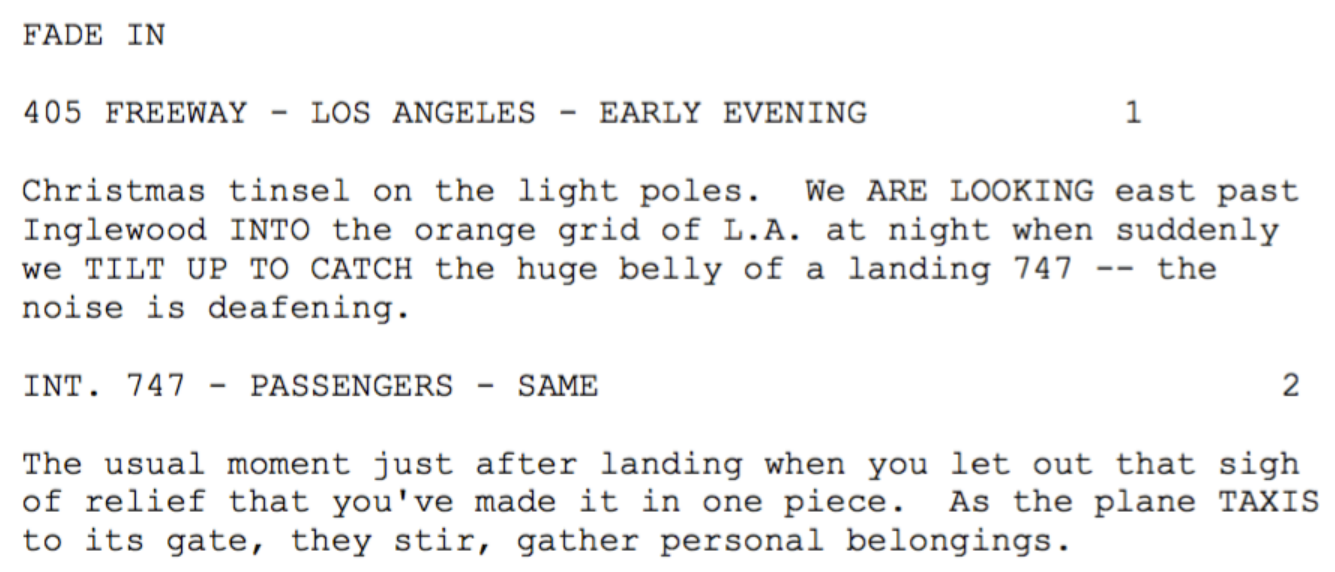 Image from Examples.com
It may be a hassle to manually format your scene headings on Google Docs and Microsoft Word, but with JotterPad, formatting your screenplay outline is no trouble at all. On a Fountain document, simply go to + > Scene Headings and input the relevant information.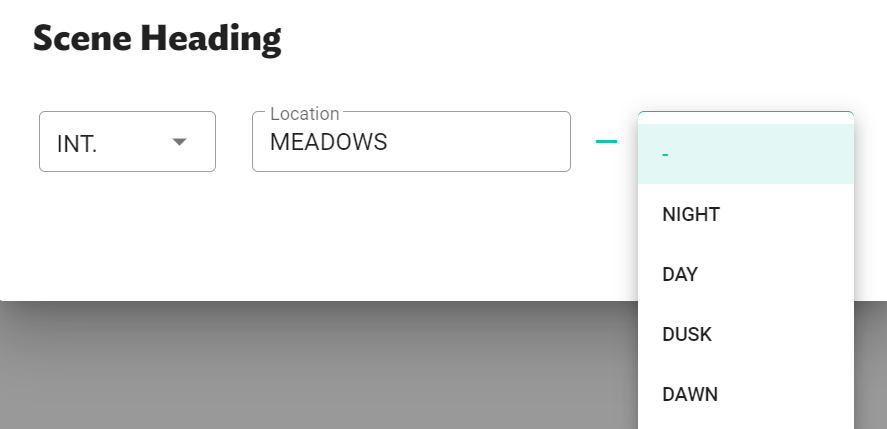 And just like that, you'll have created a scene heading with perfect screenplay formatting on your document!
3. Add details to the scene
When it comes to fleshing out the scene for your screenplay outline, there's no hard and fast rule! How detailed your scene descriptions are should depend entirely on you and your preferences.
However, if this is the first time you're writing a screenplay outline, your scene description should generally include:
A brief description of what actions take place in the scene
What do the characters or audience learn?
Any dialogue that comes to you
4. Make sure that it all flows together
Since drawing up a screenplay outline is meant to streamline your writing process later, it's important to ensure that all your scenes flow into one another.
If this is something you struggle with, read your scenes out loud as if you're explaining your story to someone else. If you need to use the words "and then" to connect the scenes, then it's a sign that the two scenes involved need to have a more direct cause-and-effect relationship.
5. Break the rules
It's important to remember that a screenplay outline ought to be tailored to you, your writing and planning style, and your preferences! Don't be afraid to deviate from these rules and create a screenplay outline that is uniquely yours.
For example, famous screenwriter John August used a one-page screenplay outline for his screenplay for Big Fish.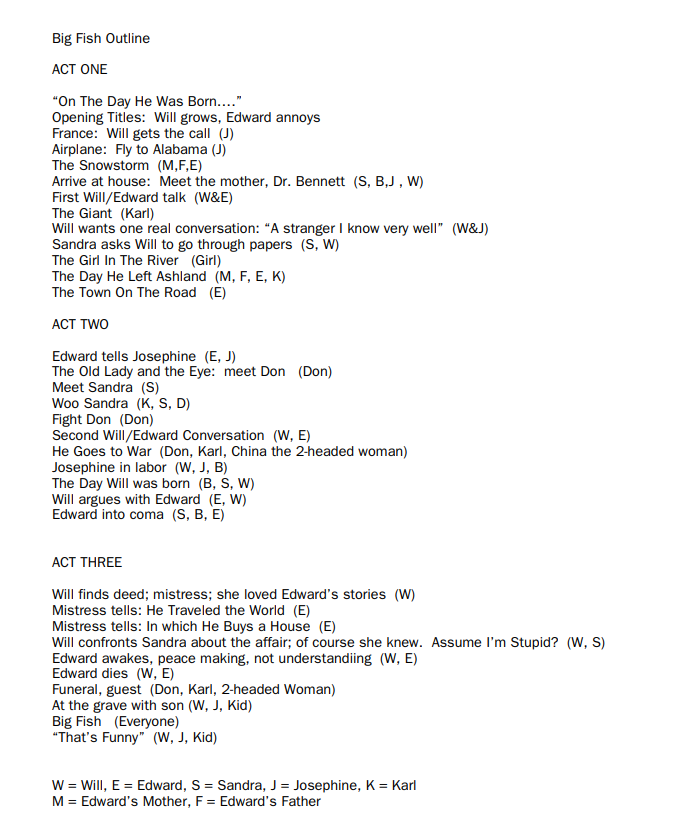 6. Don't be afraid to make changes
Finally, don't be afraid to make changes to your screenplay outline! Your outline is not set in stone, and there is always room for change and improvement. In fact, making changes to your screenplay outline is a great sign that your story is developing and becoming better.
That is why you should consider writing your screenplay outline on a writing software with a cloud sync feature — like JotterPad!, With JotterPad's cloud sync feature, you can make changes to your screenplay outline on any device, wherever and whenever inspiration strikes you.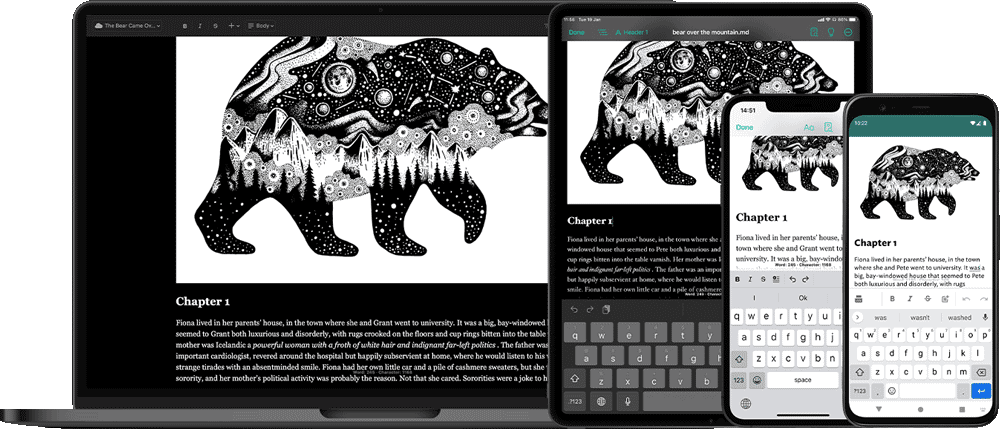 All you have to do is sign in with Google or Apple ID, and connect to a cloud service of your choice, such as Google Drive.
---
It can be challenging to start your screenplay from nothing, but a screenplay outline will ease you into things. So go ahead and start drawing up your screenplay outline on JotterPad now!