Ian C. Williams, a passionate writer, storyteller and user of Jotterpad, has made it to the quarter finals of this year's Austin Film Festival with his screenplay, Al-Sudan!
In this written Q&A, we interview him about this recent accomplishment, and how Jotterpad has aided him in his screenplay writing.
How would you describe yourself?
Ian: A storyteller. Even in a corporate job, I love the opportunity to talk about strategies and design choices simply because it offers an opportunity to tell a story. It's a great feeling to share something you just learned or a little-known experience with others.
What is "Al-Sudan" about and what were some of your inspirations for "Al-Sudan"?
Ian: Al-Sudan is a tale set in the African Middle-ages. It's about Minkailu, a Malian prince who was kidnapped as a child, and enslaved in Egypt. Now an adult, he escapes and travels all the way back to Mali to reclaim his throne.
When he arrives, he's told that in order to get his crown, he must first play escort to a princess. The one place in all the world she's wanted to see? Cairo.
My visual inspiration for the story was definitely 1962's Lawrence of Arabia, but the story itself was quite personal. There's an almost global belief that Africa has no history, and that once you leave Egypt, the continent has offered nothing to humankind.
The school system in the US is so terrible that they perpetuate this belief by teaching nothing of the continent until the Trans-Atlantic slavery. This really was my way to share what a magnificent story setting Africa is beyond colonialism.
How did you feel about "Al-Sudan" making it into the semifinals for the Austin Film Festival?
Ian: I was genuinely surprised when I got the news that I made the Quarterfinals. In an embarrassing mistake, I'd send the script out to this contest and sites like the Blacklist even though it was just a 2nd draft.
Thankfully, the story was polished enough for me to land in the Top 20% and on the Blacklist.com's top list as well. It was a great confidence booster and I'm looking forward to entering again with my much improved, later revision.
How did you incorporate Jotterpad into your screenplay writing process?
Ian: When I wrote the early drafts of Al-Sudan, I didn't yet have a Chromebook and I didn't enjoy writing from my tablet. This year, with all the great Chromebooks that came out, I picked up the Samsung Galaxy Chromebook and love working from it.
I had to find a way to incorporate it into my writing process, and that's when I found Jotterpad. It has a non-distracting UI and, most importantly, Fountain and FDX support. That makes it great for focusing on the nitty-gritty rewriting process.
Beyond Al-Sudan, I'm writing a second draft of another film, and a first draft of an animated pilot all within the app.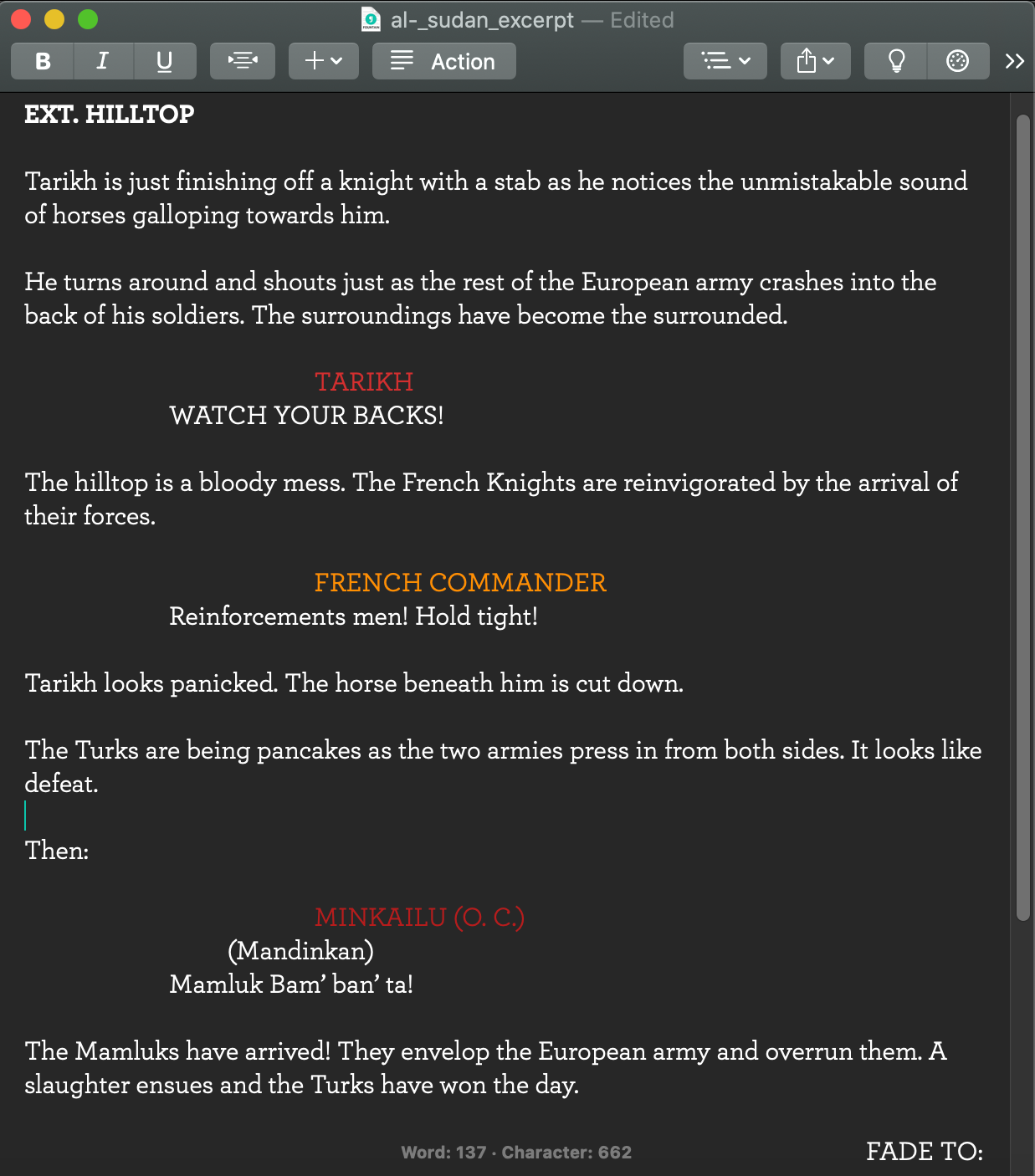 What Jotterpad features did you like and what features do you wish to see in the future?
Ian: As I said, Fountain and FDX support is exactly what I needed. But writing in Markdown is something I wasn't accustomed to before this year. Now, I couldn't do without it. That, and the ability to preview your writing in published format are great.
In the future, I'd love to have a place to store notes while inside the app. Something to facilitate outlining and planning. The fewer windows I need open to write, the better.
What writing advice do you have for aspiring writers?
Ian: Embrace mistakes and failure. I come from the world of CAD design and Architectural virtualization. There, failure is not only frowned upon, but it can also be dangerous.
In writing, there are tons of mistakes and slip-ups that you're just not going to catch. I think that's ok, and this year where a stupid decision got me a small win, I think making mistakes is a good thing.
---
For those who are interested in reading Al-Sudan, it is free and available to read online here on his website
Ian can be contacted through his Twitter, @ianwill93, and his other writings and works are available on Medium @icwillwrite, as well as his personal website ICWillWrite.com