Cezar Capacle is a passionate, imagination-driven game designer. He is also an architect, a musician, and a user of JotterPad.
In this written Q&A, Cezar tells us about his interest in story-based game design, his writing process, and how JotterPad has helped him in these creative endeavors.
Cezar also takes us through the creative and writing processes behind "Scraps", one of his fantasy role-playing games that is set in the ruins of an ancient civilization. He talks about his desire to create an RPG game that does not ride on the traditional violence or combat element, and yet retains entertainment value and player involvement.
How would you describe yourself?
Cezar : My name is Cezar Capacle. I'm a Brazilian tabletop roleplaying game designer. I'm also an architect, but for the past six years, I've been creating my Indie games within a wide range of topics, always trying to experiment with the format and bring to life games that I wish existed. Now it's been almost a year that I do this full time.
Which would you consider your best narrative-driven game thus far?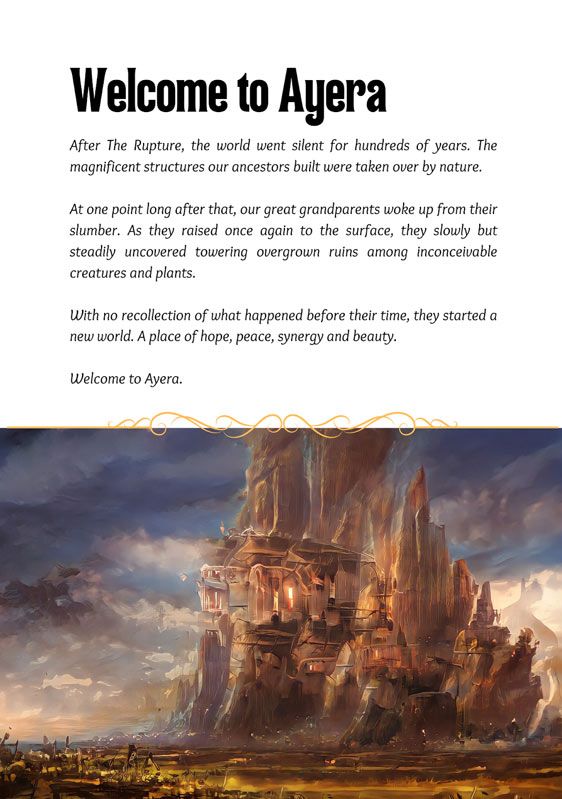 Cezar : It's always a hard choice, right? I have more than ten of those games out! But since we're talking about narrative-driven games, I'd go with "Scraps". This is an exploration and crafting game that invites players to create a marvelous world with whimsical fauna and flora as they play. It can be played solo or in a group, so you can keep a journal of your discoveries and journeys across the land and have your own version of that world by the end of your gameplay.
It actually won an award recently and I've been getting pretty great feedback from players. So I don't know if it is my best narrative-driven game, but it seems that it has resonated with people, which is always nice for a designer.
Tell us a little about the inspiration or story-writing process behind your best game.
Cezar : 'Scraps' was born from different sources of inspiration, but I believe what really drove me to write it was my intention to design a non-violent game. So the world of Ayera was born, a place in which the very concept of violence is unknown. Traditionally, the tabletop roleplaying experience is rife with battles and war, and more and more we're seeing different takes among independent games. I wanted to provide an experience of play that allowed you to enjoy an adventure that didn't need to rely on combat to be entertaining.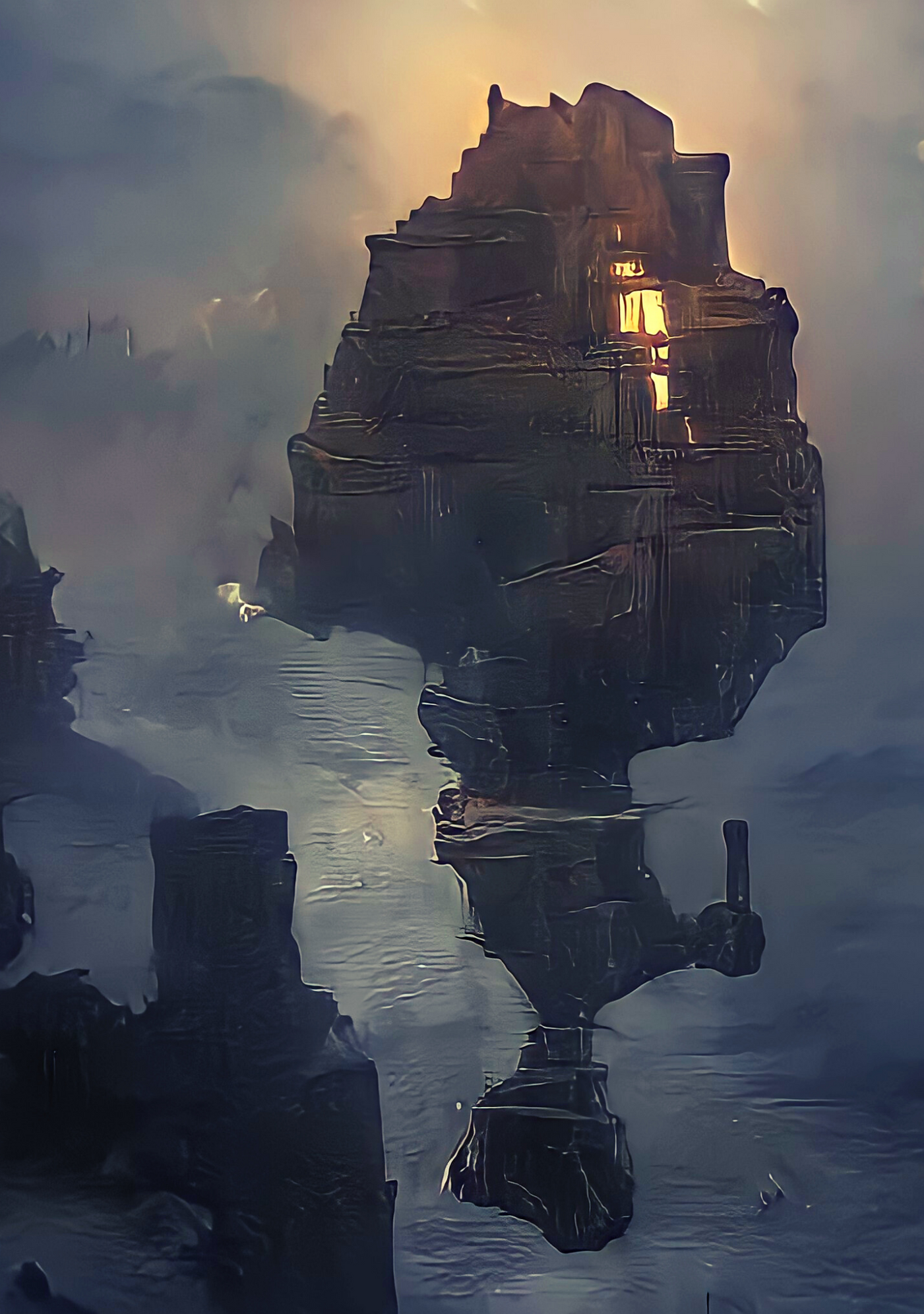 Once I came up with this concept, it was a very fast process to have the game done. I believe I wrote it out in six days! My intention was not to provide my authorial view of the world of Ayera, but instead, offer tools for players to create and discover their own Ayera as they played. My story writing here was focused on suggesting evocative prompts that would spark the players' imagination.
How did you incorporate JotterPad into the planning of storylines for your games?
Cezar : "Writing tabletop roleplaying games is a very particular experience. I believe this is one of the reasons it is hard to find a tool that is perfectly suited for the task. Every designer has their own habits as well, but for me, I really need the ability to jump back and forth in the text at all times, adding elements to the rules as I go, and cross-checking with the things I previously wrote. I use JotterPad as my first tool in the process (perhaps I'll have a few scattered hand-written notes before).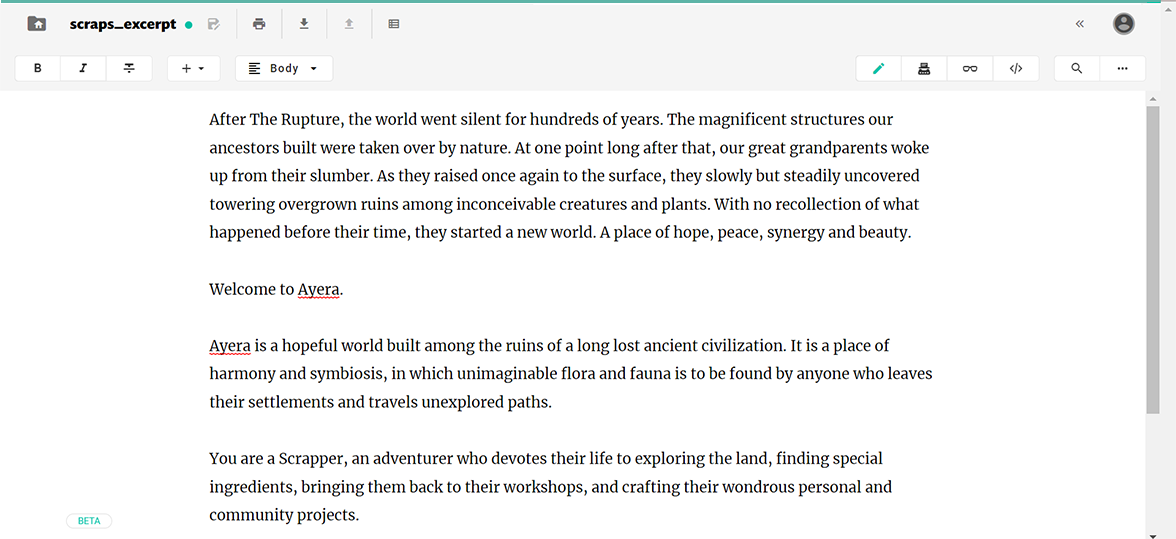 I try to come up with an outline of the book using headers and bullet lists very soon. Then, as inspiration strikes, I start filling in the gaps and moving things around if I feel the need.
This is not a linear process. Sometimes I come up with a solution for the endgame, so I'll write it. While doing it, an idea for part of the setting might arise, so I jump to that paragraph. Only when the game is fully written do I move from JotterPad into my layout software of choice.
What JotterPad feature did you like the most, and what is one feature you would like to see in the future?
Cezar : JotterPad is extremely lightweight, uncluttered and unobtrusive. At the early stages of design, this is essential. I really moved away from text editors that have a ton of features, toolbars, buttons, sidebars in your way. The fact that I can simply open a browser tab and start typing is invaluable. I also love how Markdown was seamlessly implemented, especially the tables. Game designers use a lot of tables, and JotterPad has probably the best implementation of markdown tables I've seen out there.
I really wish to see an indented Table of Contents in the future. Since, as I mentioned, I constantly jump back and forth while writing, it is easier to identify which chapter you're in if the headers are nested inside each other.  And I'd love to be able to customize background color as well as font sizes and colors. I'd certainly go for a dark grey background and a light gray font, and I would customize the headers to have a more distinct font size among them. Those little things that actually make you want to spend more time in the app, which I think is a huge achievement for a writing tool.
What writing advice do you have for aspiring storytellers or game designers?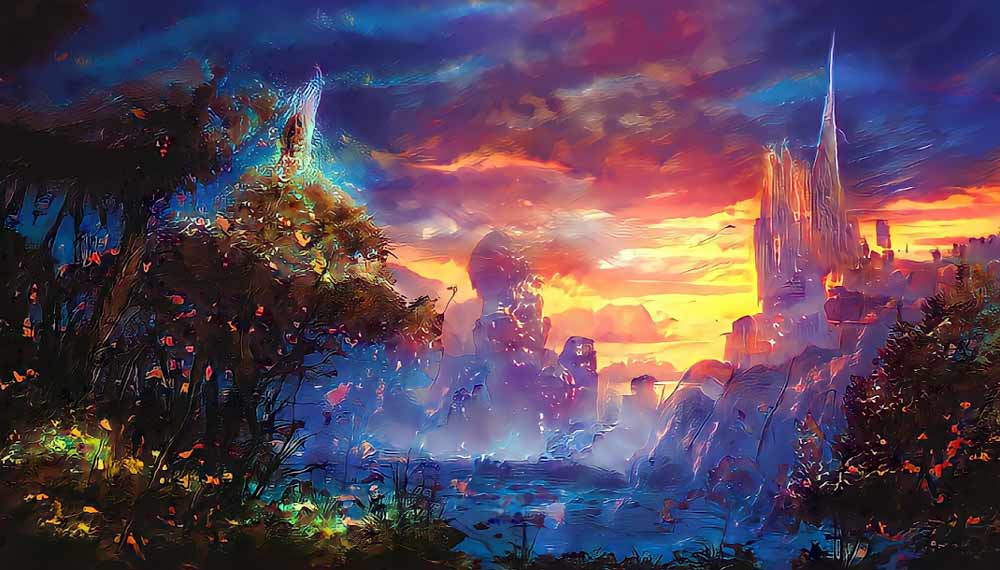 Cezar : Write the games you want to play. Write the games you wish existed. Do not wait for the perfect idea, inspiration, nor validation. Write today, with the skill set you have. Routine and consistency beat inspiration and so-called talent any day. Do it, you won't regret it. Seeing your creations in the hands of players out there is one of the best feelings in the world.
---
For those who are interested in Cezar's well-received games, they are available on multiple platforms such as PNP Arcade and itch.io here. To learn more about or purchase "Scraps", you can find them here on itch.io, PNP Arcade, Lulu, or Ko-fi.
Cezar can also be contacted through his Twitter, @capacle, and Instagram, @capacle.