Writing enthusiasts, we are thrilled to announce that we are back with new and improved tools for you with the next JotterPad update on Android.
We have been spending time to improve our interface and it's features for your use and writing ventures. We are committed to making your writing endeavors as seamless and as fruitful as possible. We have been gathering feedback and listening to what you, our users, have to say about your experience thus far, and have taken your needs into consideration for the latest features on the Jotterpad Android.
Read on to find out what we have in store for you!
1. Cloud Service
Previously, users would have to manually set up their Cloud accounts in the event that they move to a new device, or add their Cloud account to other devices that they may own in order to access it from multiple places.
With the new update, JotterPad will now conveniently fetch your Cloud accounts from your account on the JotterPad app and set it up for you on whichever device you choose to log in to.
Be it iOS, web, or Mac, you do not have to go through the extra hassle of setting up your Cloud Service on a new Android device from here on. Easily share and synchronize your work and data among multiple devices as a single owner with the new update; safe, secure and connected as always.
2. Templates
In our previous announcement, we were excited to share that we now have an array of templates for you to choose from and write with on JotterPad. We are thrilled to announce that you can now access and write with a plethora of templates on Android!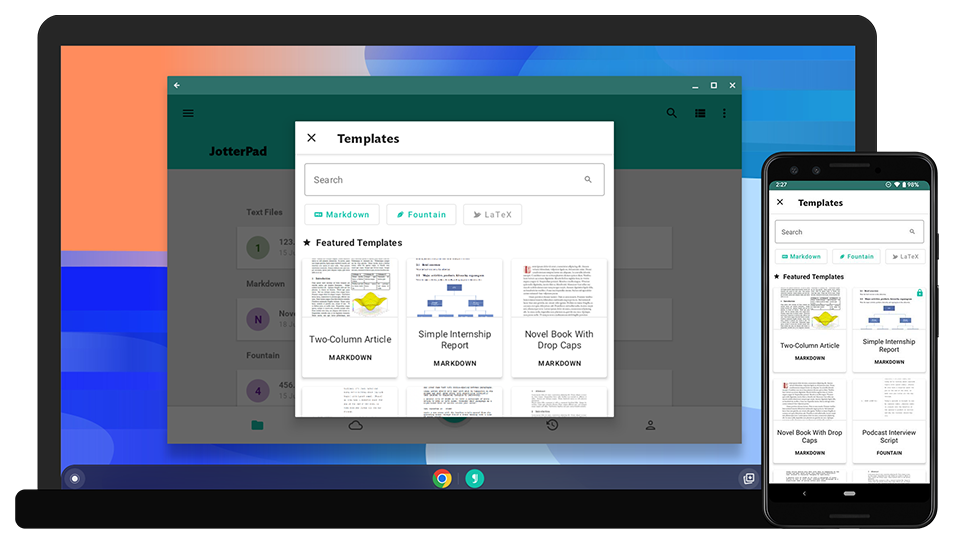 To further enhance and facilitate your writing endeavors, the latest addition to our platform, JotterPad's writing templates will now be available on Android. From novel writing, screenplay writing, to generating a lab report, to creating a cover letter, there are multiple types of templates for you to pick from. These diverse templates take care of your formatting concerns, and lets you focus on the bulk of your writing instead.
This continuously expanding range of templates includes books, letters, contracts, different types of screenwriting, essays, story planners, podcast scripts reports, presentation slides, and others for you to explore in your writing processes.
Print
You now also have the options of printing your work directly from the template, or as a draft.
While both versions will keep the general formatting and layout very much in tact, printing your work from the template creates a much more polished, finalized and professionally formatted document while choosing to print a draft creates a quick preview and gauge of your work. This option will add convenience to your vetting process if you happened to be working offline and require a quick and efficient preview of your work.
To view or print the finalized version of your work, simply click "print" and "print using template (.pdf)", while connected to the Internet connection.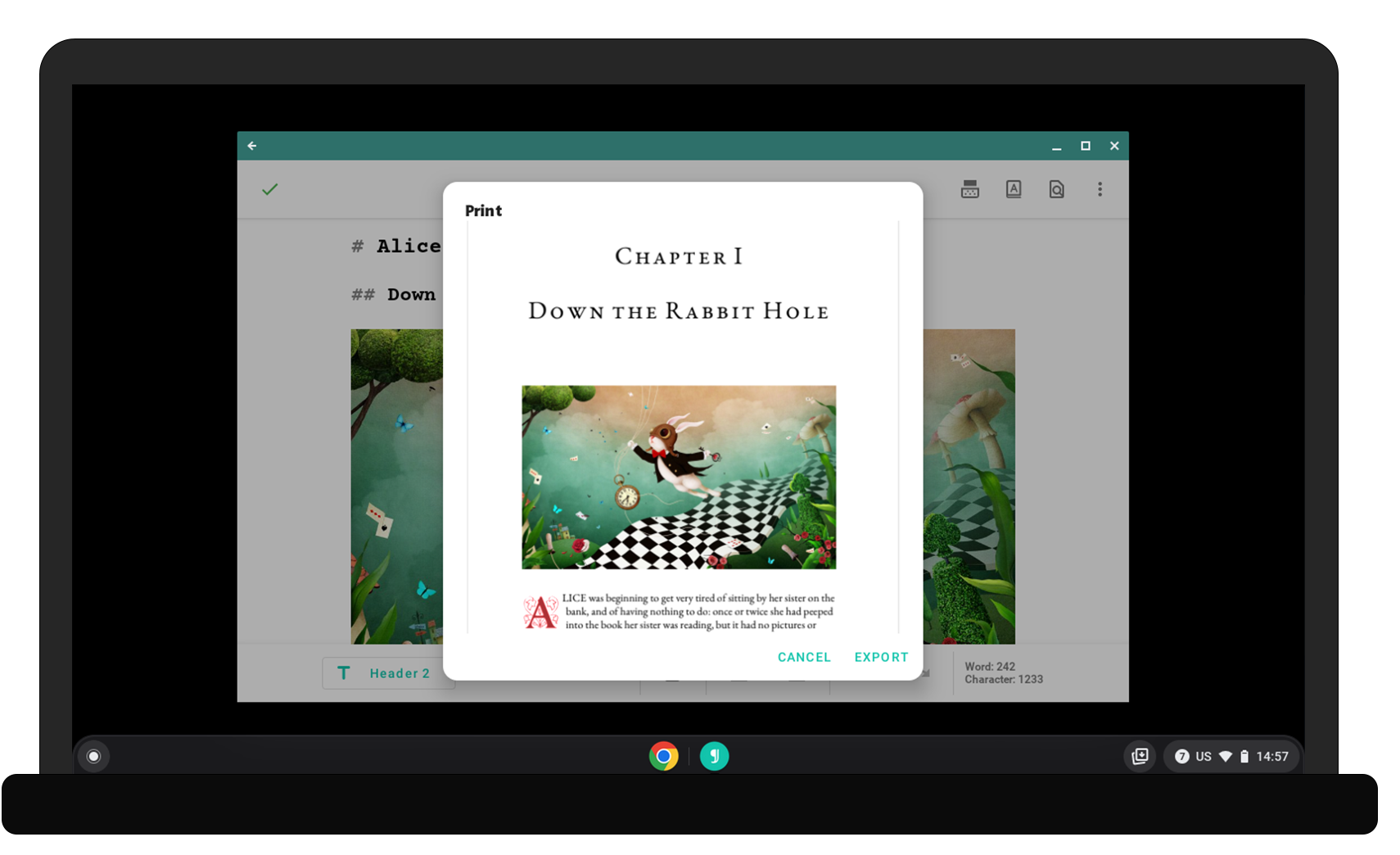 To experience the full function of this option, subscribe to Pro Cloud on JotterPad and reap the benefits of being able to print directly from the templates available.
Customize your Templates
With these writing templates on Android, you also have the space to further customize and personalize your Markdown documents. Detailing such as the font size, font-type, line-spacing, and even your page dimensions can be customized to your liking. This can be done using the YAML editor function in the templates.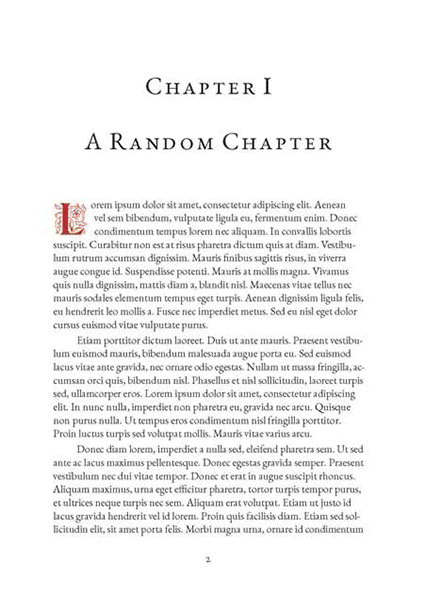 Parameters such as makeTitle can be added to create a title page, or tableOfContents can be added to create a content page in your document.
In addition to the above, more detailed customization can be done for all the templates that are now available on Android. For a more comprehensive list, please refer to our help desk.
3. Expand Screenwriting Capability with Fountain
Wider Range of Templates
Previously, formatting and working from a Fountain document was limited in terms of styles and formats. With this version of JotterPad on Android, there are a substantial number of templates that you can now choose and write from, and writers now have the ability to create Fountain documents and print work in many more styles and formats.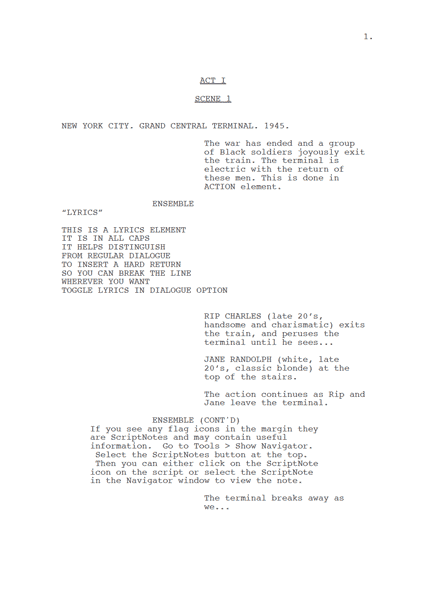 These include :
These templates are compatible with JotterPad's Fountain editor, and are available for you to explore and write with with this new update!
New Podcast Templates
With the addition of a spectrum of templates that are now compatible with the Fountain editor on our platform, the new Podcast News, Podcast Interview , Podcast Co-Host/Hybrid script templates add versatility to the type of work and writing you can achieve with JotterPad.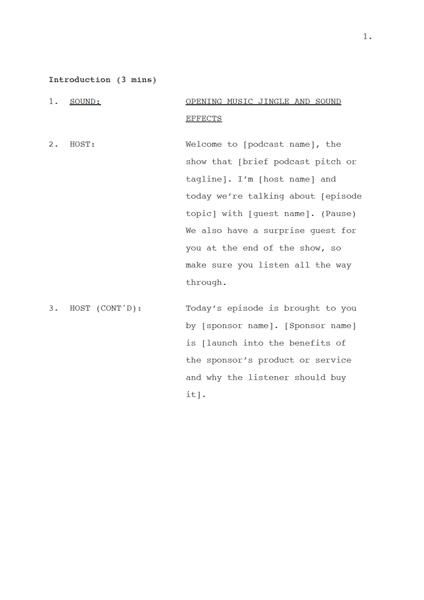 Explore these templates, and the scripts and structure that they offer, to create your own vlogs, YouTube videos, or start your very own podcast.
Stylized "Lyrics"
Previously, differentiating between components in your writing such as the dialogues, action cues, and lyrics could have been tough while drafting musicals. To make your work more nuanced and clear, we have updated the lyrics tool to be reflected in a more stylized manner; with musical notes. Differentiate the different segments in your scripts, such as the dialogues and lyrics easier with this tweak!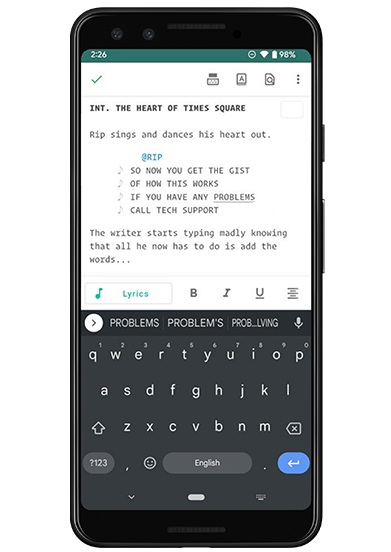 ---
We are committed to making your writing and creative experience with JotterPad as convenient and as seamless as possible.
We hope these new updates on JotterPad Android equip you with more tools and space to write to your heart's content.
Happy writing!