The user experience has always been at the forefront of our efforts at JotterPad. Every update and tweak is geared towards making your writing processes as seamless and as convenient as possible.
We have made some significant changes to already existing writing tools and added brand new features for you to explore, assuring you that your planning, crafting, writing, saving and exporting processes are going to be all the more convenient.
We are excited to let you in on the exciting updates we have made to JotterPad on iOS. There is an overall speed and performance improvement to our editing interfaces, upgrades to existing writing tools, the ability to add your very own images to your documents, being able to have universal cursor control, and more seamless TeX equation functions for your use.
Read on to find out more, and what else is in store for you with JotterPad on iOS!
Improved visuals
Albeit small, but as a significant change in light of making your viewing experience more pleasant, the new update to JotterPad iOS comes with enhanced visuals and graphics throughout the app. The icons that you get to toggle with are also more consistent with the latest iOS update. We hope that these improved, surreal visuals help you immerse in creativity and inspiration before writing!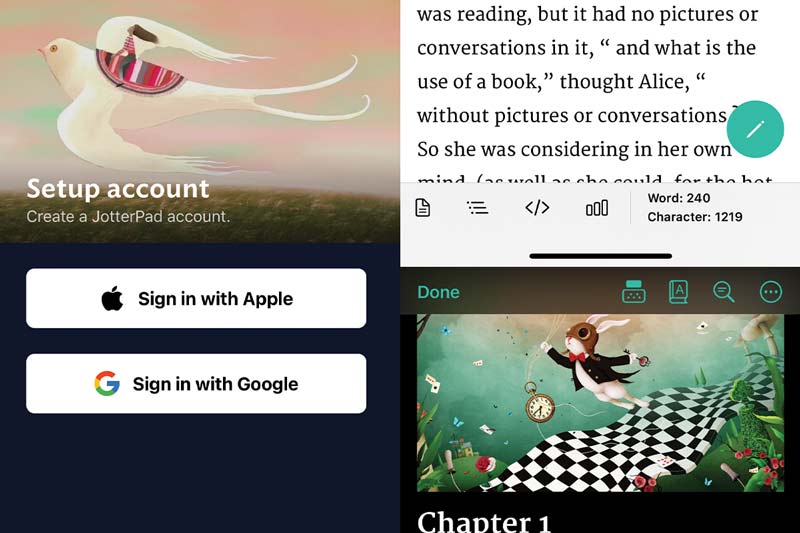 Upgrades to Existing Tools
With the goal of providing our users with a smooth writing experience, we have made it a priority to constantly look out for ways in which we can make improvements to the current tools on the JotterPad Editor.
1. Enhanced Tool bar
The Tool bar on our editing interface can now be swiped for you to view available tools in a more upfront manner. Scroll right and left to reveal more tools for your use, such as the header, indentation formatting options, and word or character count.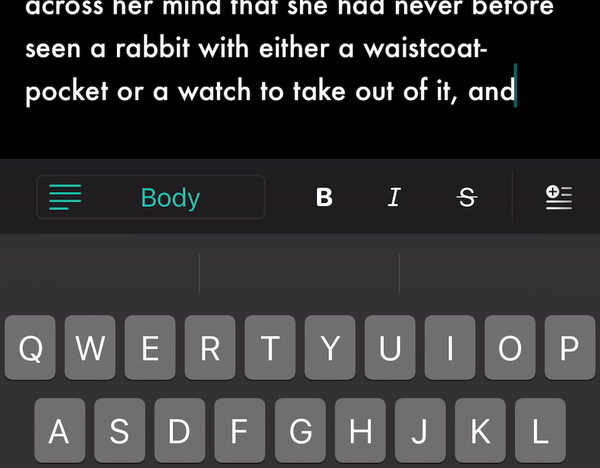 Now, your writing tools are populated upfront, and it will be easier for you to see what tools you have at your disposal.
2. Editor Button
The editor button has now been shifted to the bottom of the the editing interface.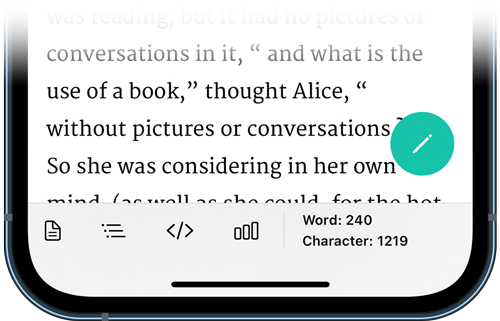 Previously, users could click anywhere on the screen to switch to editing mode on the interface. However, this was not as convenient when one does not necessarily want to edit but just scroll and read their work. With the edit button shifted to the bottom, it will be easier for you to click in and out of editing mode on JotterPad. This redesign has been implemented for it to be easier to maneuver through your writing process and through different modes, and to prevent accidental editing.
3. In-line TeX Equation
Previously, adding TeX equations took up an entire line in your document. Now, the new update allows for you to add TeX equations in-line. This ensures that your equations do not take up an entire block in your document.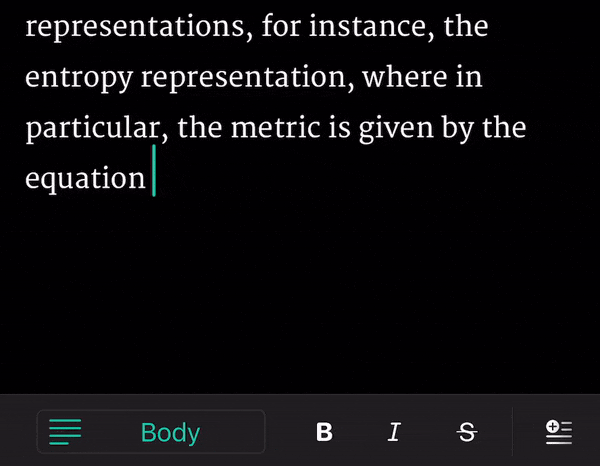 You can feel free to add TeX equations anywhere within a paragraph. This gives you more space and flexibility to decide the structuring and format of your writing.
Speed and Performance
With the new updates to JotterPad iOS, you can enjoy an overall improvement to the speed processing of our editing interfaces. Editing and saving your documents is now quicker and more reliable.
You can now work with bigger documents as well. You no longer have to worry about bigger files being a hindrance to the speed or fluidity of opening, editing and saving your work on our platform.
New Features
1. Add Your Own Images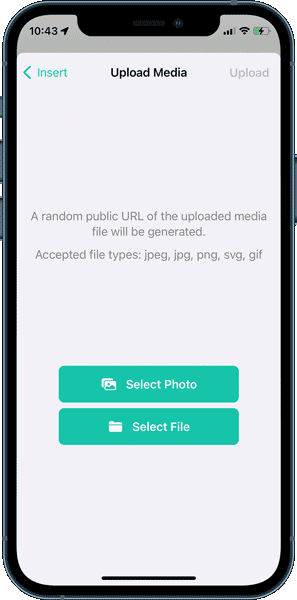 Previously, images could be added to your Markdown/text files using Unsplash or from URLs.
Now, Pro cloud users can upload images from their very own galleries. When your images are added and saved in your Markdown files, they are uploaded to the cloud and thereafter added to your Markdown/text documents. Afterwhich, a random public URL will be generated for your image. This makes your images accessible from whichever platform you open your documents from, considered you are connected to the Internet.
Your images, which can be in multiple file types such as jpeg, jpg, png, svg and gif, are secured and can be viewed should you choose to print, export or publish your documents as well. This portability is something we are incredibly excited to share with you, as we hope that it enhances your creating and writing processes.
2. YAML Editor
JotterPad iOS now offers the YAML code editor.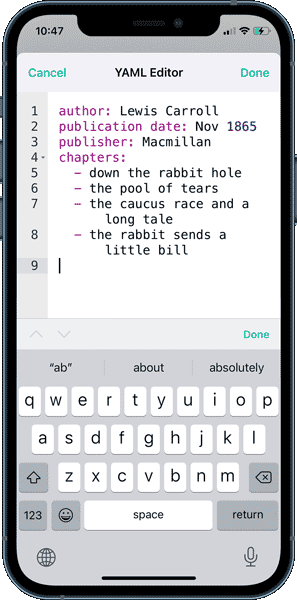 The YAML editor makes it possible for you to input key data into your markdown files that you do not want wish to include in your main text. Important information such as the author's name, date which the document was created, etc. can be included in your document through this feature with ease.
3. Universal Cursor Control
The iOS 15.4 update comes with the powerful function of universal cursor control. This new function allows you to use a single keyboard, mouse, or trackpad to move the cursor, type, copy content, and interact between your Mac and iPad devices.
With this universal cursor control, you can now work seamlessly between your devices and fully realize the potential of JotterPad.
---
We have made a long-standing commitment to your writing and creative process here at JotterPad. This iteration of updates to JotterPad iOS, with brand new and features and improvements to already existing tools, was implemented to continue to make JotterPad both enjoyable and productive for writers from multiple fields. We can't wait for you to experience these upgrades on our platform.
Happy Writing!