At JotterPad, your writing endeavors and satisfaction are at the forefront of our efforts. We strive to be an all-rounded writing companion that can accompany from the very start, all the way to the end of any writing endeavor that you choose to embark on.
With these efforts, we have been expanding the writing tools on our platform, such as with an expanding selection of templates that range rom novel, to screenplay, article, report, letter, and even presentation slides. These templates allow you to time and energy into the meat of your writing instead of the formatting.
Together with templates and tools that can facilitate academic, leisure, narrative, business and many other kinds of writing, we are pleased to announce that this now includes a Sheet Music for beginners template for you to explore!
Read on to find out more about this template and how you can compose your music with it!
Sheet Music
Having clear and easy-to-read sheet music for sight-reading is essential to playing music, performing, and even teaching music. JotterPad's Sheet Music template on Markdown allows you to compose your own music or create notation for yourself or students easily.
With the ABC notation system, it allows you to input musical notes, display the treble clef, bar lines, musical notes, key or time signatures and other elements that make up the musical notation to generate your very own Sheet Music.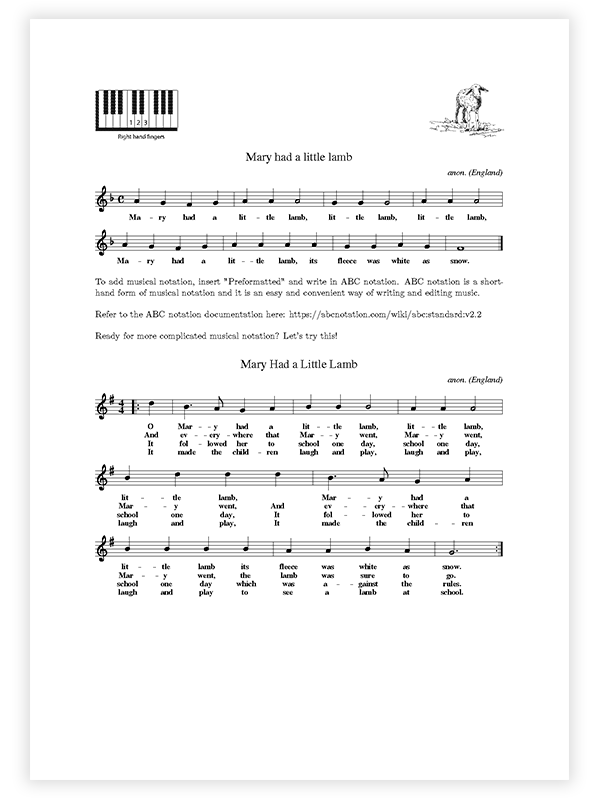 ABC notation
ABC notation is a concise, text-based music notation system which is a convenient method to write and edit music, and share your work thereafter.
Refer to the ABC notation documentation here : https://abcnotation.com/wiki/abc:standard:v2.2
How To Use Header Codes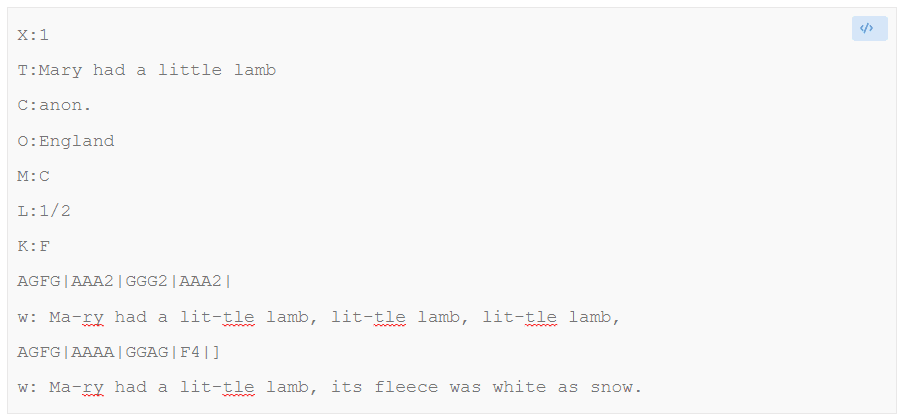 Upon opening up the Sheet Music for Beginners Markdown template, you will be greeted with the metadata that you will have to input to generate your sheet music.
The header codes in this metadata are denoted with alphabets, which are each followed by a colon.
Fill in the header codes with their corresponding data, and have them generated into your Sheet Music for you in a matter of minutes.
The following alphabets include :
X : The name of the diagram or tune number, often used for easy identification - It is key that what you indicate under this code is unique and different throughout your Markdown document. This ensures that your musical notation is generated clearly!
T : Title
C : Credits or Composer
O : Origin of the music
M : The meter of the music - This could refer to meters such as 6/8 for a jig, 2/4 for a waltz, or even being used for the common 4/4 time.
L : The note length as a proportion of a bar
K : The key that the tune is meant to be played in
AGFG|AAA2|GGG2|AAA2| 
W : This is placed after the code for the line of music, followed by the words or lyrics that you wish to include in your Sheet Music.
Print or Share your Music
Rest assured, when you print your Sheet Music from the template, the intricate formatting and layout of your musical notation will remain in tact. You need not worry about the time and effort spent into composing your music going down the drain when you print!
Moreover, you can input information into your Sheet music with parameters such as the title:, author:, and date: using the YAML editor function in the Markdown document.
To view or print your work, simply click "print" and "print using template (.pdf)".
---
As we continue to expand the tools available on JotterPad, we hope that you as aspiring musicians, performers, and music teachers can now also enjoy the functions that the platform has to offer.
While the Sheet Music and other templates are only available on web for now, they will be made available on Android, iOS and Mac during the later half of this year for your use and writing needs.
With this addition, we hope that JotterPad becomes or continues to be your writing tool of choice.
Happy Writing!