In the previous installment of the One Year Novel series, we went through how to craft your basic story premise. Now, two weeks later, it's time for you to get started on a basic outline for your novel!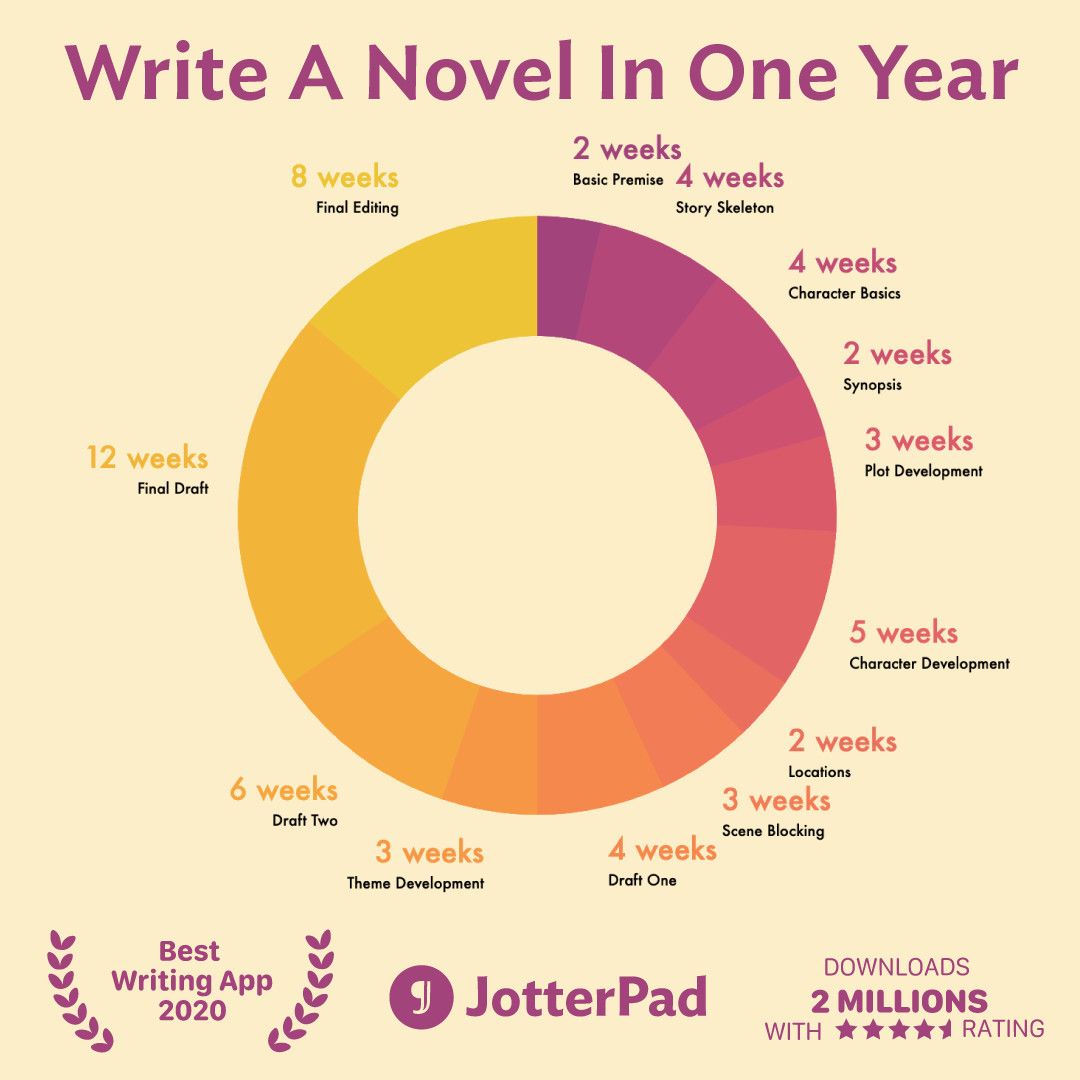 This isn't the first time we've talked about crafting story outlines for your novel and screenplay, but we've always discussed more comprehensive and detailed outlines. This time, however, let's return to the bare basics.
But then why bother, you may ask? Why bother creating a barebones outline instead of jumping straight into a detailed one?
Why write a basic story outline?
Firstly, writing a basic story outline will help you pace yourself. After all, there's a reason why we've created this infographic for our One Year Novel series. Since you're still in the beginning stages of your novel-writing journey, it's important to take things slow and avoid burning out.
Enjoy the slower pace right now while it still lasts, because things will most definitely get more hectic later.
Secondly, a basic story outline will help you visualize the bigger picture. The problem with jumping straight into crafting a comprehensive story outline (or even worse, the first draft itself) is that it's easy to lose track of the story structure and events.
It may seem slightly overkill to take 2 weeks to create a basic story outline, but trust us; you're going to want to keep revisiting your story outline to hash things out. And you can do just that in 4 simple steps.
4 Steps To Writing A Basic Story Outline
1. Get your basic premise
If you've been following our One Year Novel series, then you should already have your basic premise written and ready. But for those who are only just joining us (welcome!), we definitely recommend you go back and create a basic premise for your story before you proceed.
With your basic premise, you'll have the general idea of your story's trajectory: the character, their objective, the solution, the villain, and the disaster. Now, all you have to do is to build around that.
2. Identify your characters
You'll already have, at the very least, details about your main character in mind. Now, do the same for other key characters in your story, such as your protagonist's friends, love interest, the villain.
Keep in mind that you don't need to go too much into detail about your characters as of yet – that's a job for future you in a few weeks. However, it's always good to get a general idea of how they're like and more importantly, what role they play in your story.
Let's return to the example we used in the previous article – Tangled.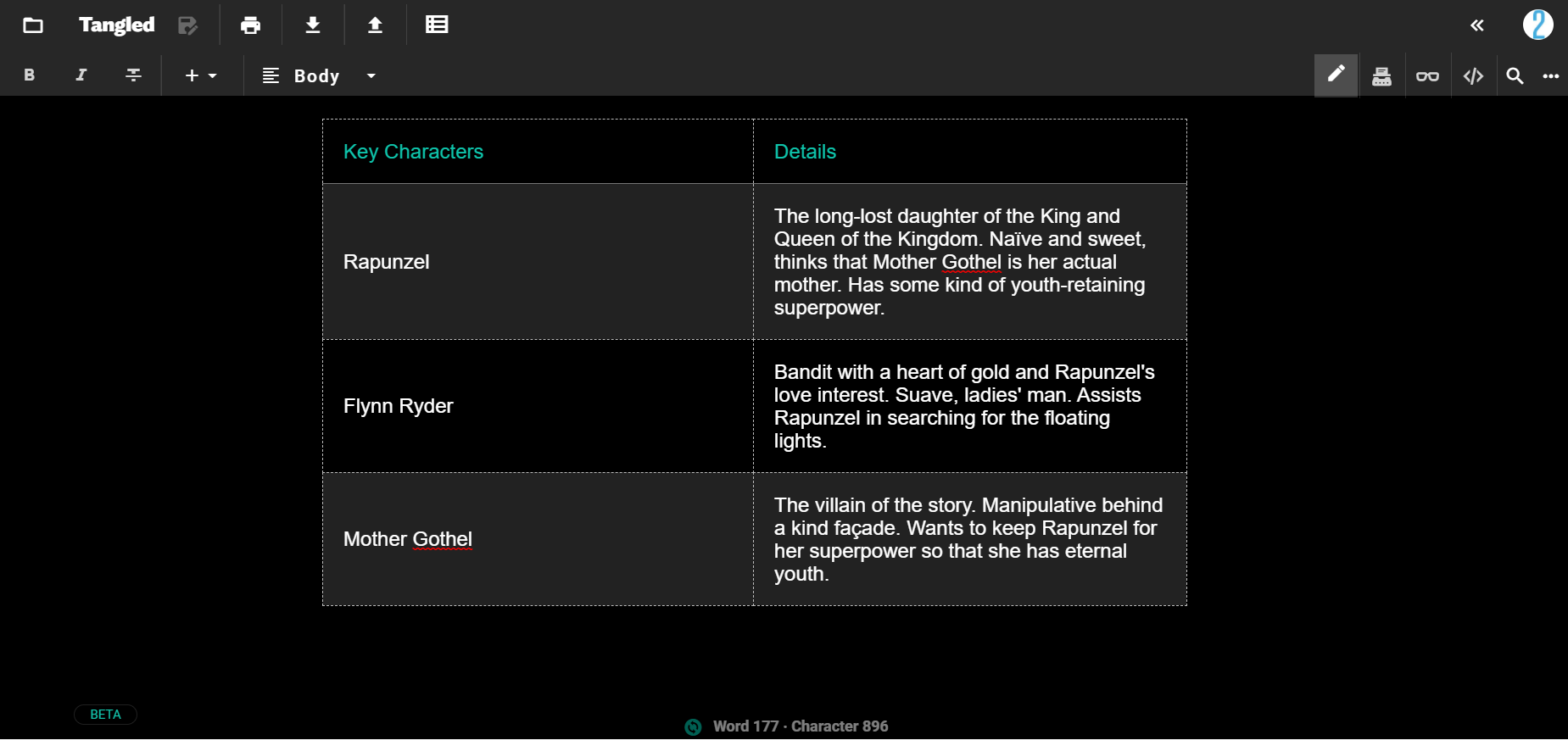 As you can see from the example above, we've managed to highlight the key features of their personality and what role they will play in the story.
If you're familiar with the story of Tangled, you may have realized that there are many details that we've left out – and that's ok! Your basic story outline will be incomplete simply because, well, you've only just started crafting your story.
Feel free to constantly go back to your story outline and add details as you go along. With JotterPad's cloud sync feature, you can easily access your basic story outline across multiple devices, anytime and anywhere.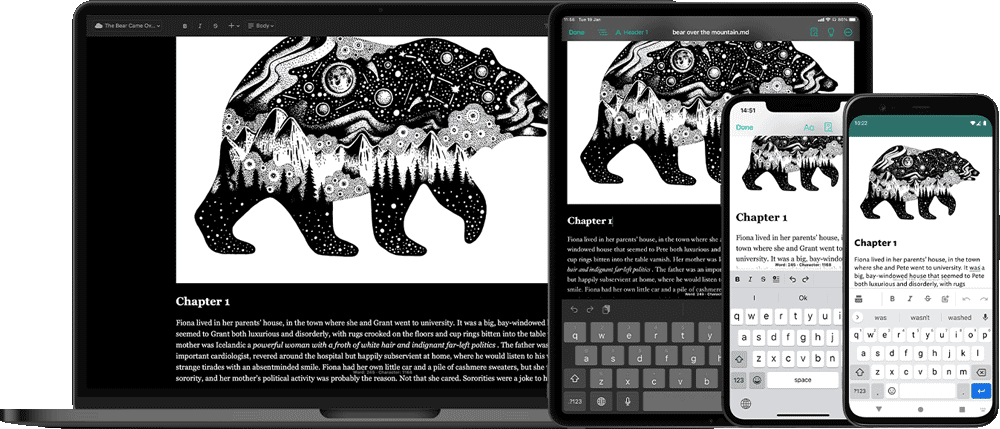 3. Decide on a setting
Where does your story take place? Is your story set in a post-apocalyptic world like Mad Max, or in modern New York? Is it set in a fantasy medieval setting befitting of a fairy tale, or is it a gritty medieval setting like Game of Thrones? Your setting will greatly influence your plot, key events and key characters.
If you've decided to create a world of your own, then you'll need to take extra steps to come up with a suitable back story of your world, special events, the climate, et cetera.
It can also be really helpful to use images to help you better visualize your setting. You can consider creating image compilations on photo-sharing sites like Pinterest, or you can add images to your document on JotterPad!
With JotterPad, you can choose to either add high-quality images from Unsplash, or you can add images to your document via an image link.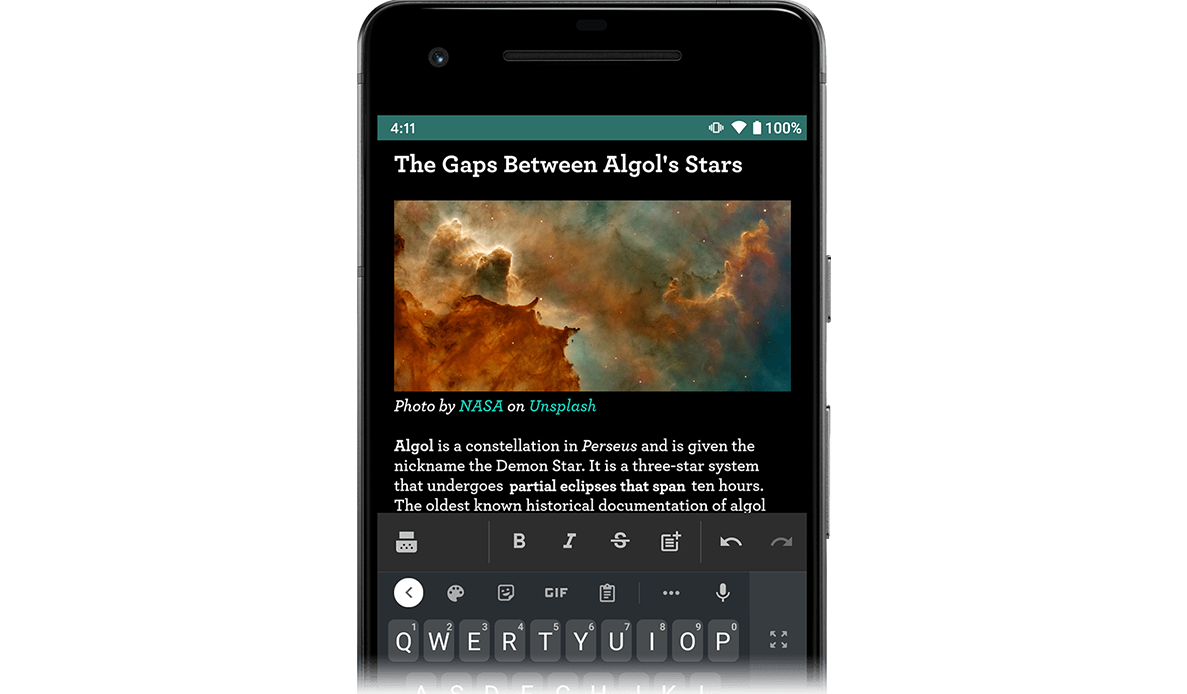 4. Establish your story structure
Your story structure will determine how your story flows from one key event to another, and there are multiple different kinds of structures available for you to choose from! So the key here is to find the structure that best suits you (or, if you're feeling adventurous, come up with your own!)
Here are some example of common story structures that most novels tend to follow:
Freytag's Pyramid
So do explore your options, and see which one best suits the story that you've been envisioning!
---
We hope that this has been able to help you write a basic story outline for your novel. We'll see you in another 4 weeks to tackle character basics in our next One Year Novel installment!
Check out the next installment in our One Year Novel series: How to Create a Character Profile: Guide and Template