JotterPad Android has recently undergone several major changes. One of the most notable changes is that we transitioned from being a plaintext editor to a What You See Is What You Get (WYSIWYG) Editor. We have also revamped our UI to make it all the more user-friendly, especially on Android touchscreen devices.
In this article, we will keep you up to date with all these new changes and what they mean for you.
New JotterPad Android features
Here's a list of new features, feature updates and UI design changes for you to take note of.
We Are Now a WYSIWYG Editor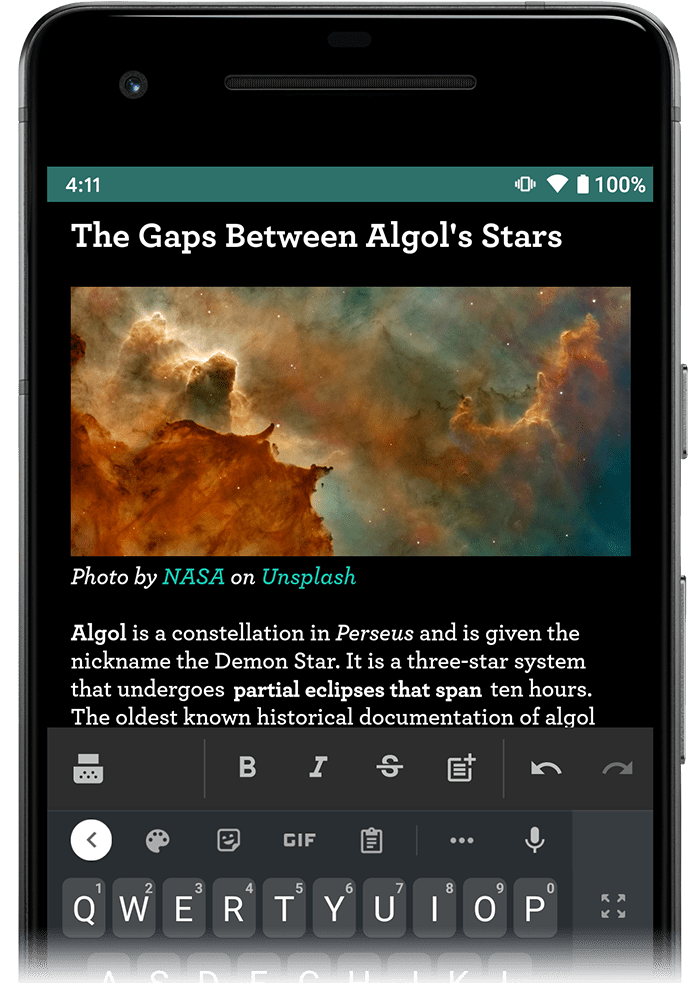 Previously, JotterPad Android was a plain text editor. This meant that in editing mode, you had to view everything in syntax. Previewing your text required you to click a button on the toolbar and constantly go back and forth to see what your text would look like.
Now that we are a WYSIWYG editor, you can see the finalized, formatted version of your work instantly as soon as you type it. View paragraph style displays and headings with ease.
You can now also insert tables with ease on our new interface by simply clicking "insert table".
Dark Theme is Now Free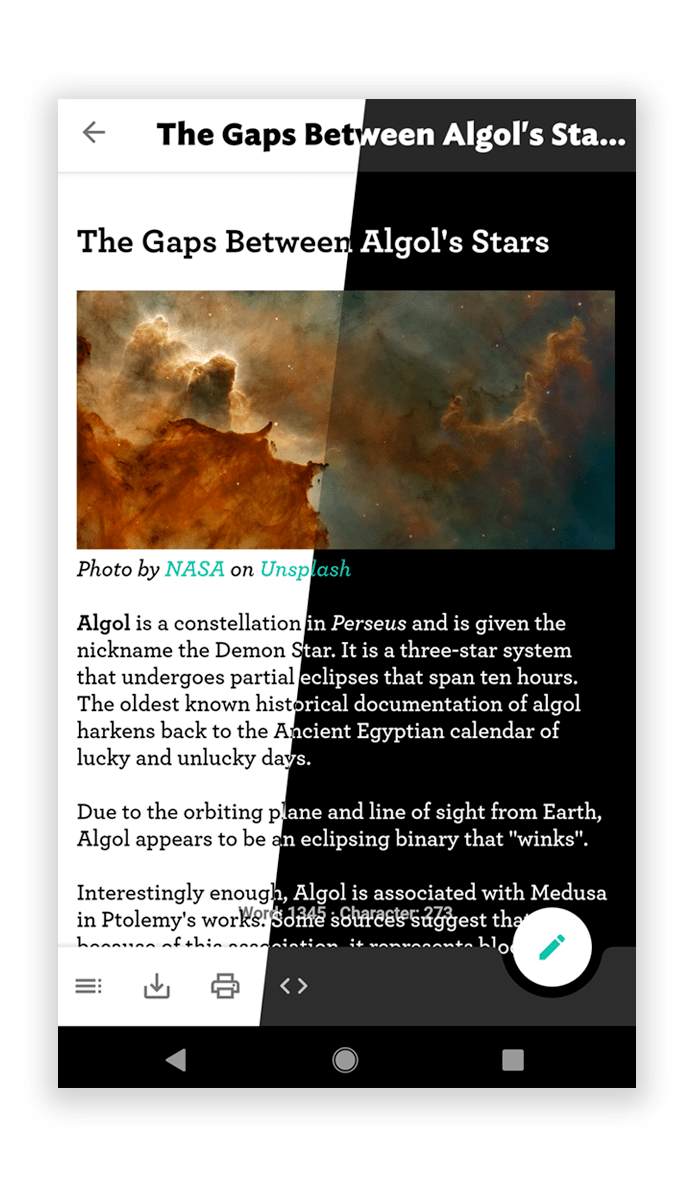 Previously, dark theme was a feature made available to paid users only. We are happy to announce that Dark Theme is now free!
Research Is Now More Comprehensive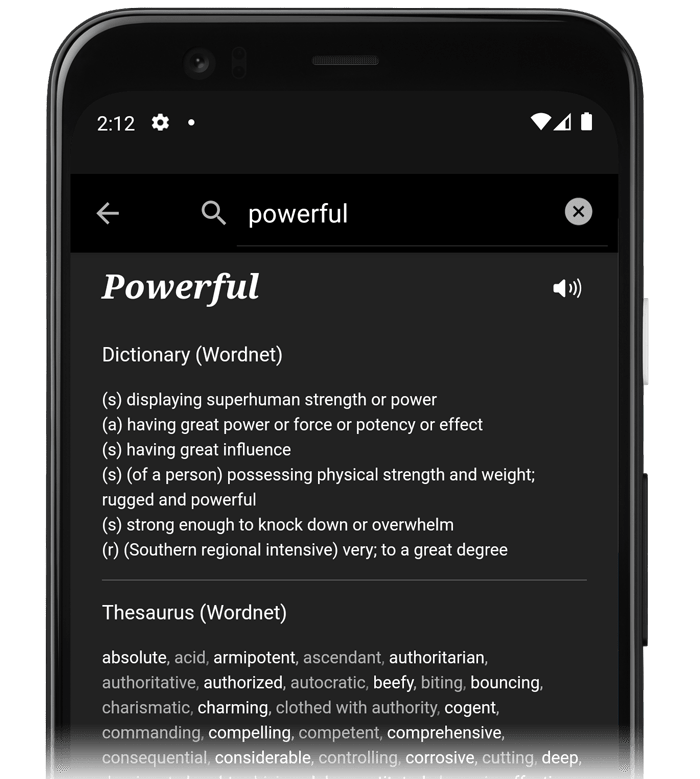 The "research" feature now works faster, and has been updated to provide more comprehensive definitions, synonyms and etc.
You Can Now Preview Your Past Versions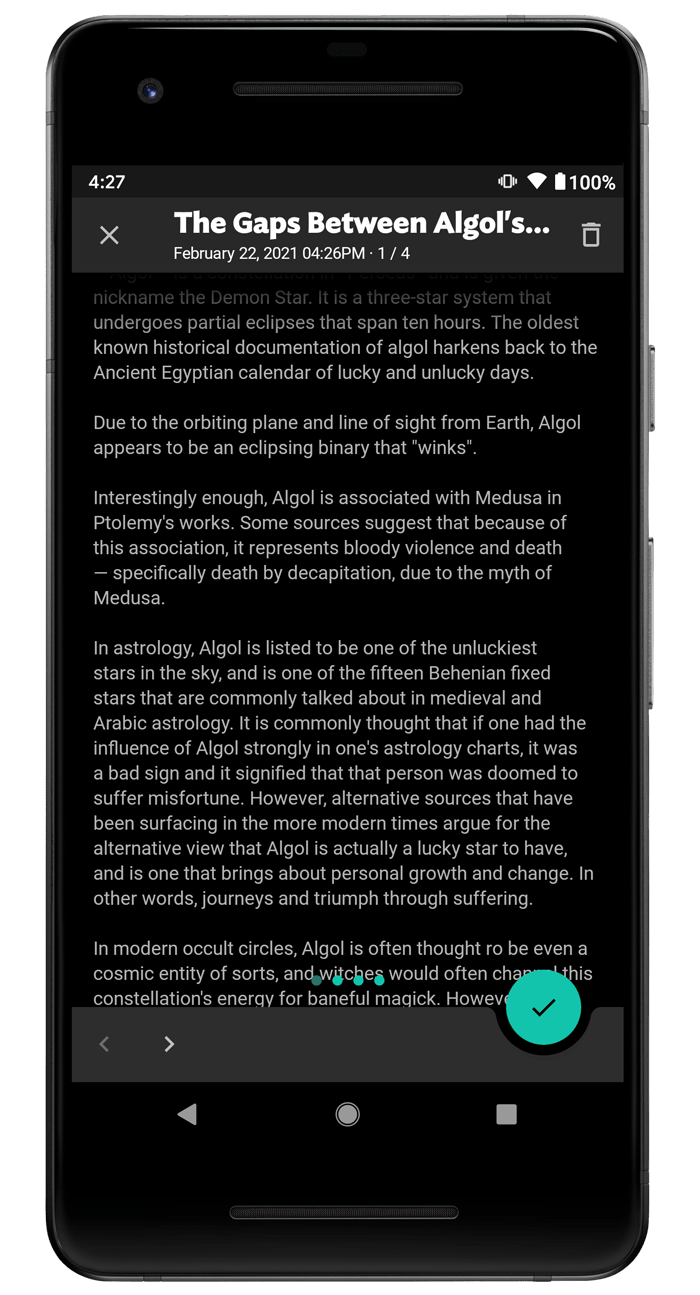 Version Control helps you save backups of previous versions of your work and restore them if needed.
We are pleased to announce that we have upgraded Version Control to be even more intuitive and user-friendly. Use the arrows at the bottom navigation bar, or simply swipe left and right to navigate through past versions of your work.
Our next JotterPad Android update wil let you preview your Fountain and Markdown work in a What You See Is What You Get (WYSIWYG) format.
Add High Quality Editorial Images For Free With Unsplash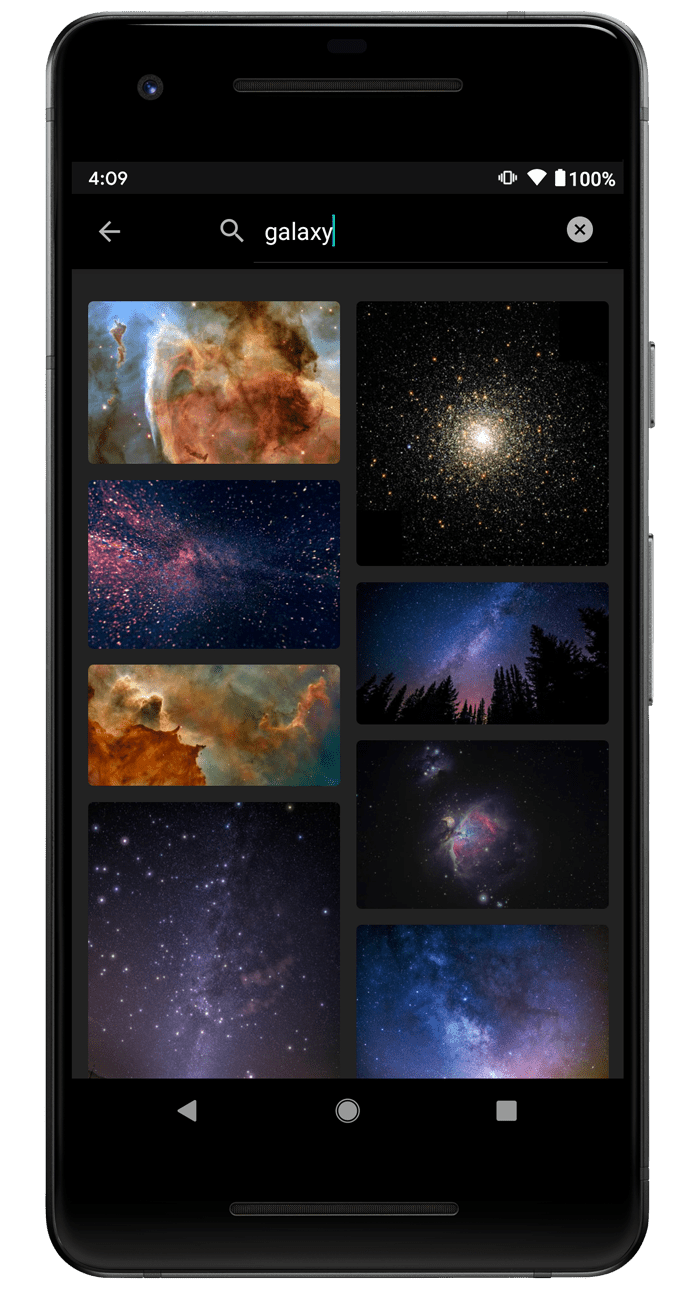 Unsplash is one of the largest, open-source websites available providing high quality images for free use! Add professionally-taken photos into your work via Unsplash now on JotterPad Android with just a click.
Create Title Pages With More Ease in Fountain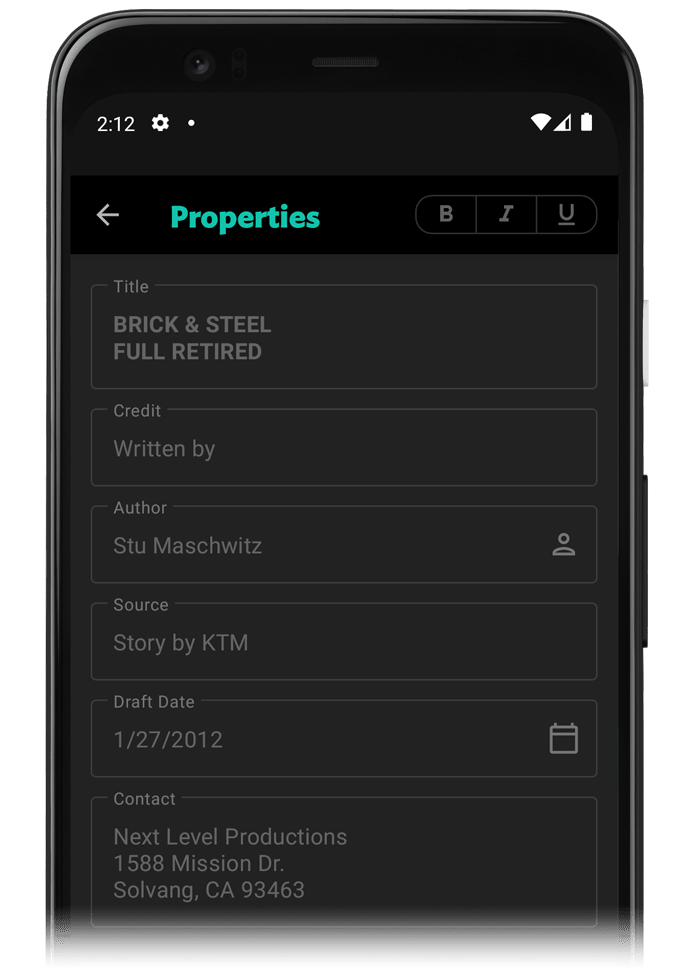 Create a title page for the screenplays you've been writing on Fountain with ease. Add the necessary details for your title page in "Properties". This title page can be previewed before exporting and printing.
Insert Notes in Fountain With Ease
Inserting notes in your screenplay is now effortless. Instead of having to insert notes by manually typing in syntax, you can now do so via the bottom toolbar.
New Outline Feature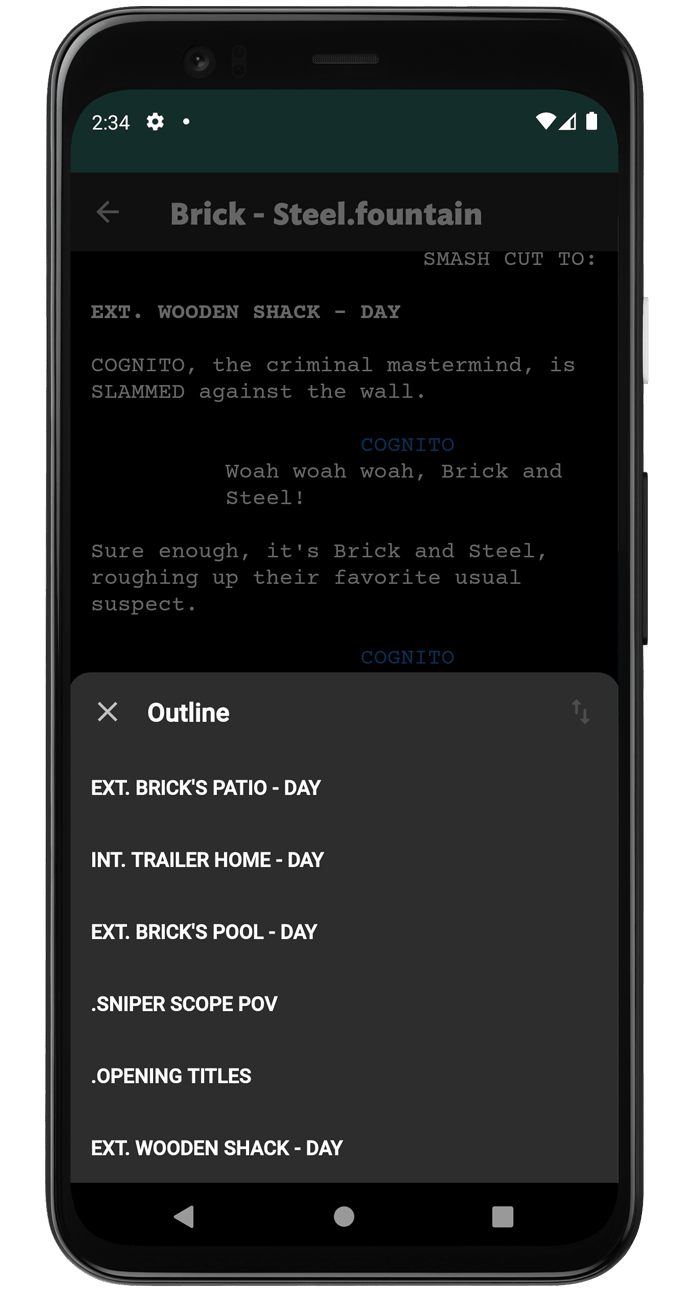 You can now view the outline of your work and its overall structure. Jump to particular sections of your text instantly by clicking on your headings.
Search & Replace, Match Case, Match Word Feature
These above mentioned features are now available on JotterPad Android.
---
Publish Your Work Online, Directly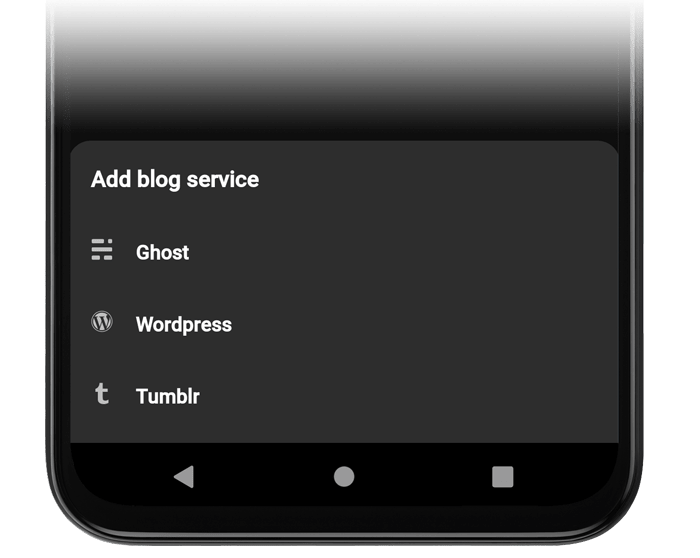 For those of you who like blogging and publishing your work online, we are pleased to announce that you can now publish your work directly onto platforms like Tumblr, Ghost and Wordpress, all from within JotterPad. You can also upload your work as drafts, if you'd like one final check before publishing online!
Print Your Markdown Files & Screenplays, Fuss-Free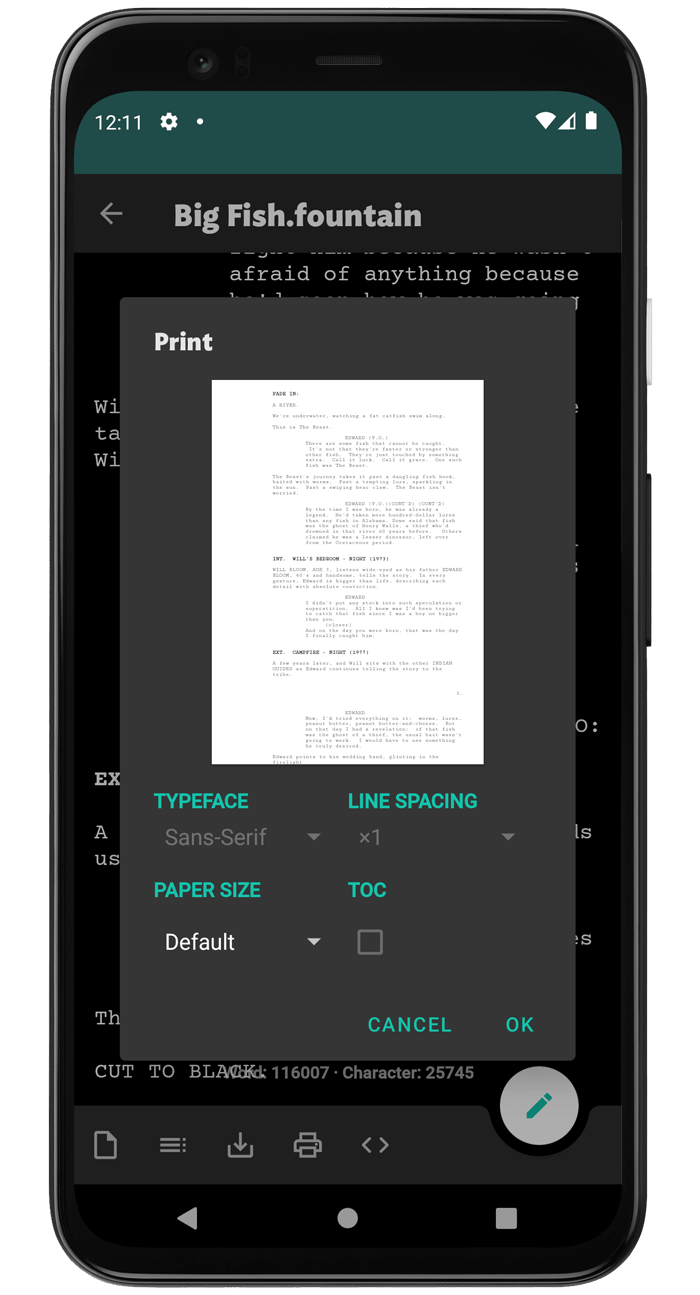 We are pleased to announce that printing for Fountain has been updated to be more reliable.
Table of Contents is also now available for Markdown.
---
Some Design Differences
We have made the following changes to our UI:
Floating Action Button (FAB) is Now Within Reach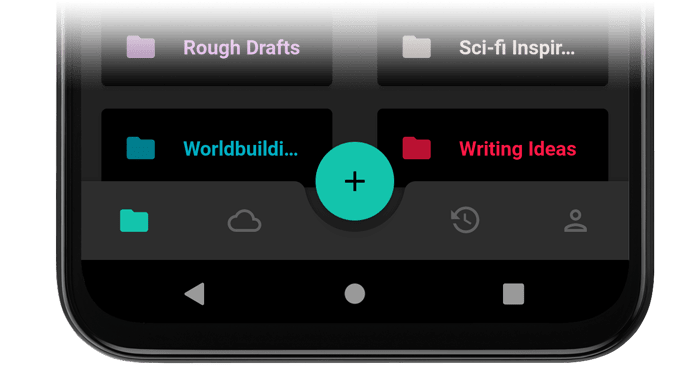 Regardless of whether you're right-handed, left-handed, or ambidextrous, we've got you covered.
Previously, the floating action button was separate from the bottom navigation bar, and placed on the bottom right corner. Now, the floating action button is within the bottom navigation bar and centred — not only does this save space, it also ensures that this button is within easier reach of either opposable thumbs.
New Dropdown Menu for Breadcrumb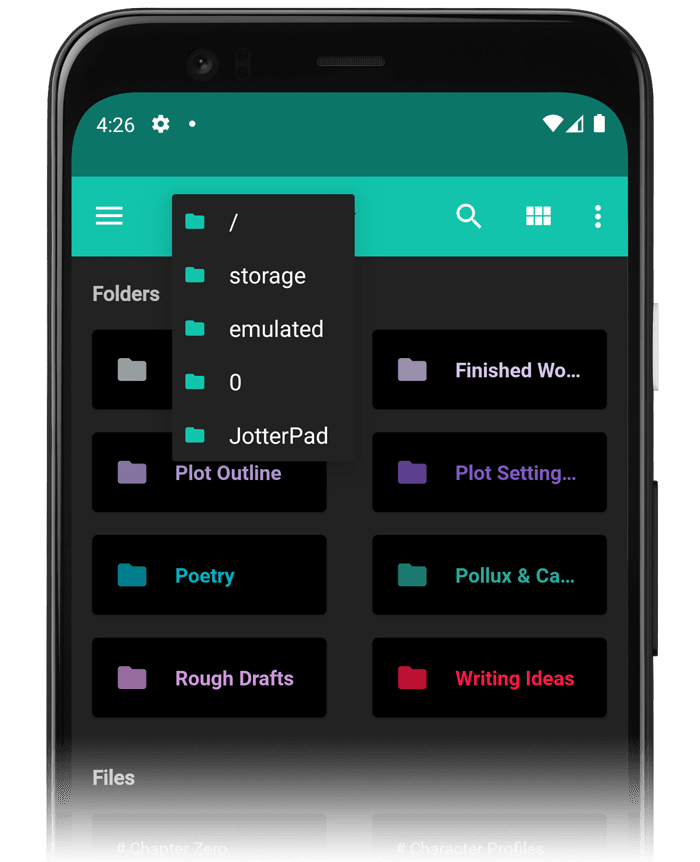 You can now navigate between folders more easily using the dropdown menu on Breadcrumb. Save your fingers the effort of swiping here and there.
Instant Preview Mode
Previously, opening your files would take you straight away into editing mode. Now when you open a file, it will be automatically in preview mode instead . From the preview mode, you will instantly be able to access Outline, Printing and View Source. To edit your work, all you have to do is press a single button.
This makes previewing your work a less tedious. Before this, previewing your work was a three-step process.
Most of us would like to have a quick look at what we've written before continuing to write. Some of us also open our files simply to read through them, not necessarily always edit them. You can now preview your work instantly upon opening them.
More Accessible Exporting Options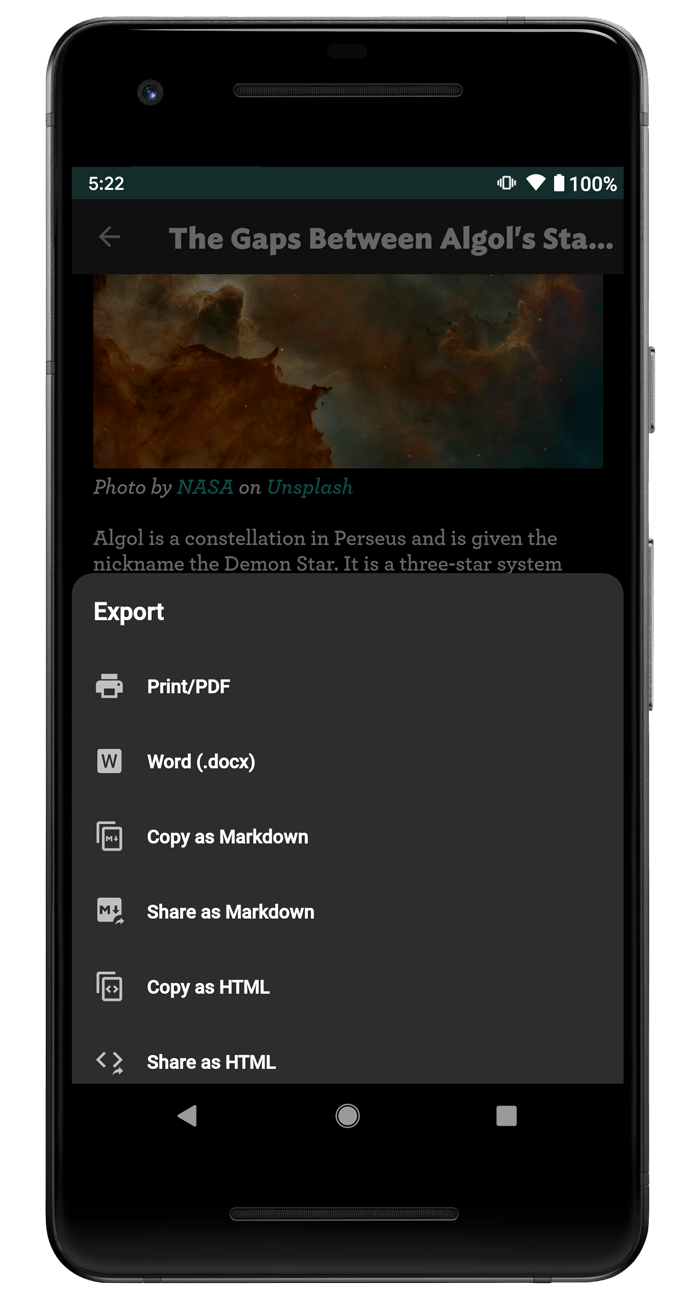 Exporting in older versions of JotterPad Android was a less intuitive process. You had to exit your work, and press and hold the file from within the directory, before the option to export pops up on the top. This made the export option less easy to find.
Now, the export function has been relocated to within the editor. It's a lot more intuitive.
View Options More Easily in Preview Mode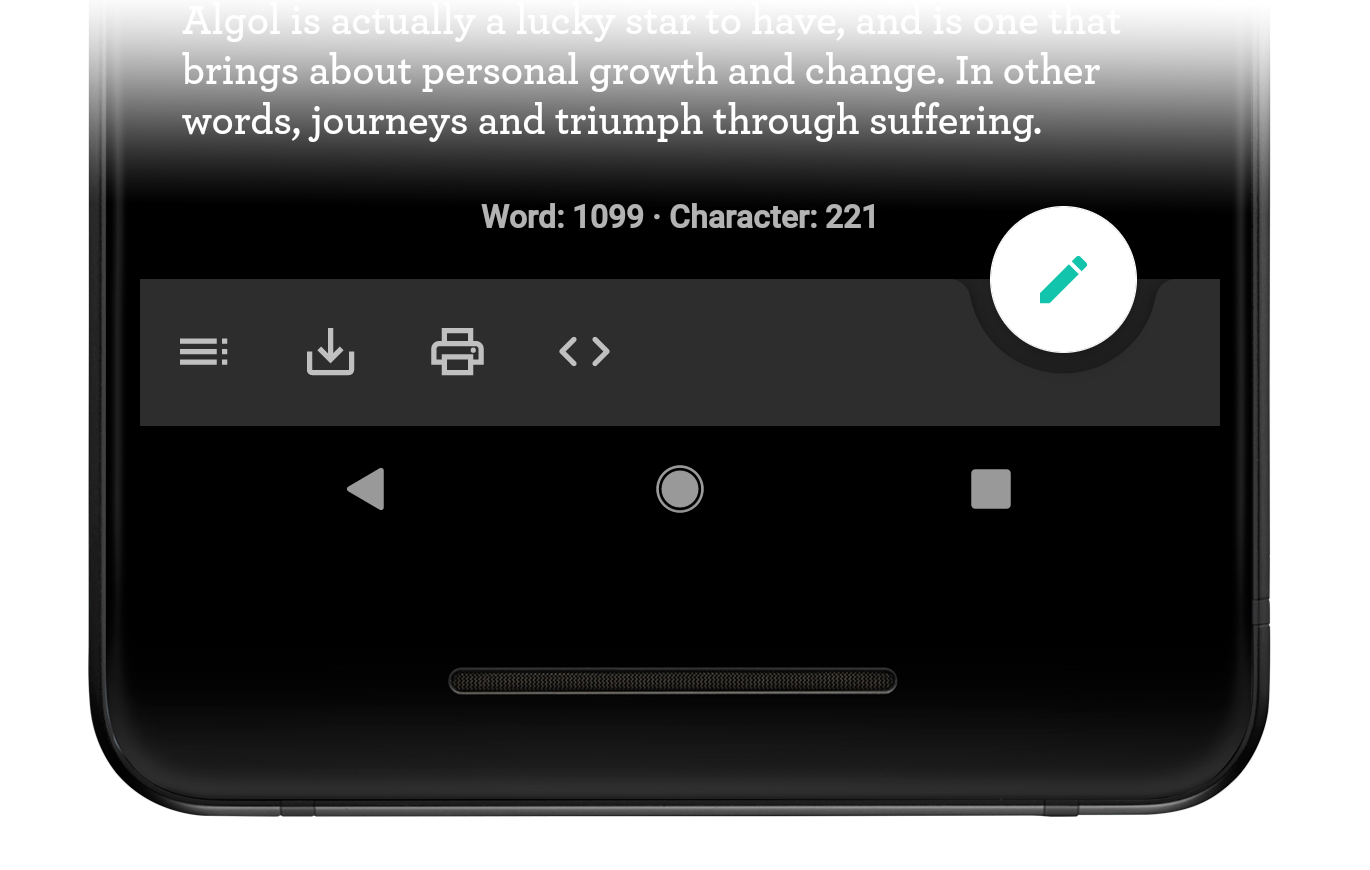 Similar to what we did for your file directory, the floating action button in JotterPad Android's editor has been shifted to the bottom navigation bar to save space.
Sync & View All Your Cloud Services in One Place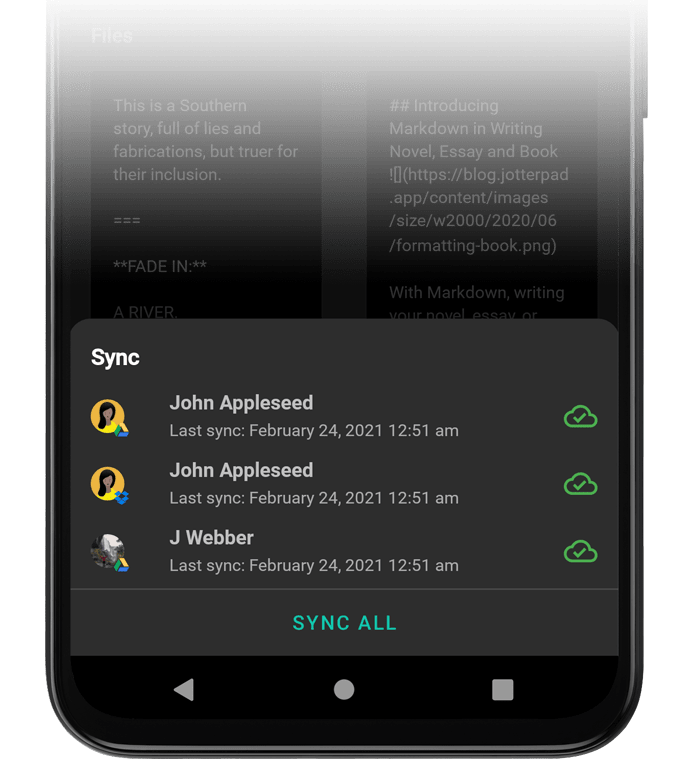 Previously, each cloud service has been separated and shown individually. We're proud to announce that you can now view all your cloud services in one place, and sync all these services at once.
New User Friendly Editor Toolbar Interface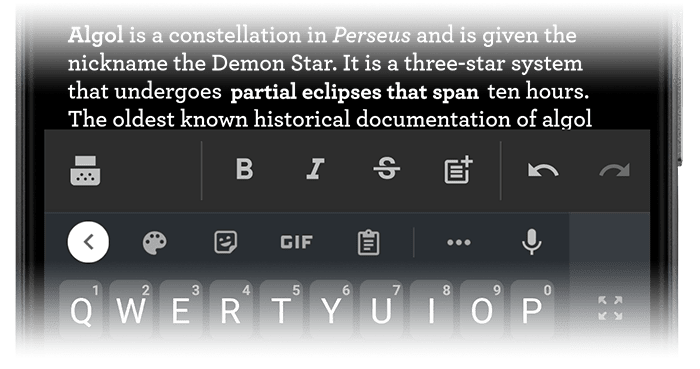 The toolbar interface has changed. The options for text formatting are made obvious in the toolbar, and the formatting is rendered live as you type. No more having to view your work in syntax.
---
Why These Changes?
These changes aim to make your writing experience on JotterPad all the more seamless, enjoyable and user friendly. In making these changes to JotterPad Android, you now have a universalized experience of JotterPad across all platforms — regardless of whether you're an Apple user, Android user, or user of our Progressive Web App (PWA).
---
Bang For The Buck
We'll be focusing on Pro Cloud, a subscription-based service. Pro Cloud unlocks JotterPad on all platforms including iOS, Mac and web. This subscription-service model will help us fund future app development, as well as cover long-term costs and service back-ends.
Additionally, Creative and Pro will still be made available in selected regions only. For existing Creative and Pro users, you will still continue to enjoy the paid features that was stated before your purchase.
---
Try JotterPad Now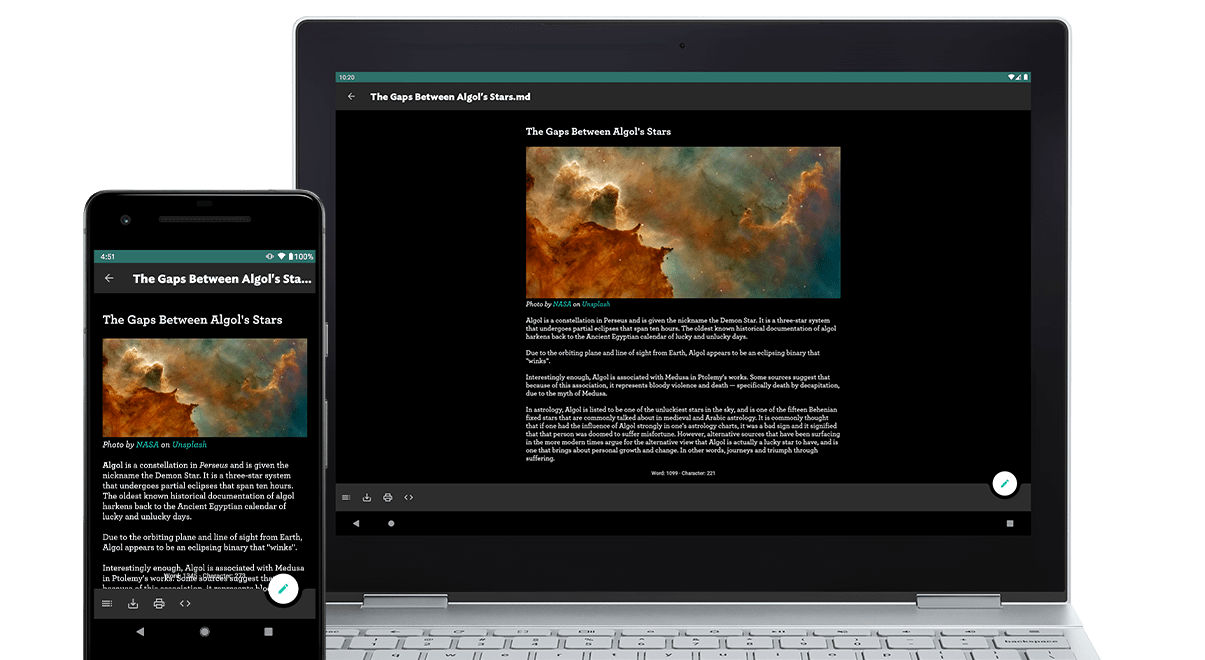 Presently, this version of JotterPad is in its Alpha version. The Beta version will be available on the 28th of February, and the publicly-available version will be out in two weeks.
Try out JotterPad now on Google Play!
Thank you so much for loving and supporting JotterPad.
Write on.